Helicopter Tour Goes Missing in Hawaii, Coast Guard Search Underway For Seven People Off Kauai's Napali Coast
The Coast Guard and Navy are searching for a tour helicopter that went missing Thursday evening on the Hawaiian island of Kauai.
Seven people, including two minors and the pilot, were aboard the helicopter, according to the Coast Guard's Friday press release. At the time of the report, local winds were blowing at about 30 miles per hour, and visibility was impaired because of clouds and rain, authorities said.
The crew was expected to return from a tour of Kauai's Napali Coast at around 5:20 p.m. EST on Thursday. The helicopter's owner, who was unnamed, waited about 45 minutes before alerting Coast Guard watch standers of the situation at 6:06 p.m., according to the press release. The aircraft is equipped with electronic location capabilities, but no signals were received as of late last night.
"The weather conditions are challenging. We have trained crews responding and on scene searching for any signs of the helicopter and those aboard," said Petty Officer 1st Class Robert Cox of the Coast Guard's joint rescue coordination center in Honolulu.
In an emailed statement to Newsweek, Ladd Sanger, a licensed helicopter pilot and partner with aviation law firm Slack Davis Sanger, said touring helicopter companies have received increased scrutiny over the last decade due to the number of crashes and fatalities. In this case, Kauai's rugged terrain and poor weather conditions could have caused the helicopter to crash, he said.
"Tour flights like this fly with low visibility and are subject to drastic weather changes," Sanger wrote, adding: "many times, the pilots are not experienced enough to combat the changes."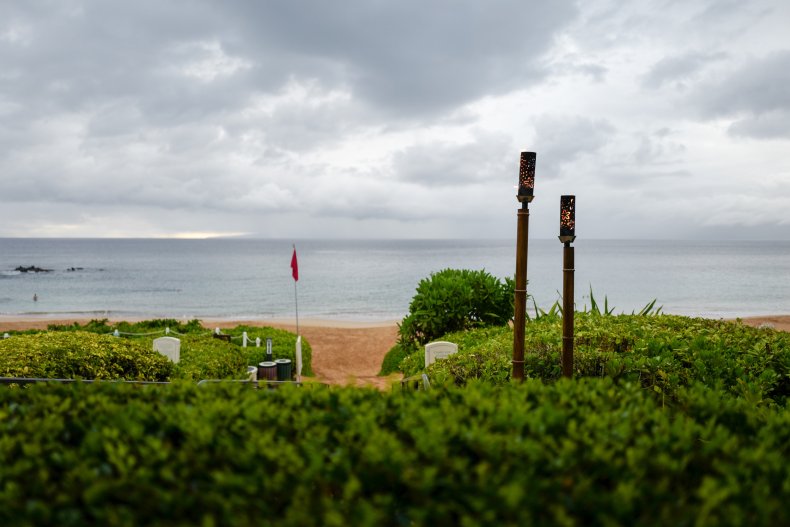 The Coast Guard deployed nearby crews, a MH-65 Dolphin helicopter and a ship to search for the missing passengers on Thursday. They later requested support from U.S. Navy Helicopter Maritime Strike Squadron 37 in Kaneohe Bay, according to the press release.
No updates from the search effort had been provided as of Friday at 10 a.m. EST, but the Coast Guard said further searches were scheduled for today, if needed, with more crews and a Coast Guard HC-130 Hercules airplane.
It appears those crews will have no better weather and visibility than Thursday's search team. The forecast includes scattered rain showers and continued winds at around 23 miles per hour causing 6-foot waves, the Coast Guard said.
Kauai is a rugged, mostly uninhabited island that's often viewed by visitors aboard helicopters provided by several contracted tour companies, depending on the weather, according to the Coast Guard. Tourists can purchase helicopter tours for as little as $250, one booking site says.
The Coast Guard did not specify which helicopter service the passengers chose, but the most popular option runs 60 minutes and takes visitors through Kauai's tropical interiors, passing over Mount Waialeale's crater, Waimea Canyon and the Napali Coast before circling back to base.