Helicopter Used To Transport Putin, Top Officials Crash Lands in Moscow
A helicopter which is part of a fleet that transports top Russian officials including President Vladimir Putin has reportedly crashed into the ground while landing in Moscow.
The Mil Mi-8 helicopter struck the ground with its blades and tail while landing at Vnukovo international airport located around 16 miles southwest of the center of the Russian capital on Friday, according to Russian state news agency Interfax.
Aviation publication Aerotime Hub reported that the helicopter belonged to the Special Flight Detachment 'Rossiya,' which operates aircraft used for transporting Russian government officials. It is unclear who was on board the helicopter and whether anyone was injured in the incident.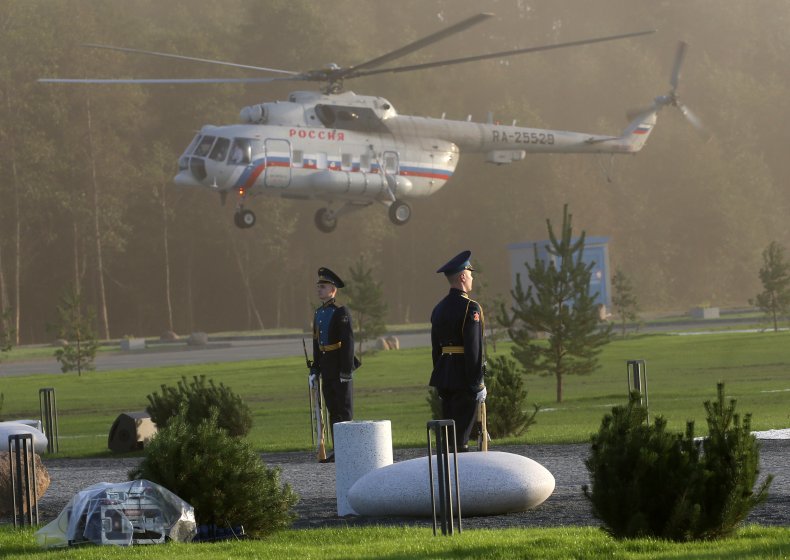 Emergency services quoted by Interfax said that "according to preliminary data, there are victims," while also citing an airport source who said that no one was injured in the incident.
"During landing, the helicopter caught the propeller on the ground and damaged the tail section," the airport source told the agency. Newsweek has contacted Vnukovo airport for further comment.
Russian Telegram channel Mash posted an image of what it said was the aftermath of the crash with the word "Rossiya" shown on the helicopter's livery and the tail rotor blades apparently sheared off.
"According to our information, this is an Mi-8MTV-1, produced in 2013, and built for 22 passengers," the Mash post said.
Citing data from Adsbexchange.com, Aerotime Hub reported that only three AgustaWestland AW139 helicopters of 'Rossiya' had flights around the airport between Friday morning and afternoon which meant that the Mi-8MTV-1 likely flew with its transponder turned off.
Aerotime reported that 'Rossiya' operates 15 Mil Mi-6MTV helicopters which have special defensive suites and other modifications to protect its VIP passengers.
The helicopters often transport Putin around Russia, complementing his fleet of Il-96 long-range airliners and other jets.
Interfax said the hard landing could have been caused by bad weather conditions or equipment failure. Ukrainian news outlet Ukrainska Pravda reported that it was pilot error.
Separately, Ukrainian authorities are investigating the January 18 helicopter crash which killed Ukraine's interior minister Denys Monastyrsky and about a dozen other people, including a child on the ground.
The crash near a nursery school building in the residential Kyiv suburb of Brovary killed five top government officials, including Yevhen Yenin and State Secretary of the Ministry of Internal Affairs, Yurii Lubkovych.
Last week, Ukraine's President Volodymyr Zelenskyy met with the families of the victims during a funeral service in which the coffins were draped in the blue and yellow flag of Ukraine.