Helicopters Collide Mid-Air, Video Shows Fiery Wreckage
Villagers in East China have appeared to capture the aftermath of a collision reportedly involving two military helicopters as footage emerged of locals surrounding a fiery crash site this week.
The incident in He County, which is in the city of Ma'anshan in the Anhui province, was confirmed by a government official who declined to reveal further details about the aircraft or personnel involved.
A report by Chudian News, an app-based news service under the auspices of Guangdong Radio and Television, carried a video showing bright flames in a field following the crash late on Monday, Beijing time.
A similar video was circulated among users on WeChat—China's ubiquitous instant-messaging and social media app. In the two-minute clip, villagers holding umbrellas can be seen crowding around burning wreckage.
Some appear to be shining flashlights near the ball of flames, through which a helicopter's aft fuselage and parts of a tail rotor can be seen. While numerous residents can be seen observing the wreckage, no victims or rescue attempts are seen in the video.
An unnamed male official with the county's emergency management office confirmed news of the crash later the same evening. He told Chudian News that two helicopters had collided and that rescuers and firefighters had responded to the scene.
He did not comment on local media reports that said the aircraft were military training helicopters.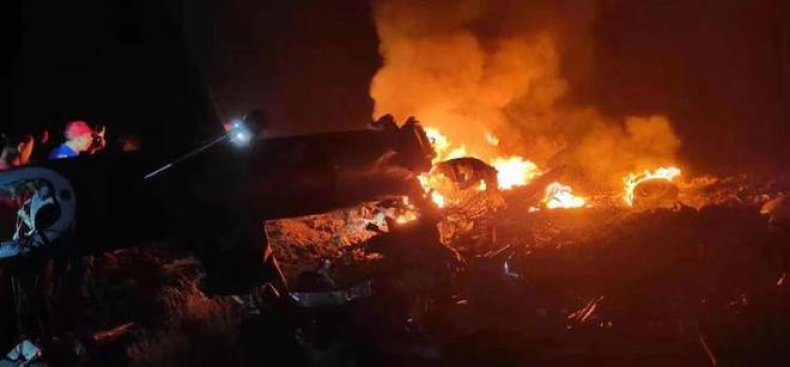 An additional report by Zhejiang Daily's online service Tianmu News quoted the office as saying an investigation into the crash was ongoing. However, it would be "inconvenient to disclose casualty figures" and the unit under which the helicopters operated, the office added.
The He County government had not returned Newsweek's request for comment at the time of publication.
The lack of detail and mysterious circumstances surrounding the mid-air collision have increased speculation among users on Weibo, China's Twitter-like microblogging service, which has more than 500 million active monthly users.
Social media users have remarked on a lack of transparency, as well as what they say is censorship of related information and imagery. A Weibo post by Phoenix News Media had linked to a video purporting to show the incident, but the clip is no longer viewable.
The hashtag "two helicopters collide in Anhui Ma'anshan" was read more than 1.4 million times and generated 50 discussions, according to Weibo. But a search of the phrase returned just 17 results, including 13 unrelated posts by one user.
Major state-affiliated news services such as CCTV and Xinhua News Agency have not reported on the crash since Monday.