Heliskiing: For the Slope Less Traveled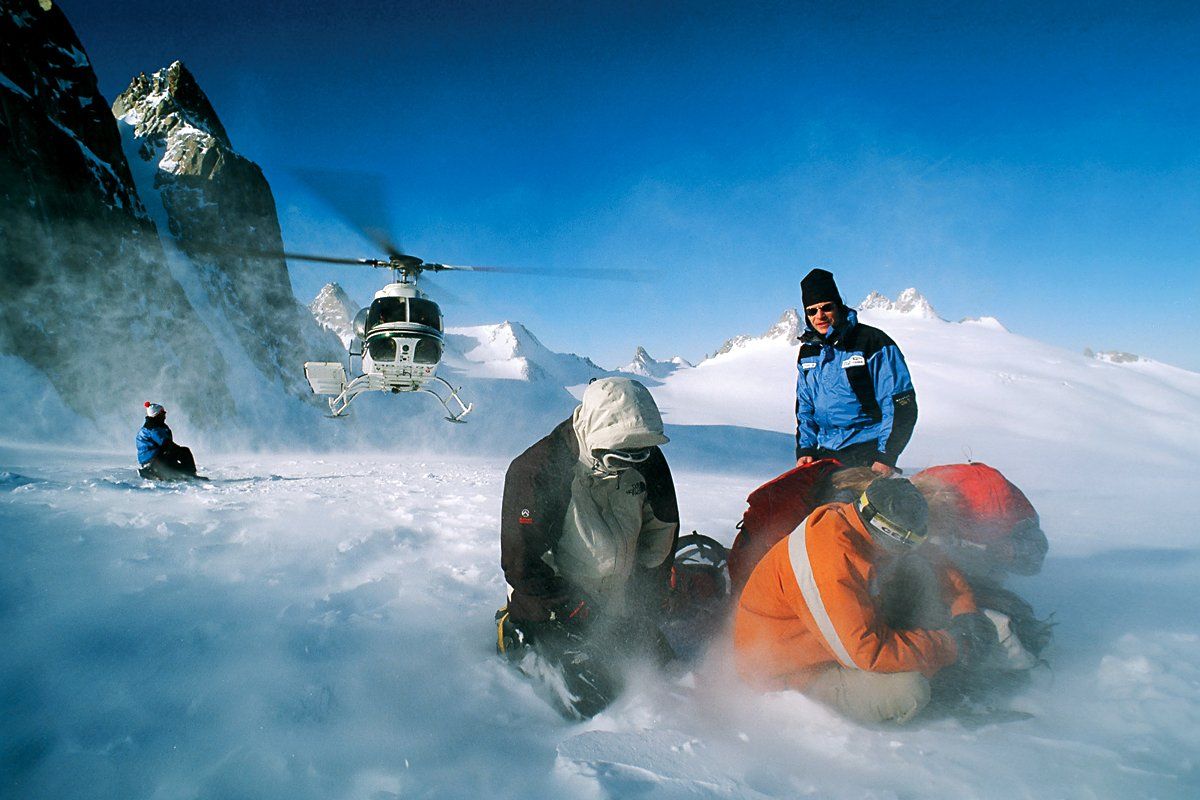 Contrary to the macho James Bond image it may conjure, heliskiing at first seemed to me like a sport for lightweights. My pilot met me at the Santiago airport in Chile, made a fuss about taking my bags, and then shuttled me into his helicopter for the 15-minute transfer up Maipo Valley. On arrival at the luxury Andean lodge El Ingenio, I was feted with a sumptuous lunch—and plenty of that famed Chilean wine. That's not as extreme as some of the other guests of my heliskiing operator, Powder South, who have been known to charter the chopper to fly down to the coast for lunch and a swim between runs, or zip over a few mountains to a natural hot spring after a long day of skiing.
The baby boomers who grew up in the mid-1960s, when heliskiing was conceived and then glamorized in ski magazines, are demanding more luxuries than are typically associated with a sport that involves being dumped at the top of a barren mountain to fend off the elements on the way down. "This generation has the time and the disposable income needed to ditch a chairlift for a few days, jump in a helicopter, and get run after run of untracked, bottomless powder skiing," says Dan Sherman, an avid heliskier and director of marketing for Ski.com.
At Portillo, one of two main ski resorts in Chile, heliskiers can sign up for yoga lessons, a massage, or a soak in a heated outdoor pool with stunning views over a dramatic alpine lake. Nearby Valle Nevado is even more of a luxury heliskiing destination, with a five-star hotel and stylish apartment rentals that cost upwards of $1,000 per night. (When I visited in July, one of the owners of the Boston Red Sox was heliskiing there.) Of course, the very idea of using a helicopter to ferry skiers is an indulgent ultra-luxury in itself. Powder South charges $8,200 for a basic weeklong package, with each additional hour of flight time a whopping $2,400. Much of the cost goes into running the helicopter, which consumes a lot of fuel and requires parts to be replaced frequently because of all its annual flying hours.
The sport is also expensive because of the remote locations involved. Due to the noise and environmental impact, popular and easily accessible ski locales like the French Alps do not allow heliskiing. So the biggest and best operations tend to be in the middle of nowhere in Alaska and British Columbia, although there's a certain cachet in heliskiing where there is little existing resort infrastructure, such as in northern Sweden, Iceland, the Himalayas, and Turkey. Those traveling to the Southern Hemisphere—heliskiing exists in Chile, Argentina, and New Zealand—earn even more prestige for skiing while most of Europe and the U.S. are melting under the sun.
Thanks to the nonstop LAN red-eye between Santiago and New York, on a recent weekend I went from heliskiing in the Andes on a wintry Sunday afternoon to the office on a summer Monday morning. My day began with a talk on safety by my Swedish guide, Jonatan, who, like most heliski guides, travels between Europe and South America to work both ski seasons. OK, technically he wasn't my guide: I was sharing him with a Swiss banker and his girlfriend who ski 100 days a year and had brought him over for the week.
Jonatan gave me a stuffed backpack to strap on. Seeing what looked to me like an iPod dock, I was just about to pull it when Jonatan hurriedly explained that it was the release handle for an emergency airbag. When activated, the airbag would blow up behind me to the size of a small bus, and theoretically keep me above the snow in an avalanche. I was also given a snow shovel and a beacon locator so that I could either signal my own location or help track someone else buried under the snow.
Then we piled into the six-seat helicopter, which seemed smaller than a Mini Cooper, our skis and poles in a cage attached to the outside. A common misconception is that skiers jump from the helicopter; in reality, with your boots already on, getting off the helicopter is an awkward affair requiring passengers to huddle unglamorously in a corner, waiting for the roaring chopper to take off.
Suddenly we found ourselves at 4,000 meters, alone in the middle of the Andes. No tracks, ski lifts, or the screams of kids learning on the bunny slopes. Just a treeless expanse of snow below. While the point of heliskiing is to blast through knee-deep powder, the abnormally early spring meant the snow on that occasion was rather crusty. We spent the rest of the morning skiing some pretty easy stuff. Given that I was an intermediate skier, we avoided the couloirs, 45-degree chutes, and old-growth forests that expert skiers often seek, particularly after I heard some gnarly stories around the lodge of people accidentally going over 100-meter cliffs or smacking at full speed into a tree. The day ended for me with a spectacular lunch on the slopes, complete with hot vegetable soup. The next day, I was back to eating in a New York deli.