Who Is Helmut Kohl? German Political Giant Dead at 87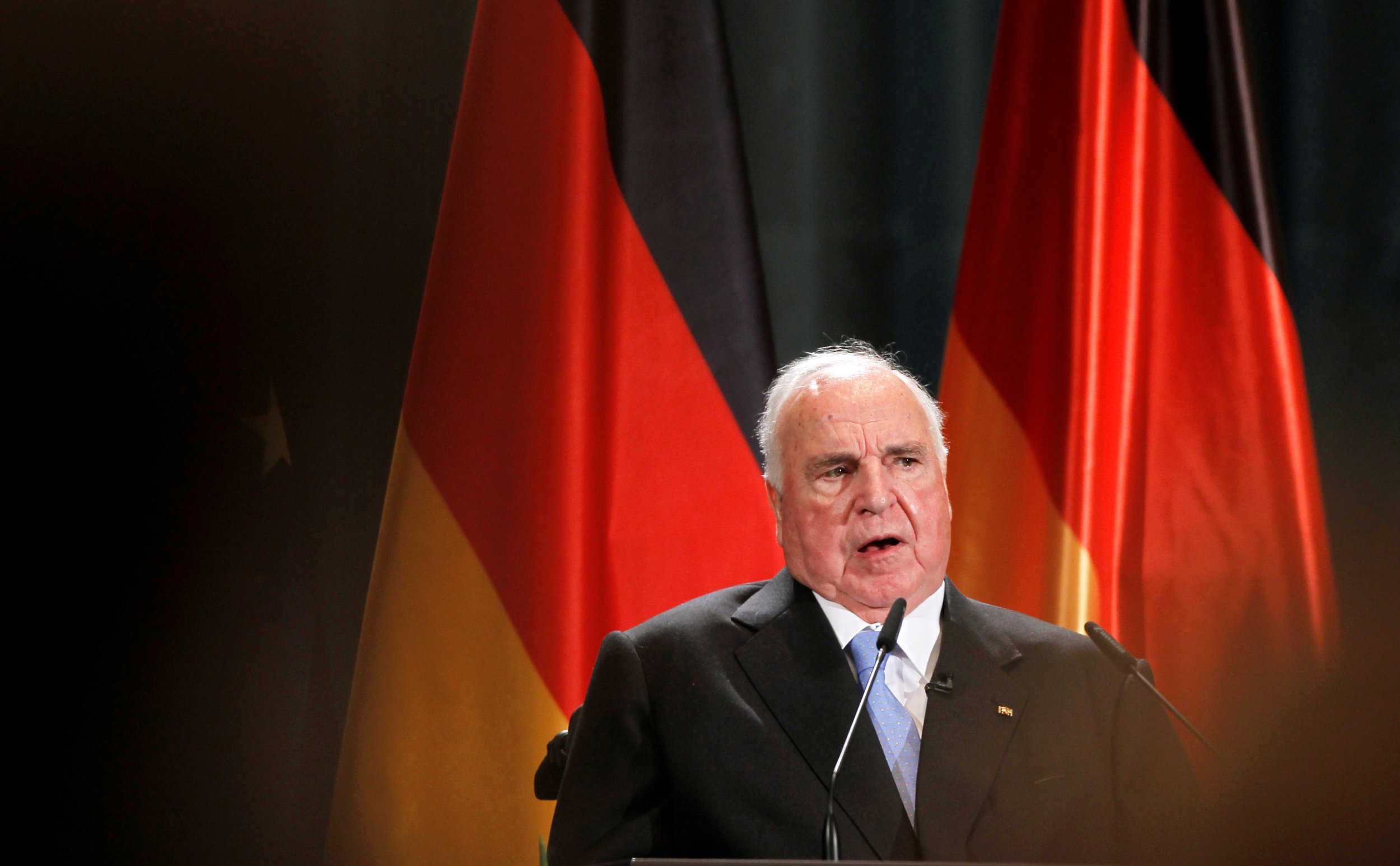 Former German Chancellor Helmut Kohl has died aged 87 at his house in Ludwigshafen, in Rhineland-Palatinate, western Germany, according German newspaper Bild. Kohl served as chancellor of West Germany from 1982 to 1990, and then of reunified Germany from 1990 to 1998.
A towering figure in modern German and European history, he was instrumental in the reunification of his country after the collapse of Communism in eastern Europe. He also played a large role in development of the euro currency used in much of the continent today and he served as a mentor to current German chancellor Angela Merkel.
Born in 1930 to a Catholic family, Kohl was drafted into the German army at 15 and entered basic training, but did not actively serve, which he called "a mercy of late birth."
Kohl first became involved with the youth wing of the center-right Christian Democratic Union (CDU) party in 1947. In 1959 he was elected to the state legislature of Rhineland-Palatinate, and took charge of the state as its prime minister in 1969.
He ascended to the top of West German national politics in 1973 when he became CDU chairman, and he fought the 1976 elections as his party's candidate for chancellor of Germany. He lost to Helmut Schmidt, of the center-left Social Democratic Party (SDP), but in 1982 led a coalition to oust Schmidt, joining forces with the left-winger's former allies in the centrist Free Democratic Party (FDP). Kohl's new coalition with the FDP and the Bavarian Christian Social Union (CSU) party won the 1983 West German elections.
When the Berlin wall fell in 1989, it was far from inevitable that Germany's two states, divided after World War II, with the Soviet-occupied East governed by a communist administration from 1949, would become one.
Kohl is widely credited as the architect of their eventual reunification, brokering a deal with Soviet premier Mikhail Gorbachev including an undisclosed sum estimated at around 50 to 80 billion marks paid from West Germany to the Soviet Union. The reunified country has since become Europe's primary economic and political powerhouse.
Later in his career, Kohl would once again personally shepherd a project that shaped Europe's future. In a 2002 interview with journalist Jens Peter Paul, Kohl recalled how French President Francois Mitterrand and others urged him to lend his backing to the idea of a common currency for European states; that currency, the euro is now used by many of the member states of the European Union since 1999.
"They thought — and were right about it — that if Germany doesn't adopt the euro, nobody will. And about the German situation they said: if Helmut Kohl doesn't push it through, nobody else will," Kohl said. This attitude persuaded him not to stand aside for his interior minister Wolfgang Schaeuble during the 1994 elections, he said, instead using his experience and authority to lobby other leaders to adopt the currency and shape its functioning the way he saw fit.
The currency was first and foremost, he told Paul, a means of preventing war in Europe. "Nations with a common currency never went to war against each other. A common currency is more than the money you pay with," he said.
At the end of his career, Kohl spotted Merkel's talent when she was a young CDU politician rising up the ranks, and he used to call her his "Maedchen" or little girl. But in 1999, when it emerged Kohl had been misusing funds to give his friends kickbacks, Merkel stunned Germany by denouncing him in a front page article for a top conservative newspaper. Kohl resigned as his party's honorary chairman in 2000.
At the treaty ceremony that ended the Bosnian war in 1995, Kohl said that "peace must be more than the absence of war." As one of a generation of European statesmen shaped by World War II and the Cold War that followed, his career was defined by efforts to strengthen and deepen cooperation to build lasting peace, first between the two halves of his country, and then between Germany and its partners in the European Union.