Helmut Newton: The Titan of Titillation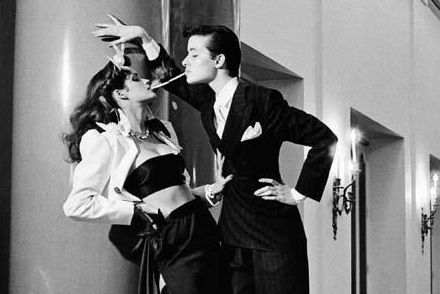 In 1999, Helmut Newton released SUMO, a 480-page monograph bursting with celebrity portraits, bold nudes and chic fashion photography. The first monumental art book from Taschen, SUMO was over two feet tall and weighed nearly 70lb. Only 10,000 copies were ever released, each signed by the photographer and delivered with a Philippe Starck stand to properly display the impressive tome.
Newton, who died in 2004 at age 83, described it as "terrifying and outrageous. I don't even look at it as a book…. I look at it as an object." (A copy signed by dozens of celebrities sold for $430,000 at a charity auction, making it the most expensive book of the 20th century.)
Now, 20 years after SUMO's original publication, the Helmut Newton Foundation in Berlin is launching an exhibition featuring all 400 images from the groundbreaking work, including fashion pictorials, bold nudes and arresting portraits of celebrities like Elizabeth Taylor, Imam, Catherine Deneuve, Salvador Dalí and Andy Warhol.
Born in Berlin between the wars, Newton began his career apprenticing with acclaimed fashion photographer Elsie Simon, better known as Yva. After fleeing the Nazis in 1938, he traveled to Singapore, and then Australia. In 1948, he married actress June Brunell, who became his most trusted critic and collaborator. In the 1950s, he began shooting for fashion magazines, most notably the various iterations of Vogue. Over the next quarter-century Newton shaped the field of fashion photography, leaving a legacy felt to this day.
In the 1970s, after a near-fatal heart attack, he turned to overtly sexual imagery: Drawing on elements of voyeurism, lesbianism and BDSM, his "Big Nudes" were highly stylized, provocative Amazons who both tittlated and outraged.
Complementing the anniversary exhibition, portraits by Newton's most illustrious assistants—George Holz, Just Loomis and Mark Arbeit—are being displayed under the joint title of "Three Boys from Pasadena." Arbeit will debut a series of life-sized photograms of female models, along with small-format photograms of toy dolls (paying homage to Newton's passion for collecting). Black-and-white nudes by Holz are joined by portraits of celebs like Madonna, Jack Nicholson and Steven Spielberg. Loomis has selected some of his "Backstage" works which offer an intimate view of the seemingly glamorous fashion business.
Also on view, for the first time, will be works from Helmut and June's private photo collection, recently acquired by the Foundation. More than 50 prints are featured in "June's Room," including works by Brassaï, Irving Penn, Man Ray, Robert Mapplethorpe, Henri Cartier-Bresson, Diane Arbus, Horst P. Horst and Richard Avedon.
"Helmut Newton: SUMO" opens June 6 at the Helmut Newton Foundation in Berlin. Below, view highlights from the exhibition.