Jodie Comer on Winning BAFTA Number 2 for 'Help' and What's Next
The BAFTA TV Awards 2022 took place at London's Royal Festival Hall on the River Thames last night, and Jodie Comer was one of the biggest winners of the night.
Best known for her role as psychopathic assassin Villanelle in Killing Eve, and as Millie in Free Guy, Comer was nominated for her performance in the moving Channel 4 drama Help.
In Help, she played the role of Sarah, who begins working as a care assistant at the outbreak of the COVID pandemic in March 2020. For Comer fans overseas, Help is available to watch via Acorn TV now.
Comer was up against the likes of powerhouse Kate Winslet, who shone in HBO's Mare of Easttown as Detective Sergeant Mare Sheehan. Also in the Leading Actress category were Denise Gough and Emily Watson for Too Close, Lydia West for It's A Sin, and Niamh Algar for Deceit.
But, to no one's surprise, Comer was also a very strong contender and she stole the show, accepting the final award of the night: Best Leading Actress.
Speaking to Newsweek and other press after accepting her award, Comer explained how honored she was to be a part of Help.
She said: "It was such an honor to be a part of Help. It was such a team effort and I came away from that job feeling like I never had before from any other role and I think I really realized the power that we have in the stories that we tell and what we choose to tell and not shying away from difficult subject matters.
"I got to film in Liverpool and with Stephen [Graham] who I adore. I feel great."
Comer is currently starring in a one-woman play, Prima Facie, in London's West End, which has been hailed by critics.
As for what's next, Comer teased: "It's the one thing I love about what I do. It's the first thing that terrifies you when you come to the end of a job and you are like 'what am I going to do now?' but it is also so exhilarating because I have no idea where I am going to be in six months but I'll be somewhere, where I've hopefully chosen to be."
However, she did share she would love to work with Welsh actress Gabrielle Creevy, who starred in In My Skin, which took home the 2022 BAFTA for Best Drama.
Comer said: "I'd love to work with Gabrielle Creevy from In My Skin. I am so blown away by, so so blown away by her. I've sent her a couple of messages on Instagram and she probably thinks I'm a crazy stalker but I think she is breathtaking and I would love to work with her. Definitely."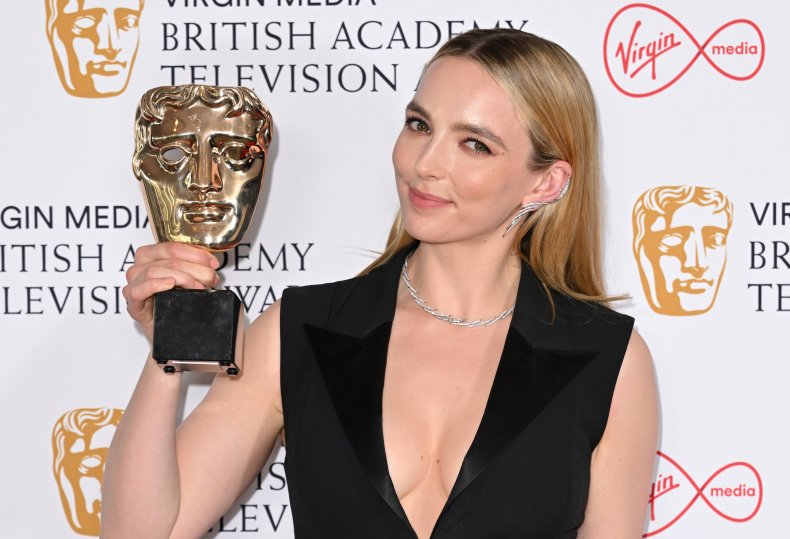 Jodie Comer's BAFTA TV Award Speech in Full
As for her acceptance speech on the main stage, which was broadcast on television, Comer was very emotional, dedicating her award to the carers who were affected and continue to be affected by the pandemic.
She also gave a shout-out to her co-star Stephen Graham, who you may recognize from The Irishman, Boiling Point, Time, Gangs of New York, This is England and Pirates of the Caribbean.
Admitting she was "super nervous," Comer said: "I want to say a huge thank you to The Forge and Channel 4 for believing in this script from the very, very beginning. I want to thank Jack Thorne for his integrity and his passion which is so infectious. He's completely changed my view and my priorities and my passion in regard to the work that I want to continue to do going forward.
"I very embarrassingly slid into his DM's on Twitter a few years ago and told them I wanted to work with them and little did I know that Stephen had also cornered him at an event and asked them to write something of the both of us but I mean, never in our wildest dreams did we think it would be something like Help.
"'Thank you Stephen Graham who I'm gonna thank for the rest of my life. I love you so much.
"Thank you to our amazing director Marc Munde, Mark Wolf, our incredible DOP, the entire cast and crew but the biggest thank you of all goes to all of the carers and The Dementia Society who helped us in our research and they were so incredibly gracious and generous with their time.
"We were asking them very, very personal questions and they were always just so willing and open and I guess the biggest reward in all of this for all of us is that they felt truly represented in the telling of this story and it was just such a privilege to be a part of. Thank you BAFTA, thank you, Jane, my amazing agent, and thank you mum, who's with me tonight, love you very much. Thank you, guys."
Help is streaming on All4 and Acorn TV Now.