'Help Me Hate White People': Entry in Bestselling Prayer Book Stokes Controversy
A book containing a prayer by a Black female author calling on God to "help me hate white people" is causing a lot of controversy.
The book, A Rhythm of Prayer: A Collection of Meditations for Renewal, was edited by Sarah Bessey and published in February and is available at major sellers such as Target, Barnes & Noble and Amazon. The passage in the book by Chanequa Walker-Barnes, "Prayer of a Weary Black Woman," seeks spiritual guidance to stop "caring" about white people who inevitably perpetuate racism.
"Dear God, Please help me to hate white people," Walker-Barnes writes. "Or at least to want to hate them. At least, I want to stop caring about them, individually and collectively. I want to stop caring about their misguided, racist souls, to stop believing that they can be better, that they can stop being racist."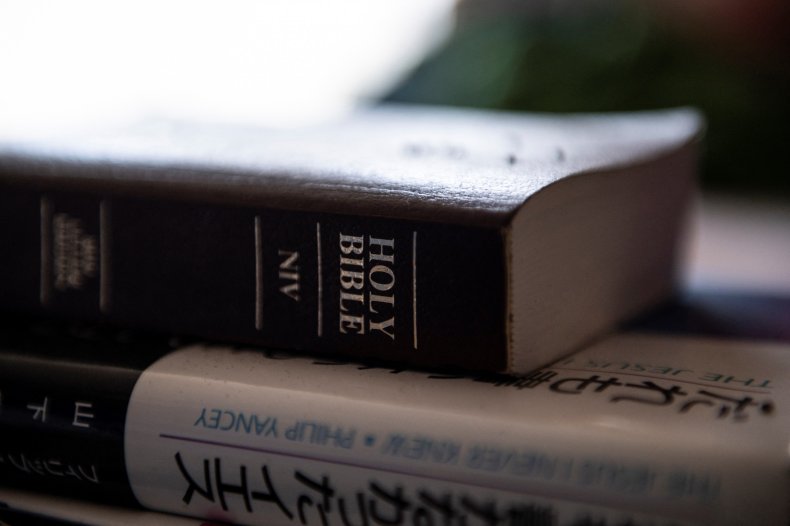 She goes on in the prayer to say she wants help to hate moderate, "nice" white people who disguise their racism by acting pleasantly toward Black people but who do not take an action to combat white supremacy.
"My prayer is that you would help me to hate the other white people—you know, the nice ones," Walker-Barnes writes. "The Fox News–loving, Trump-supporting voters who 'don't see color' but who make thinly veiled racist comments about 'those people.' The people who are happy to have me over for dinner but alert the neighborhood watch anytime an unrecognized person of color passes their house."
She adds: "Lord, if you can't make me hate them, at least spare me from their perennial gaslighting, whitemansplaining, and white woman tears."
A Rhythm of Prayer is No. 1 on Amazon's Christian Meditation Worship & Devotion section and is a New York Times bestseller. The book is "for the weary, the angry, the anxious, and the hopeful, this collection of moving, tender prayers offers rest, joyful resistance, and a call to act," according to the description on the store's website. "Encompassing the full breadth of the emotional landscape, these deeply tender yet subversive prayers give readers an intimate look at the diverse language and shapes of prayer."
A theologian, minister and psychologist, Walker-Barnes' work focuses on "healing the legacies of racial and gender oppression," according to her website. Walker-Barnes said in a Twitter thread on Wednesday that she wrote the prayer after a white person, "someone I would have called a friend," used the N-word racial slur in a casual conversation, triggering her. Rather than seek "vengeance" or "ruin [the friend's] rep," Walker-Barnes resorted to prayer.
"I took my rage to God in prayer," Walker-Barnes wrote. "I owned it, I was truthful to God about what I was struggling with. And I prayed for God not to let anger and hatred overwhelm me."
Walker-Barnes went on in the Twitter thread to explain that her grandfather and great-grandfather escaped from South Carolina sharecropping and fled to Florida in the 1900s. She added that her family's experience of racism, and her own, has given her "millions of reason to hate white people," and said "dammit if God hasn't given me a different spirit, one that insists on looking for goodness and possibility, one that holds anger and hope together."
Walker-Barnes' prayer was gotten backlash for calling for racism against white people. Ryan McAllister, lead pastor at Life Community Church Alexandria in Virginia, responded via Twitter that Walker-Barnes prayer was "anti-Biblical" after a member of his church sent him photos of the prayer when she saw it in Target.
Conservative outlet the Gateway-Pundit called the book "satanic." Korean Christian Conservative Kangmin Lee said in an Instagram post that Walker-Barnes' prayer was "demonic" and joined McAllister in blaming critical race theory, which is a "conspiracy" that paints white people as "guilty and sinful because of their skin color." As a result, minorities discriminate against white people to achieve so-called "equity."
"This breeds hatred, bitterness, division and violence," Lee wrote. "This is NOT of God."
Amazon consumers left a range of reviews for A Rhythm of Prayer.
One reader under the name Christopher Lomas, said controversy over Walker-Barnes' prayer was "childish and very shallow in analysis and just perpetuates division."
"Read the WHOLE thing before judging and you will see its heart is pure and not what is being blasted around," Lomas said. "If anything its raw emotion gave me, a white woman, a glimpse of the depth of pain of the writer."
Whereas another reader, known as Janelle, responded the book was not biblically based: "It includes prayers of hate, it describes God using she & her, and changes Bible verses to be more 'inclusive.' God does not hate. God's pronouns do not change. The Word of God does not change."
Supporters of Walker-Barnes also took to social media to defend her words.
"I am so sickened by the backlash over the prayer," Andrew Robb-Scott, a former seminary student of Walker-Barnes, said in a Twitter thread on Wednesday. He challenged critics to read the end of the prayer, in which Walker-Barnes discusses striving toward a community "collectively liberated from whiteness" that experiences true freedom and equality.
Robb-Scott adds:
"Will we only invite black speakers to our churches during black history month and ignore the cries 'I can't breathe!' And this earn hatred? Or will we wake up and fight for our collective liberation? The choice is ours."
Bessey, an author of bestselling books about faith, responded that the criticism of the prayer was not justified, according to a statement she released on her website on April 8.
"While some may consider this to be a provocative start to a prayer, its intentional extraction from the rest of the prayer obscures its context and the biblical model it is based on," Bessey said in the statement, which is signed by herself and the book's other contributors. "Our sister is bringing her weariness and her anger over the real sin of racism to God."
Bessey added the prayer was a "faithful, honest lament, modelled on Scripture" with a "Biblically-based call" for loving neighbors, "as Jesus said."
The editor explained that Walker-Barnes' prayer was modeled on the Psalms of lament and anger, which are referred to as imprecatory Psalms in the Bible. "The Bible is often more honest about these complicated emotions than a lot of religious people," she said.
Bessey went on: "The backlash that Dr. Walker-Barnes is facing because of her prayer ironically serves as proof of why such a prophetic, powerful, and potent prayer is necessary."
Newsweek reached out to Target, Bessey and Walker-Barnes for additional comment but did not hear back in time for publication.
This story was updated on April 9 to include Sarah Bessey's statement.