Republican Party Flirts With Supporting Ted Cruz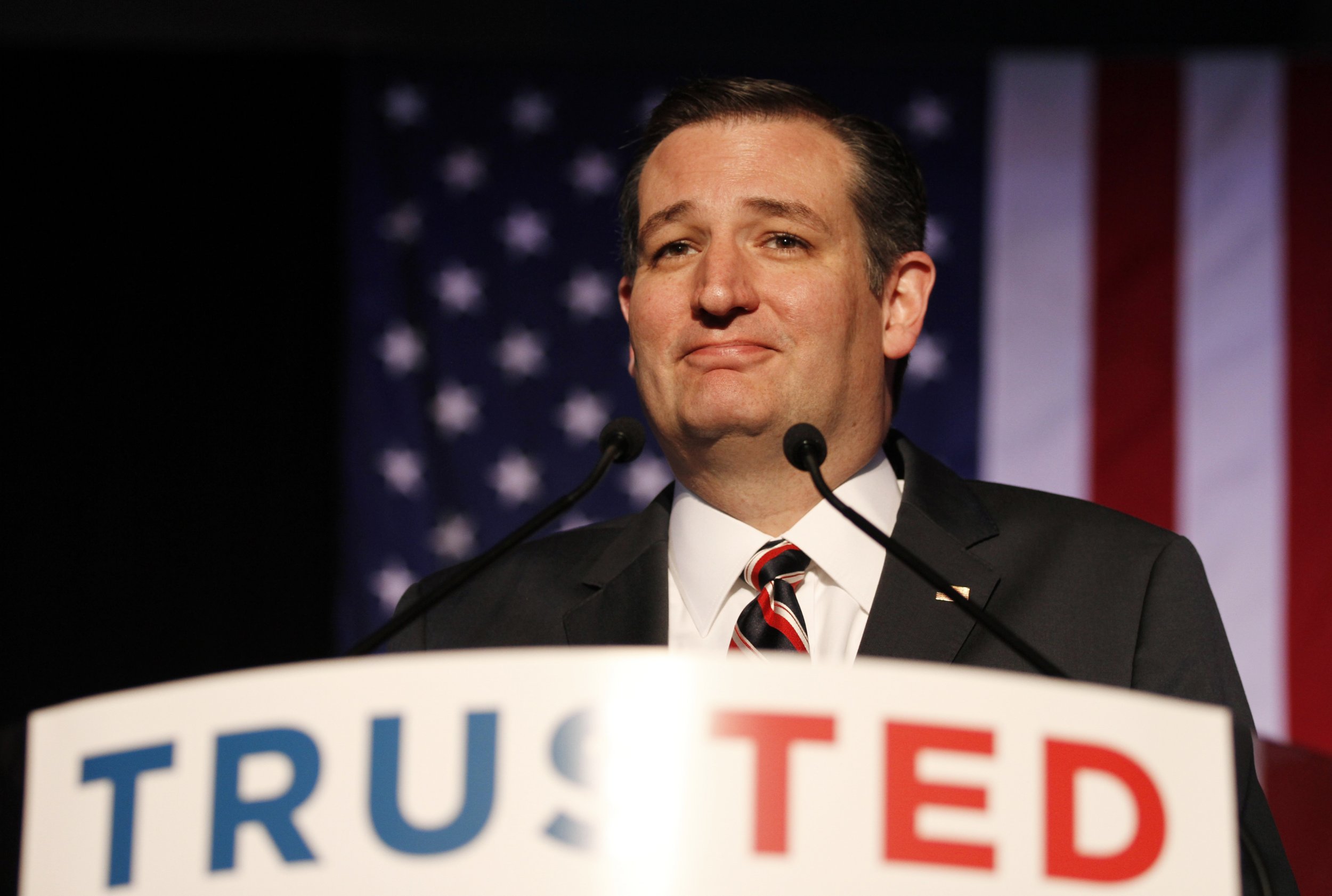 Updated | In a sign of how truly dire things have become for the GOP this presidential election cycle, an increasing number of big-name Republicans are turning to Ted Cruz—arguably the party's least-liked member—in an effort to prevent the current front-runner, Donald Trump, from hijacking the party's nomination.
As Cruz is fond of pointing out, he is the only Republican besides Trump still running who could conceivably capture the 1,237 delegates necessary to secure the party's nomination. Even so, it's a long shot. Cruz now has 413 delegates, and to reach 1,237 he needs about 78 percent of all remaining delegates. Trump, meanwhile, needs 559 more delegates, or about 53 percent of those remaining—no mean feat, but his path to the nomination is clearer than anyone else's at this point.
At present, the party's best bet at stopping Trump is with a contested convention. That can only happen if no candidate gets 1,237 delegates by July. The way things look now, Trump will probably have the most delegates by then, even if he doesn't have quite enough to win the nomination outright. But if another candidate were to go into the convention in a close second place, the party's case for nominating that candidate over Trump becomes a bit easier.
That is why the Republican Party appears poised to throw its support behind the junior senator from Texas, despite his repeated run-ins with the party brass. On Thursday, Cruz won the grudging support of South Carolina Senator Lindsey Graham, who until December was one of Cruz's rivals for the Republican nomination. Graham's antipathy for his fellow senator is well known, but he told CNN: "I think he's the best alternative to Donald Trump. He's certainly not my preference, Senator Cruz is not, but he's a reliable Republican conservative."
Graham added: "John Kasich, I think, is the most viable general-election candidate. I just don't see how John gets through the primary."
The senator's endorsement, or whatever it was, represents a major shift, if only in tone, from his previous comments about Cruz. In January, Graham told CNN's Wolf Blitzer, "If you're a Republican and your choice is Donald Trump and Ted Cruz in a general election, it's the difference between poisoned or shot—you're still dead."
Other big-name Republicans are coming around to Cruz too. While only one other sitting senator, Mike Lee of Utah, has backed the Texan, he is beginning to rack up endorsements from other quarters. On Friday, former Republican presidential nominee Mitt Romney said he will be voting for Cruz. The governors of Texas and Mississippi, as well as Governor Nikki Haley of South Carolina, who previously endorsed Marco Rubio, have come out in favor of Cruz as well.
Rubio, the senator from Florida who dropped out of the race on Tuesday after losing his home state's primary to Trump, is also thought to be nearing a Cruz endorsement. Politico reports that Cruz and Rubio are hammering out the details of a possible endorsement, according to "sources familiar with the thinking of both senators."
And on March 8, Jeb Bush's younger brother, Neil, joined Cruz's campaign finance team. Jeb Bush has not yet endorsed anyone for president.
This article has been updated to include Mitt Romney's comment that he will be voting for Cruz.