How to Help Thousand Oak Shooting Victims: Where to Donate After Mass Shooting
Those who are looking to help the victims and the families affected by the shooting at a bar in Thousand Oaks, California, do not have to be in California to help.
Crowdfunding campaigns and blood drives have been organized after the shooting that killed 12 people and injured at least 21 others. Here is a list of multiple ways to assist those affected below: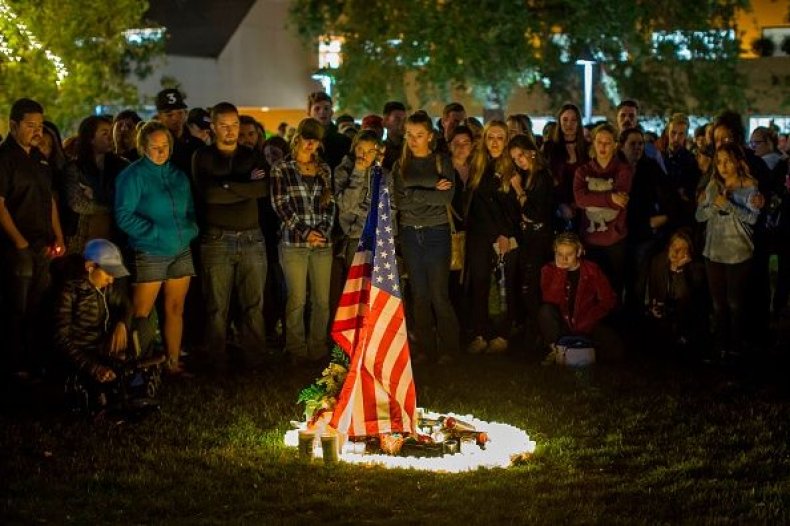 Donate:
The Rotary Club of Westlake Village has set up a GoFundMe page to help raise money for the victims and the families of the victims. This is the official campaign verified by the crowdfunding website to aid those affected by the mass shooting. The fundraiser had already raised more than $32,800 of its $50,000 goal as of Friday.
"This fundraiser is meant to provide relief and financial support to the victims and families of this tragic Thousand Oaks mass shooting," the statement on the website read. "Funds will be collected by the Unrestricted Charitable Foundation of the Rotary Club of Westlake Village, a registered 501(c)3. Brian Hynes, owner of Borderline Bar & Grill, is a member of the Rotary Club of Westlake Village. I am in direct contact with Brian Hynes, and he has asked me to set up this official GoFundMe for Borderline and Rotary Club of Westlake Village."
Give Blood:
Those who live in California and wish to donate blood can do so at the gym in La Reina High School in Thousand Oaks. There was a blood drive held on Thursday, but United Blood Services organizers told NBC4 it had to end before 3 p.m. due to the overwhelming amount of donors who showed up. Officials told the news station that it was important to register before donating blood.
"This is amazing over 500 people in this line," Tony Guevara, head of La Reina High School, told NBC4. "When tragedy strikes that really calls forth the best in communities."
To donate blood to help those affected by the shooting, click here.
Call Your Representatives:
Getting involved in gun control legislation is another way to help those affected by the shooting without donating. Those who wish to have an impact on gun control legislation can write or call their local lawmakers and congressional representatives. Click here to find members of Congress. For additional help, the United States Capitol's switchboard is available at 202-224-3121.