The coronavirus (COVID-19) outbreak has brought out the caring side of people across the world with Google searches on how to donate or help different groups of people affected at an all-time high.
According to Google Trends, people are searching for ways to show gratitude toward all those working tirelessly during the pandemic. Americans have been researching how to thank their bus drivers, nurses, healthcare providers, and workers. They have also searched for how to support local and small businesses.
Other high search trends include "how to volunteer," "how to help the community," "how to help the elderly," and "food donation."
To help fulfill these philanthropic wishes, Newsweek has compiled a list of ways people can support, donate, or volunteer during the COVID-19 outbreak.
Where Can I Send Food Donations?
Food banks across the U.S. are welcoming food donations during the outbreak.
Feeding America has a nationwide network of 200 food banks and 60,000 food pantries and meal programs. According to its website, donations to food banks make their way to hunger-relief charities. The banks themselves act as food storage and distribution depots for smaller front line agencies. They are run by volunteers and rely on donors.
If you wish to make a donation or volunteer your time, you can find your local food bank the search tool on Feeding America's website. Sustainable America also has a search tool for finding organizations that take food donations.
If you run a business and have any leftover food that might perish during the outbreak, you can get in touch with Food Donation Connection.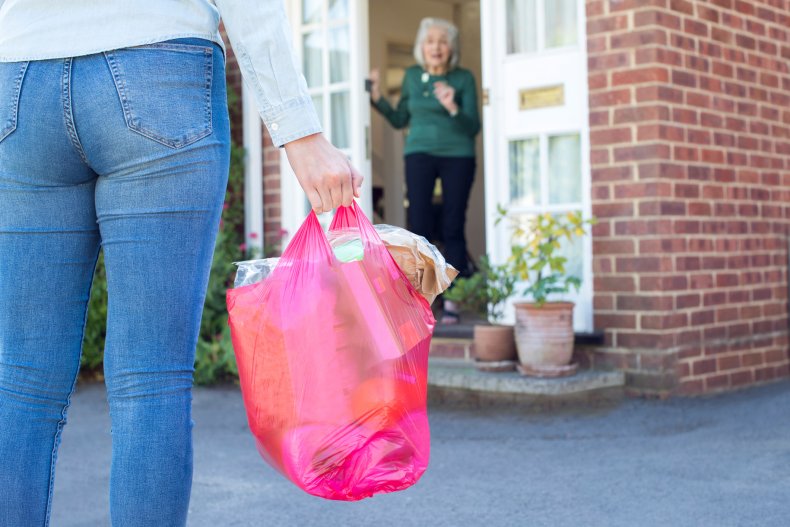 How To Help Your Community
Youth, elderly, and the homeless are often the most neediest in times of national strife.
The AARP has a database of volunteer opportunities not only for the elderly but for soup kitchens, youth projects and neighborhood tutoring programs. Users only need to choose their location and when they can volunteer.
The U.S. Army is also looking for medical volunteers through its reserve program or from retired servicemen and women: "The U.S. Army is actively seeking retired officers, noncommissioned officers, and other Soldiers to assist with COVID-19 pandemic response efforts," officials say in a statement published on the U.S. Army Reserve website. "When the nation called, they have answered, and now that call has come again. This extraordinary challenge requires equally extraordinary solutions."
The Army is currently looking for the following medical specialties:
Critical care officers, 60F
Anesthesiologist, 60N
Nurse anesthetist, 66F
Critical care nurse, 66S
Nurse practitioner, 66P
Emergency room nurse, 66T
Respiratory specialist, 68V
Medic, 68W
For those who meet the criteria for volunteer service, visit the recall survey website and submit your name for call-up.
You can also support the armed forces through the Army Volunteer Corps (AVC), which is designed to help find local volunteering opportunities with organizations that benefit the Army community. Contact the local army volunteer coordinator within the Army Community Service Center to register and learn about volunteer opportunities.