Helping Veterans is No Game for Charitable Stack-Up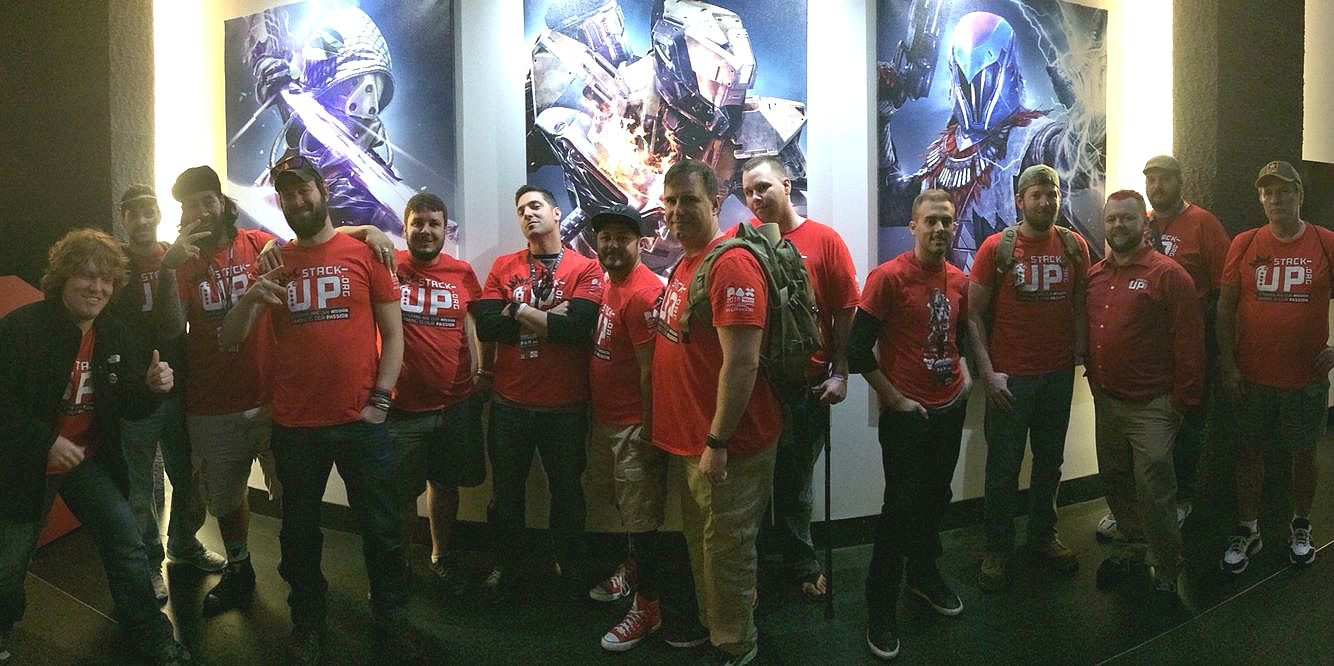 A group of veterans hopes that video games prove a useful way to help alleviate the feelings of isolation and depression felt by many of the almost 4 million disabled veterans in the United States.
Stack-Up is a veteran-focused charity that uses video games (and other "nerdy" hobbies) to alleviate the stress of deployment and ease veterans' transition to civilian life. The organization was founded in November 2015 by Army veterans Stephen Machuga and Nate Serefine. Many are familiar with Stack-Up via its Supply Crate program, which packages and ships bundles of "video gaming and nerd goodness" to active duty soldiers. Its also one of the youngest veteran support organizations in the U.S. But an experienced leadership team allows Stack-Up to be much more effective than you might expect from a charitable organization that just celebrated it's one-year anniversary in November. Chief Development Officer Kevin Wallace no longer thinks of Stack-Up as the proverbial new kid on the block. But he doesn't shun the label either.
"We obviously have key people in our organization that have experience. They've been in this field, even specifically military nonprofits, for years now," Wallace said. "But I think 'new' is a perfectly understandable and, I think, acceptable title for us. 'New' shows that we're not set in any of our ways. We're still adapting. We're still growing. And if I can say we're always doing that, I'll take 'new' for the next 10 years."
Adaptation played a big role in Stack-Up's first 15 months. The group's goal for 2016 was to be a consistent presence at major video game industry events, a milestone that frequently required Stack-Up to balance the passions of its staff and volunteers against the organization's needs. But that push and pull helped the charity identify what was most important to its team. The organization also benefits heavily from Machuga's experience in veteran support; knowledge that allows the team to realize globe-spanning operations aren't the only way to make a difference.
"We're focusing on a local level. We want hands-on interaction with veterans," Wallace told Newsweek. "We want them to see, you know, we're not just looking at you like a number. We're not just looking at you like something on a piece of paper. You are human beings. We want to treat you as such."
'Challenge and a Blessing'
That "down in the trenches" attitude is part of why Stack-Up prioritizes its service programs, such as Supply Crate, over lavish parties or eye-catching convention booths. Wallace knows both would be fun for staff and could bolster public awareness of the organization. But parties and heavily decorated booths don't do much much for the people Stack-Up is trying to help. Getting support from the general public, particularly those without veterans in their family or social circle, requires too much time and energy for money to be wasted on frivolities.
According to a Giving USA Foundation report, Americans donated 59 percent more to religious organizations ($119.3 billion) than they did to health ($29.81 billion) and human service ($45.21 billion) charities in 2015. For comparison's sake, the Wounded Warrior Project—the country's largest military charity—received $370 million in donations during the same period. And the combined donations ($272 million) of the next nine most successful charities, tracked by Charity Watchdog, fall $100 million short of Wounded Warrior's funding.
"Veteran support is something that shouldn't be niche. But, in an unfortunate way, it is," Wallace said. "So that kind of gave us a challenge and a blessing at the same time. Challenge in the sense that it's a new conversation. It's something that people [still need] to understand deserves the support that it needs. But at the same time it's a blessing in the sense that we're kind of carving our own path. We're able to learn from the general philosophies and principles of other people who succeeded (or even not succeeded) before."
As word spreads, there have been questions about (and comparisons to) the charity Operation Supply Drop. A Polygon article attempted to navigate the rift between Machuga, who founded both charities, and Operation Supply Drop's new CEO, Glenn Banton. But the story left many onlookers with more questions than answers. There was plenty of finger-pointing, and the only thing both sides seemed to agree on was that Machuga and Banton's working relationship had soured. Wallace didn't hide from that bad blood and acknowledged Stack-Up's previous efforts to distance itself. But he says the team isn't worried about comparisons anymore, because Operation Supply Drop and Stack-Up share the same goal.
That spirit of forgiveness extends far beyond the organization's previous issues with Operation Supply Drop. Palmer Luckey remains a member of Stack-Up's advisory board after last year's Nimble America scandal and $500 million judgment against Oculus in the company's legal battle with ZeniMax Media. Wallace says many supporters also have questioned Stack-Up's decision to work with the Wounded Warrior Project, to host a series of Game Nights in Pittsburgh and Chicago, given the spending scandal that forced the project to jettison half its executive team.
A Better Business Bureau study undercut many of the allegations leveled against the Wounded Warrior Project, like excessive travel spending, but that information hasn't spread nearly as fast as the initial claims. But neither organization will be swayed by the occasional skeptic, so long as its counterpart is holding up its end of the bargain.
"Everyone knows history. History is something that can't change. It can be written. But it's already happened," Wallace said. "What matters, whenever you're looking at…helping people in the moment, is what they're doing now. As long as people are [helping vets], we'll work with anyone. The second you get away from that, we'll probably take a step back."
Wounded Warrior Project Community Integration Director Greg Frey expressed similar sentiments in an emailed statement.
"This relationship with Stack-Up is very new, but it's a partnership that we're excited to see grow and develop. We have worked with many other veterans service organizations (VSOs) and veteran supporters over the years for the same reason we work with Stack-Up: we understand that no single organization can solve the complex challenges that wounded veterans face," Frey told Newsweek. "We need to band together to provide a complete spectrum of programs and services. Our main goal at Wounded Warrior Project is ensuring this collaboration positively impacts our warriors and makes a difference.
"What we've seen so far is that these Stack-Up events are helping. Warriors are responding well to the game nights, forging friendships, and building a support network with their peers. They play online together and check in with each other. They engage each other socially and have fun while doing it. These are all very important parts of maintaining positive mental health."
The organizations are planning six more game nights at Wounded Warrior Project facilities in Chicago, Jacksonville, New York City and Pittsburgh and haven't ruled out additional events in the future. Wallace says he'd much rather focus on Stack-Up's burgeoning Air Assault program, a project he compares to trips the Make-A-Wish Foundation organizes for children with life-threatening illnesses. Air Assault sends active duty military and honorably discharged veterans to major conventions like PAX and E3 with minimal expenses. Stack-Up covers travel and lodging, along with a pass for the show. The group even schedules developer interviews and one-on-one demonstrations when possible. Air Assault participants are selected from applications submitted by qualified soldiers/veterans and their loved ones.
"That generally kind of opens people's eyes a little bit and from there they start asking more questions," Wallace said. "They start understanding a little bit better the concept of how video games can help those with anxiety disorders and it's something that I feel over time, as the issues become more prominent, as we raise more awareness in the community, as we make that a more general roundtable discussion, I feel like that barrier we're dealing with right now—as far as understanding—is going to wear down over time. I've got hope."
Care packages and convention trips will always be its bread and butter, but Stack-Up's work is already expanding. The organization has close ties to Warfighter Engaged, a nonprofit that modifies game controllers for disabled veterans, via Stack-Up Director Of Veteran Services (and Warfighter Engaged partner) Dave Crouse. Stack-Up recently partnered with Line1.org, an "independent career network" connecting veterans and hiring managers, to provide resume assistance, job placement and other career services. Stack-Up even works directly with developers, when the opportunity presents itself, to discuss accessibility features for new and upcoming releases.
Finding the 'Next Step'
In January, the studio organized a meeting between a disabled veteran and Phoenix Labs, the studio behind Dauntless. PC games typically offer more input customization than console releases, a tradition the studio says will continue in its co-op action-RPG. But Phoenix Labs Head of Community Ian Tornay says the opportunity to meet with a bilateral amputee from the community yielded invaluable feedback for the studio.
"The entire team at Phoenix Labs was inspired by the enthusiasm and determination shown by the Stack-Up member we met at PAX South, who not only played our game, but did exceptionally well compared to her teammates," Tornay told Newsweek. "We're looking forward to learning more about the challenges Stack-Up members are facing and how we can accommodate them. Exploring new ways to approach control and interface is not only an issue of accessibility—it is an opportunity for inspiration and discovery."
The studio won't discuss what it learned during the meeting or how that data might impact ongoing development of Dauntless. But Tornay says Phoenix Labs will continue to work with Stack-Up to get a better understanding of the challenges faced by a growing number of gamers.
It's an undertaking that's unlikely to benefit Stack-Up in any significant way. The meeting won't increase Stack-Up's funding, credit for new accessibility features will undoubtedly go to Phoenix Labs and the behind-the-scenes nature of the effort means most won't even know it happened. But that's not why Wallace, or anyone at Stack-Up, joined the team in the first place. The goal is helping veterans. It's almost a mantra for Stack-Up's chief development officer. And if they can't do the job, Wallace says the organization just wants to make sure someone else will.
"We want to figure out a way to empower veterans with gaming," Wallace told Newsweek. "We found the way, the connect, we feel helps them. Whether it's from a healing standpoint, mental health, etc. But what is that next step? What is the way that we can make this to where, god forbid something happens to our organization tomorrow, our work will be continued on from people of the same level, if not more influential."