George Floyd Died of Heart Attack Complicated by Neck Compression, Final Autopsy Report Says
The Hennepin County Medical Examiner's Office has released its final autopsy report for George Floyd, the 46-year-old black man who died in police custody after a Minneapolis police officer knelt on his neck for nearly nine minutes.
The report lists his cause of death as "Cardiopulmonary arrest complicating law enforcement subdual, restraint, and neck compression."
In layman's terms, the medical examiner said Floyd died from a sudden failure in his heart's ability to pump blood to his brain due to the stress put on his body by the arresting officer pressing upon his neck.
The autopsy report mentions that Floyd also had traces of fentanyl, THC (a chemical compound found in cannabis), morphine and methamphetamine in his system. The first three drugs are sometimes prescribed for pain and meth is used in decongestant, diet and ADHD medications. The report neither says if the drugs contributed to his death nor whether he had prescriptions for them.
The in-depth report also includes mention of several blunt-force injuries Floyd sustained near the time of his death, including scrapes, bruisers and tears on his forehead, face and upper lip, shoulders, hands, elbows and legs. Floyd also had arteriosclerotic heart disease, hypertensive heart disease and had tested positive for COVID-19 on April 3, though examiners think traces of the virus merely lingered after his earlier infection.
Examiners found no evidence of other soft tissue, skull, brain or bone injuries, save a single broken rib from unsuccessful attempts to revive him using CPR.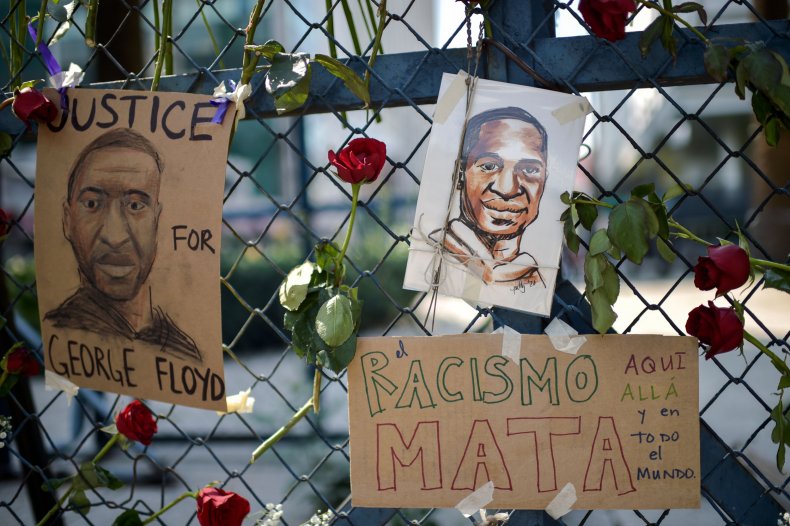 The medical examiner's report contradicts the conclusions of a private autopsy ordered by Floyd's family which declared he died of asphyxiation, a lack of oxygen.
The Floyd family hired two doctors to conduct an independent autopsy, the family's lawyer, Benjamin Crump, announced during a Monday afternoon news conference. Those doctors concluded that Floyd died of "asphyxiation from sustained pressure" of his neck and back by Minneapolis police during his arrest.
In other words, the pressure from the policeman's restraint of Floyd cut off blood flow to his brain and he died from that lack of oxygenated blood.
While the Floyd family hasn't yet released a full report on their autopsy findings and are reportedly investigating further details that might've contributed to his death, their public comments so far haven't mentioned any of Floyd's other diseases or substances in his body.
Newsweek reached out to the Hennepin County Medical Examiner's Office for further information. This story will be updated with any response.