Henri Huet's Vietnam War Photos on Display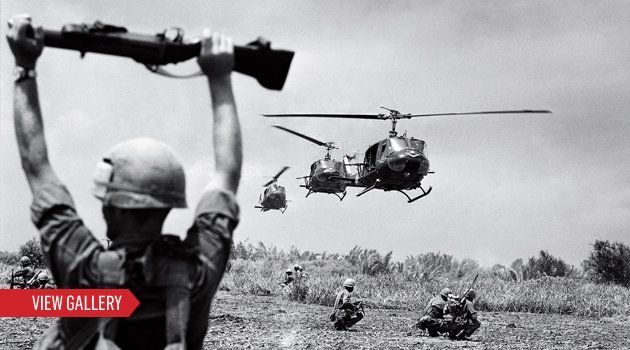 In January 1966,Associated Press war photographer Henri Huet was on assignment in An Thi, in Vietnam, when he came across a young, wounded Army medic named Thomas Cole in a muddy trench. Cole's eyes were wrapped almost entirely in bandages, yet he was tending to fellow injured soldiers of the First Cavalry Division. Moved by the sight, Huet snapped a series of images and took the film back to the AP bureau in Saigon. Life magazine decided to run a dozen of the pictures in its Feb. 11 issue, and chose one—of Cole helping Staff Sgt. Harrison Pell, titled simply "An Thi, January 1966"—for the cover. Life's own Vietnam photographer, Larry Burrows, agreed with the choice. "Now that's a war picture," he reportedly said at the time.
"An Thi, January 1966," which won Huet the Robert Capa Prize in 1967, is the opening image of Henri Huet: Vietnam, an exhibition at the Maison Européenne de la Photographie in Paris (through April 10). The show surveys Huet's finest Vietnam work as well as a handful of iconic images by his confreres, including fellow AP photographer Nick Ut's Pulitzer Prize winner of a naked 9-year-old girl fleeing a napalm attack and Eddie Adams's photo of a police chief executing a Viet Cong prisoner on a Saigon street. "Photojournalism in Vietnam reached a height and a quality that has never been matched," Richard Pyle, Huet's former Saigon bureau chief, told NEWSWEEK at the exhibit's opening. "And it has been an inspiration for war photography ever since."
Huet's shots of soldiers slogging through rivers and casualties strewn in the mud show not only the trauma and destruction of the war but also, at times, the poetic beauty of a ravaged land. An accomplished painter, Huet composed his shots from an artist's point of view: a low shot of helicopters hovering like a swarm of bees; an aerial shot of craters of the rain-soaked countryside resembling a lily pond; soldiers waist high in river water during a tropical downpour, the overall effect almost pointillist. "In my opinion," Pyle says, "Henri was the best photographer of the Vietnam War."
Huet was born in 1927 in the highland town of Da Lat, Vietnam, to a French engineer and his Vietnamese wife. At the age of 5, he went to live and attend school in the French Atlantic port of St-Malo; he later studied at the École des Beaux-Arts in Rennes. He joined the French Navy, where he learned photography, and was sent to Vietnam in 1949 as a combat photographer during the First Indochina War. Following his discharge at the end of the war, he stayed in Vietnam and eventually went to work for United Press International. In 1965 he joined the AP in Saigon.
Ut was 14 when he met Huet in the bureau. He had joined the AP after his older brother, AP photographer Huynh Thanh My, was killed. "I told Henri my real name"—Huynh Cong—"and he said, 'No one will be able to pronounce that,' and he called me Nick," Ut recalled at the Paris opening. "He showed me how to use a Leica—he loved his Leica—and I studied his pictures and learned. He had such an eye." Ut glanced around the gallery. "No one took pictures like Henri. All his pictures are like art."
The freedom afforded photographers and reporters in Vietnam was unprecedented. "We had no censorship, and we had physical access to the battlefield that journalists haven't had before or since," Pyle says. "This gave us more detail, which took war coverage to a new level." It also resulted in a shocking rate of press casualties—a record 75 in Vietnam, Laos, and Cambodia combined. Huet was among them: on Feb. 10, 1971, a helicopter carrying him, Burrows, photographers Kent Potter of UPI and Keizaburo Shimamoto of NEWSWEEK, and seven South Vietnamese was shot down over Laos. Huet was 43.
Pyle took the call in the Saigon bureau. "We were accustomed to losing people—that happens in war, that's what it's all about," he says now. "But with Henri it was different." Devastated, Pyle sat down and typed up the story. "I had to write the story," he recalls. "It was news."
There were no apparent remains at the crash site—but Pyle and the AP's Saigon photo chief, Horst Faas, never gave up. They returned to the area in 1998 with a team of excavators and found a few scraps, including a religious medal that had belonged to Huet. The items were interred in the Newseum in Washington, D.C., in 2008. "Henri was my good friend, my family," Ut says. "I still miss him."