Henri Strengthens to Hurricane as Northeast Braces for Dangerous Storms
Henri strengthened into a hurricane Saturday morning as it passes over the Atlantic and heads toward the Northeast U.S., forcing emergency preparations as parts of the country brace for heavy rain, wind and storms.
According to the National Hurricane Center, Henri is now expected to make landfall at or near hurricane strength on Long Island or in southern New England on Sunday. The hurricane is currently traveling with maximum sustained winds near 75 miles per hour.
Extreme weather warnings were issued across the region as millions of people prepare for the rare tropical storm system to strike. A hurricane hasn't directly hit Long Island or New England since 1991, when Hurricane Bob killed 17 people.
New York City also hasn't had a direct hit from a major storm since Superstorm Sandy made landfall in 2012, devastating communities and leaving thousands of people homeless.
Forecasters on Saturday predicted a dangerous storm surge could occur in portions of Long Island, Connecticut, Rhode Island and southeastern Massachusetts as early as this evening. The storm surge could cause high tides in coastal New England as Henri moves inland, while heavy rain and wind could cause floods.
"A Storm Surge Watch means there is a possibility of life-threatening inundation, from rising water moving inland from the coastline, in the indicated locations during the next 48 hours," the National Hurricane Center said in a statement Saturday. "Preparations to protect life and property should be rushed to completion," the center added.
A hurricane warning was issued for the South Shore of Long Island, from Fire Island Inlet to Montauk Point, and the North Shore, from Port Jefferson Harbor to Montauk Point. A warning was also issued from New Haven, Connecticut to west of Westport, Massachusetts. A tropical storm warning is in effect for coastal New York and New Jersey.
The storm system likely will be felt across a broad area, stretching from New York City to parts of New England, and brings the threat of power outages and fallen trees.
"We need to take this storm very seriously. Even if it doesn't make landfall as a hurricane, the tropical force winds and the storm surge can cause significant damage," Federal Emergency Management Agency administrator Deanne Criswell told CNN Saturday morning.
"We're going to see power outages, we're going to see downed trees, and even after the storm has passed, the threat of falling trees and limbs is still out there," she added.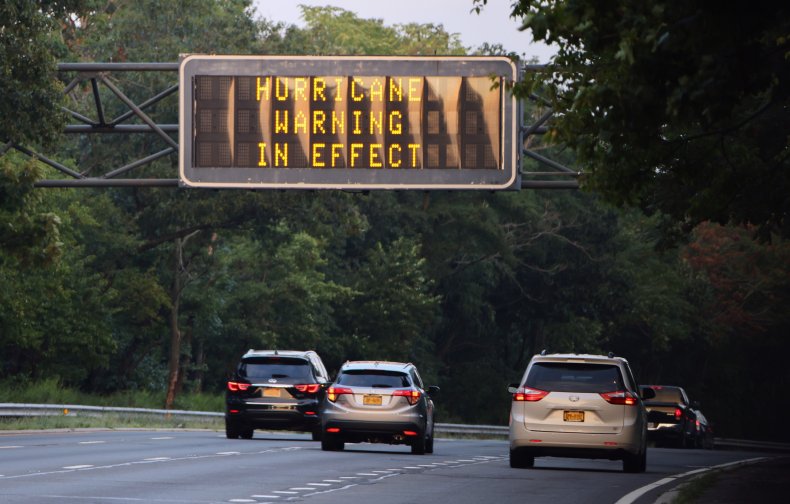 In Massachusetts, Governor Charlie Baker warned people who are vacationing in Cape Cod to evacuate before the storm hits, while Rhode Island Governor Dan McKee signed an emergency declaration to unlock federal resources to assist with storm response.
New York City Mayor Bill de Blasio urged residents to stay home on Sunday, and said up to 6 inches of rain with 3 to 5 feet of coastal flooding could be felt in Northern Queens and the Bronx.
On Friday evening, Connecticut Governor Ned Lamont declared a state of emergency and told residents to prepare to "shelter in place" from Sunday afternoon through at least Monday morning.
"This storm is extremely worrisome," Michael Finkelstein, police chief and emergency management director in East Lyme, Connecticut, told the Associated Press. "We haven't been down this road in quite a while and there's no doubt that we and the rest of New England would have some real difficulties with a direct hit from a hurricane."
Rainfall across the Northeast is expected to reach between 4 to 6 inches through Monday, and the National Weather Service warned of damaging winds and heavy coastal flooding in the coming days.
"Swells from Henri will continue to affect much of the east coast of the U.S. during the next day or two. These swells could cause life threatening surf or rip currents," the hurricane center said Saturday.