Henry Cuellar Says Mexican Gangs Benefiting From Joe Biden's Border Approach
A Texas Democrat has criticized the Biden administration's messaging around the migrant crisis at the southern border, saying that promoting "a humane approach" to immigration benefits the gangs illegally trafficking people into the country.
In an interview with Newsweek, Rep. Henry Cuellar (D-TX) said that given the thousands of people arriving at the border, the Biden administration should not be scared of taking a tougher line on illegal migrants and showing that many of these people will be returned to where they came from.
The number of arrivals at the southern border reached a peak in May 2019 under President Donald Trump, with more than 144,000 migrants detained or blocked at the border that month.
Cuellar, who has represented Texas's 28th congressional district since 2005, said numbers will likely reach their peak in the next couple of months.
"The numbers I'm seeing now say we haven't hit the high point of 144,000, but we haven't hit the high marks [for this year] yet. I think there's a lot of people in the pipeline right now that are on the way up here."
"Just this morning, two groups arrived in my district, each over 300 individuals," he added. His district covers the border city of Laredo, one of the key flashpoints for migrants coming into the U.S. via the border with Mexico.
As the weather gets warmer in the spring, migration numbers tend to rise. President Joe Biden, who has promised a more humane immigration system than his predecessor Donald Trump, is facing the first big test of his immigration policy, and more than 4,200 children are now detained at the border.
Asked whether the Biden administration projecting the message of a "more humane" immigration system was the right strategy for handling the crisis, Cuellar said it wasn't.
"This is where the administration needs to calibrate their messaging. They're trying to be different from [Donald] Trump, which I agree with. They need to be different; we don't separate kids. But [Biden's] 'humane' approach, is actually feeding the narrative that the bad guys are twisting to get people over; no ifs, no buts. I know this from talking to people on the ground in Mexico who have dealt with this problem for many years."
The congressman shared with Newsweek the latest data for the number of U.S Customers and Border Protection (CBP) encounters with migrants at the Southwest border with Mexico. In February, it said there were 100,441 CBP encounters with migrants, compared to 36,687 in February last year. Last month saw 9,457 incidents involving unaccompanied alien children and single minors, compared to 3,490 the same time the previous year. There were 19,246 encounters with family units in February 2021, compared with 7,117 in February 2020.
Cuellar added that although most of the immigrants coming into Texas's Del Rio area are from Central America, migrants from 54 countries are represented there, including places as far-flung as China, Europe, the Middle East, South Africa and Vietnam.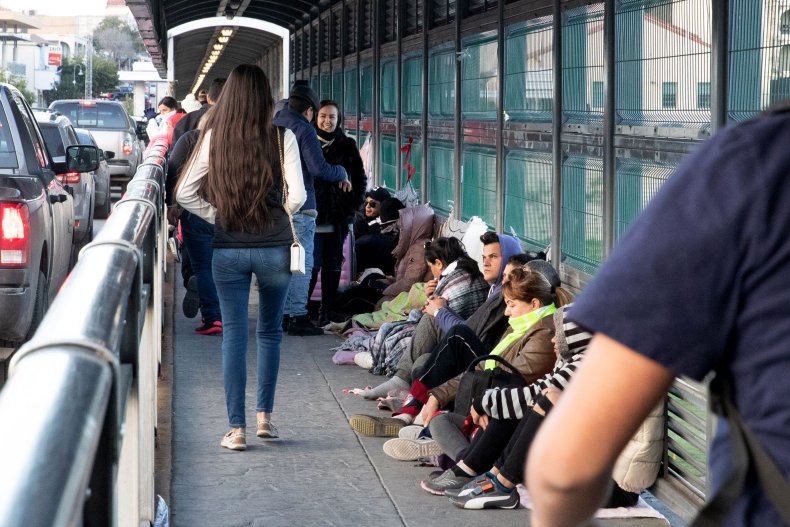 Rep. Cuellar welcomed Governor Greg Abbott's Operation Lone Star as a means to try and handle the border crisis, but he said U.S. security agencies need to do more to crack down on criminal organizations in Mexico. He said agencies could do more to follow the money being paid by the U.S. that helps these organizations flourish, such as funding for narcotics.
He called on the Biden administration to pay more attention to border communities when addressing the crisis. "They [the administration] need to engage people at the border; our mayors, our county judges, our NGOs at the border because we're the ones who are dealing with this and they just have to engage people a lot more and they're just not doing that at all. They have to engage the local communities when this issue comes up."
Border Patrol doesn't do any COVID-19 testing in Laredo, unless it is on children, Rep. Cuellar said. Instead, NGOs do the testing after asylum seekers are processed by border officials. He called on the administration to vaccinate border workers quickly, some of whom could be exposed to COVID-19.
"How can you have the frontline people not vaccinated? Under the Trump administration, less than 2 percent of the Border Patrol folks were vaccinated. Right now it's a little bit it's about a little bit under 24 percent under Biden, let's say less than a quarter of them. So we've been pushing to get men and women vaccinated, it's important to do that," Cuellar said.
He called on the Biden administration to move faster to get unaccompanied minors the health and social support they need after they arrive.
Cuellar said on March 4 that the U.S. was unprepared to handle the surge in migrants amid the pandemic. He urged the Biden administration to listen and work with communities on the southern border who are dealing with the influx.