Henry Kissinger is worried about the state of the world.
The 95-year-old statesman warned that "we are in a very, very grave period for the world" and compared the current era to the start of World War II, in a rare interview with The Financial Times released Friday.
Kissinger, who served as President Richard Nixon's secretary of state, explained that he had written a 25,000-word essay on Nixon but was worried that if he published it, it would draw comparisons between the Watergate scandal and the controversy surrounding President Donald Trump and the investigation into Russia's interference in the 2016 election.
Kissinger, who has consulted with Trump and met with Russian President Vladimir Putin on at least 17 occasions, said he doesn't believe that the Helsinki meeting between the two figures was uncalled for but does believe it should have been executed differently.
"It was a meeting that had to take place. I have advocated it for several years. It has been submerged by American domestic issues. It is certainly a missed opportunity," he explained.
Russia is in a precarious geopolitical position, he said, and they're particularly vulnerable to instability. "Look at Syria and Ukraine. It's a unique characteristic of Russia that upheaval in almost any part of the world affects it, gives it an opportunity and is also perceived by it as a threat. Those upheavals will continue. I fear they will accelerate." But, clarified Kissinger, Putin is not like Hitler.
The leadership and policy decisions made by Trump support Kissinger's thesis that we're experiencing a world order in chaos, or at least turmoil, he explained. "I think Trump may be one of those figures in history who appears from time to time to mark the end of an era and to force it to give up its old pretenses," he said. "It doesn't necessarily mean that he knows this, or that he is considering any great alternative. It could just be an accident."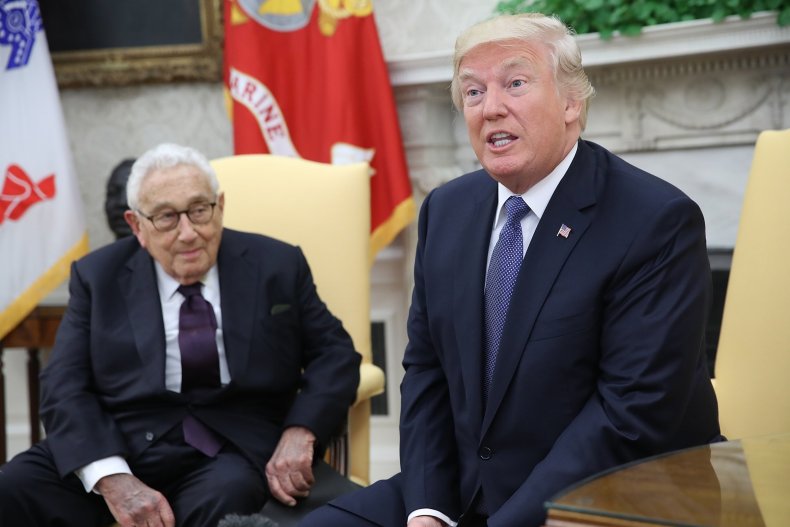 President Trump has questioned the current world order on numerous occasions, threatening to pull out of NATO and calling the European Union a "foe" while taking meetings with Putin and inviting him to the White House. Trump has also gone out of his way to meet with North Korean dictator Kim Jong Un. After their meeting, Trump called Kim "very talented."
Kissinger lamented that there are no leaders willing to discuss creating and upkeeping a world order today. "There is no debate today," he explained. "It is something we need to have."