Henry Kissinger Blasted for Telling Ukraine to Give Territory to Russia
Former U.S. Secretary of State Henry Kissinger was blasted on social media for saying Ukraine should cede territory to Russia in order to reach a peace deal.
Kissinger offered the suggestion on how the conflict should end while speaking at the World Economic Forum in Davos, Switzerland, on Monday. The former secretary of state encouraged Ukraine and Russia to begin negotiations in the next few months, saying the ideal goal should be a "return to the status quo," encouraging leaders to consider the implications of a long-term relationship with Russia.
"Pursuing the war beyond that point would not be about the freedom of Ukraine, but a new war against Russia itself," Kissinger said in the remarks that were met with condemnation on social media.
It remains unknown exactly what the end of the conflict will look like, though Ukraine has laid out several conditions—including that the country would only consider the war over when it regains control over all territories currently occupied by Russian troops.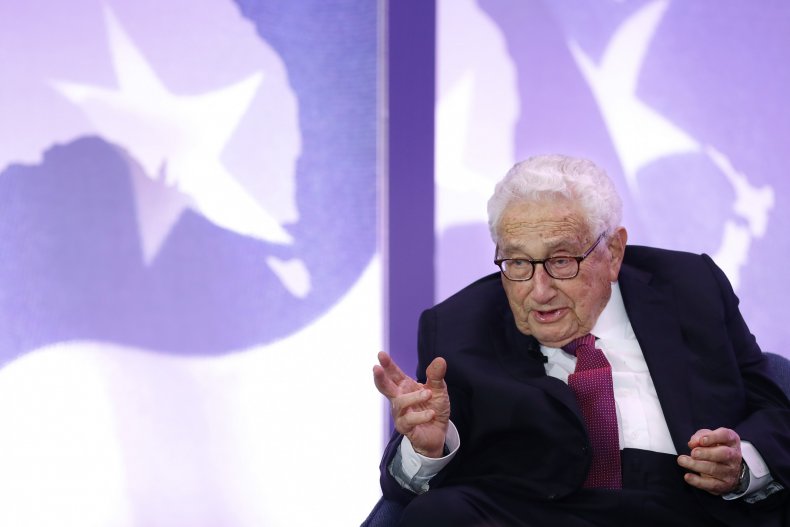 Mykhailo Podolyak, an adviser to Ukrainian President Volodymyr Zelensky, slammed Kissinger's remarks, writing that he would as easily "allow to take Poland or Lithuania away."
"It's good that Ukrainians in the trenches do not have time for listening to 'Davos panickers'. They're a little bit busy defending Freedom and Democracy," he wrote.
"An unfortunate intervention by Dr Kissinger at #wef22 — There is no strategic reason for Ukraine to concede its sovereignty to Putin, and every strategic reason for the West to support Kyiv to defeat Putin. There is no reason to be frightened of victory," wrote Dr. John Chipman, the CEO of the International Institute for Strategic Studies.
Illia Ponomarenko, a defense reporter with The Kyiv Independent, wrote: "With these supercilious, high-browed 'strategists' thinking of nothing past their elitist noses, Hitler would have destroyed the world."
"I don't care what your political affiliation is when it comes to this. I feel like every reasonable adult should be able to step back and acknowledge: wow, Henry Kissinger has a remarkable track record of being utterly wrong, again and again and again," wrote writer and veteran Charlotte Clymer.
Kissinger's remarks came as U.S. Secretary of Defense Lloyd Austin and Chairman of the Joint Chiefs of Staff Mark Milley indicated the United States would not dictate the conditions or goals of the war's "end state" on Monday.
"We're going to stick with doing everything we can to make sure that they [the Ukrainians] achieve their objectives," Austin said during a news briefing on Monday. "At the end of the day, what this looks like—what end state looks like—will be defined by the Ukrainians, not by us."
Russia has said it is ready to restart stalled peace talks with Ukraine, according to state-owned news agency RIA Novosti. However, Podolyak has excluded the possibility of a ceasefire in which Ukraine would cede any of its territories to Russia.
Newsweek reached out to a Kissinger spokesperson for comment.