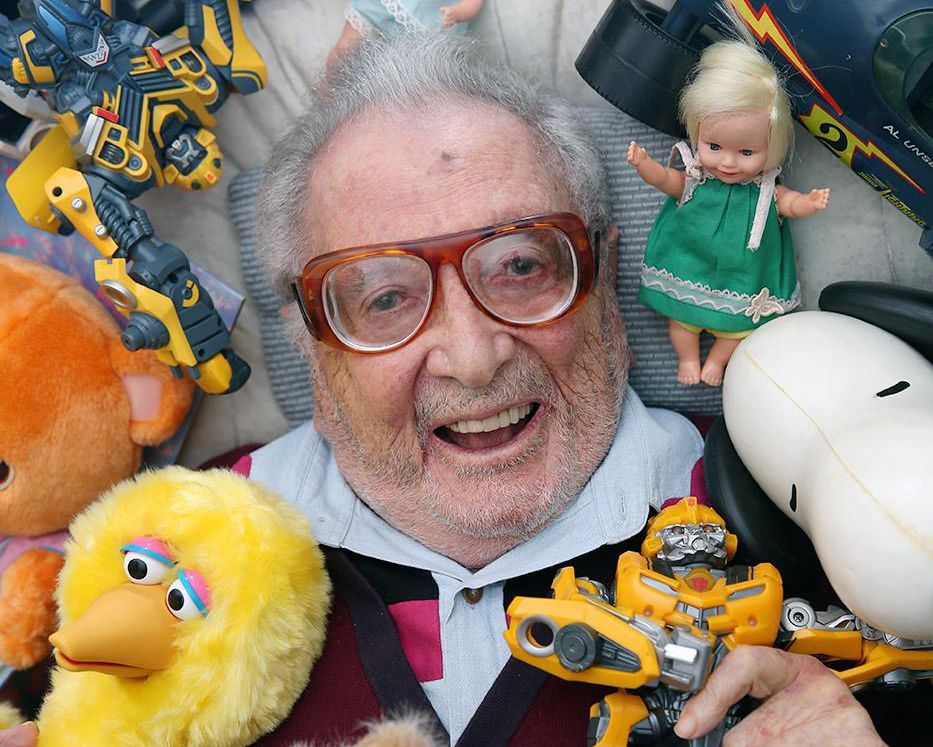 When you're tasked with profiling a man who's 93 years old—and survived five concentration camps, then went on to revolutionize the doll industry, help bring Transformers to America, and turn poker into a multi-billion dollar sport—inevitably there are anecdotes you know won't make it into the story. Fifteen minutes into my first interview with Henry Orenstein, I knew I'd have to sacrifice some of my favorite one-liners and stories for the greater good of the piece. As an editor said, "his Ronald Reagan story was a steak when we really needed ice cream." Yet some of these tales are too compelling to silence, and offer even more insight into the life of a man who survived extraordinary circumstances, then went on to teach children and adults around the world how to play. Here are a few outtakes.
Orenstein Meets Former Israeli Prime Minister Ariel Sharon
"I met Sharon [at a hotel] in New York," Orenstein says. "I told him that Israel has no chance to make peace with the Arabs. No matter what Israel will offer them, they will not accept, and any Arab that will accept the peace deal with Israel will be killed." The meeting, which was scheduled for 15 minutes, went on nearly an hour. Outside, on the street, Orenstein's driver, Ken Oakes, sat in the car, waiting. Eventually, a security officer came up to him and said, 'Who is this guy?! He's up there for so long!"
Malcolm Hoenlein, who runs the most powerful Jewish group in the U.S., the Conference of Presidents of Major American Jewish Organizations, attended the meeting with Orenstein. As he recalls, "Afterwards, [Sharon] told me, 'He's one of the smartest people I've ever met!'"
"Then Sharon's assistant called me," Orenstein adds, "and said, 'the Prime Minister was very impressed by your analysis and he would like to have you as a guest at his home in Israel.' It was quite a compliment!"
Orenstein's wife, Susie, recalls, however, that he politely declined. "Henry said, 'I don't travel. It will be better if you come here!'"
Okay, so What's That Reagan Story?
Hoenlein refers to himself as Orenstein's "humble servant and follower." As head of the Conference, he spends much of his time meeting with world leaders (he name-checks Turkey's president, Recep Tayyip Erdoğan, Syrian president Bashar al-Assad and U.S. presidents dating back to Ronald Reagan). "Honestly, some of the best advice I got all through the years on political issues and sensitive matters came from Henry."
During the Bitburg controversy of 1985, Hoenlein met with President Reagan at the oval office. "Reagan said to me, 'You know, I've never told anybody this, but I committed a crime,'" recounts Hoenlein. "This was in '45, I think. When he was dismissed from the Army, he said that he had been in the film unit, and he stole a film. He said, 'I knew it was against the law, but I stole a film about the concentration camps, because I know that the time will come when people will deny that this happened, and I wanted at least that my grandchildren will be able to give testimony that they saw the actual pictures.'"
One of the Most Memorable Moments in His Life
During the death march from the Sachsenhausen concentration camp at the end of the war, Henry and his brother, Sam, were placed in the same group and trudged north along with 33,000 other prisoners. " Somehow he got lost," Henry says. "I knew he would be very lost. As the Gestapo man came riding by on the motorcycle, I stepped out from the column and saluted him. They thought it was very funny, a Jewish prisoner saluting the guy. And I said, 'Herr Whatever,' the title I thought he had. I said, 'My brother is over there but he really belongs here.' The guy started laughing at my language. He really started laughing hard. He rode over there with the motorcycle, and soon enough I saw my brother come over across the field and toward us. That was one of the most memorable moments of my life."
On Orenstein's Quiet Philanthropy
Three times a year, Orenstein would walk into Jackie Ebron's office, a blank check in hand, ready to hand over as much money as she needed to help the families on her caseload. Other times, he'd follow her up three flights of stairs in dilapidated buildings overrun with mice and filth, just so he could visit the people he was supporting. " I'd present 75 to 100 cases to him at a time, and he'd take them all," says Ebron, Director of Client Services at the Metropolitan Council on Jewish Poverty, who's been overseeing Orenstein's charitable giving for the last 40 years. "He's given millions. Literally in the millions."
There is a soup kitchen in Queens named in Orenstein's honor, but you'd never know it feeds the homeless, the needy, the lost. "It looks like a restaurant," says Ebron. "There are curtains. You sit in a booth. Someone comes over and brings you everything from water to dessert. And you're not asked any questions. You don't have to say your name. You don't have to say what your income is. It's done with so much dignity."
Over the years, Orenstein also funded two buildings in memory of his murdered parents and siblings, a senior housing facility in Manhattan and another in Kiryat Ono, Israel, and donated enough to build a spinal rehabilitation department at a hospital in Israel.
On the Transformers Movies
"It's nothing special, really," Orenstein says, then sings, "'Transformers, more than meets the eye!'" He smiles. "That I like."