Henry Winkler on HBO's 'Barry' and the Poetry of Good Cursing
Spend 25 minutes with Henry Winkler and you'll wish you could spend 25 minutes with Henry Winkler every day. The actor, who famously played the Fonz on Happy Days and now stars in HBO's Barry, is happy, engaging and more than willing to share from a deep well of stories.
Checking into HBO's office's Tuesday, for instance, the woman at reception cheerily asked, "Going to say hi to Henry?"
"Yep," I responded.
Such a nice man, she told me, smiling. She's not wrong.
In our short chat, he'd give specific directions to his favorite NYC burger spot (Burger Joint at the Le Parker Meridien hotel), share pictures of his 13-week-old labradoodle and infant grandson, and tell the story about meeting an elephant so inherently caring it made him cry on the spot. Oh, and we also talked about Barry. Winkler is visably, and verbally, over the moon to have landed a part with so much to chew on.
"I love my job. I love my job," Winkler said. "Most people my age are sitting at home either waiting for the phone to ring or calling their phone to find it. I am having so much fun and I love the people I'm working with."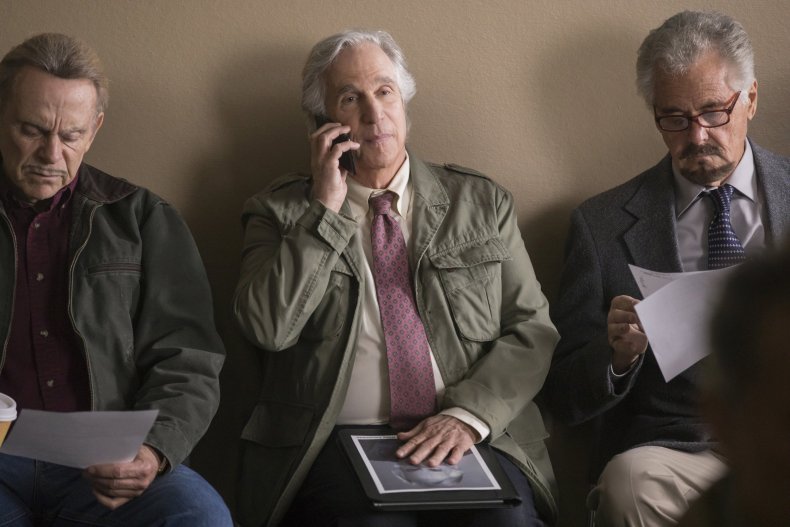 Barry tells the story of a hitman—played by SNL alum Bill Hader, who co-created the show with Silicon Valley's Alec Berg—who stumbles into an acting class and discovers a new passion as well as a desire to walk away from his day job of killing people. It's simultaneously hilarious, dark and unflinching in its portrayal of violence. The show premiered in March to nearly universally positive reviews, has aired five of its planned eight episodes and has already been picked up for a second season.
Winkler's portrayal of Gene Cousineau, a bloviating acting coach who commands respect from his students but from no one else, is hilarious and unexpectedly tender. I told Winkler that he made me care about this character by bringing a tenderness I didn't expect, and Winkler said Hader told him the exact same thing.
"I never thought about that. I just—it's an actor's job to interpret," Winkler said. "You take the written work and what people say about you in the script, what the director thinks, what the writer thinks and then what you think. Then you make this clay thing, this kind of sculpture. Except it's alive."
Winkler's Cousineau is a grifter of sorts, leading a group of young actors with little more than bluster and a need for grandiosity. But he still finds a way to be charming and endearing as he romantically pursues the lead detective charged with investigating a Barry-adjacent killing. "Hey detective, you know I've done my share of ride-alongs," Winkler's Cousineau intones in his best faux-smooth voice while leaning against a doorjamb. "I know the ins-and-outs of you profession. From where I'm standing, you check all the boxes."
And he is, of course, undeterred when Detective Janice Moss (played by Paula Newsome) responds, "What the f*ck are you supposed to be?"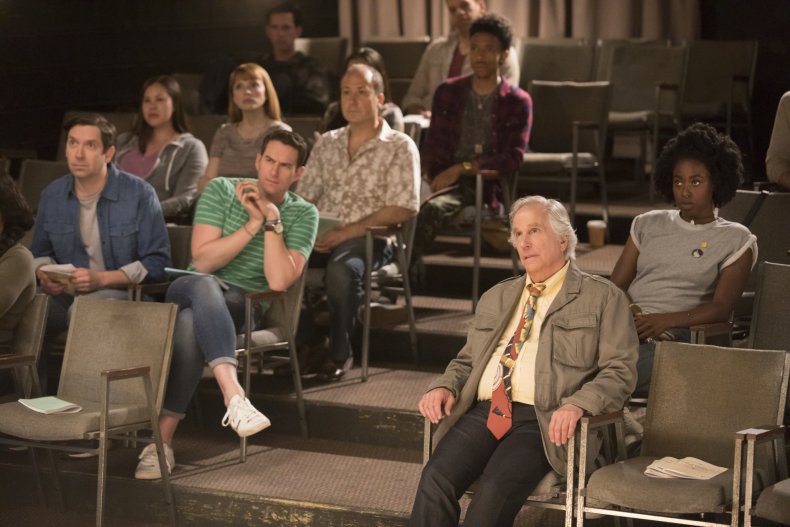 Winkler's uncanny ability to make viewers root for him seems to come, in part, from his own experiences as a working actor. There's a heartbreaking scene where Cousineau—who earns impromptu applause in the small world of his acting school—auditions for a miniscule part playing a guy waiting in a line. Winkler said he drew on a real life audition that was so bad, he thought he forgot how to act. That bad audition occurred after he had become one of the biggest stars on the small screen in Happy Days.
"I had no idea about what I was doing. Nothing was lining up. Nothing was clicking," he said. "And I walked out of there and I thought, 'It is very possible that my career is over. It is very possible that I no longer know what I'm doing.'"
Yet, at 72, here he still is—delivering a captivating performance in a hit HBO show and charming reporters with cell phone photos.
For instance, there's an amazing bit of dialogue from Cousineau in which he dresses down Hader's character in class after he delivers awful rendition of the most famous scene in Glengarry Glen Ross. It has the most effective, hilarious and, weirdly, character-revealing cursing in any show this year.
"Is that the way you see your life, as a human doormat?" Cousineau asks. "No? 'Cause that's all we've ever seen in here and I'll bet you tits-to-doughnuts it's no different out in the real world."
After more prodding and mocking, Barry tells his acting coach all he wants to do is take this class.
"Well you've got 10 seconds to make me believe that, f*cko, or you're never going to see the inside of this class again," Cousineau yells in Barry's face. The way Winkler spits out tits-to-doughnuts and f*cko hints at everything Cousineau is—a bit weird and surprising, self-assured in the world of his little classroom and old school to the point of being outdated. In real life, Winkler is all smiles and relentlessly positive.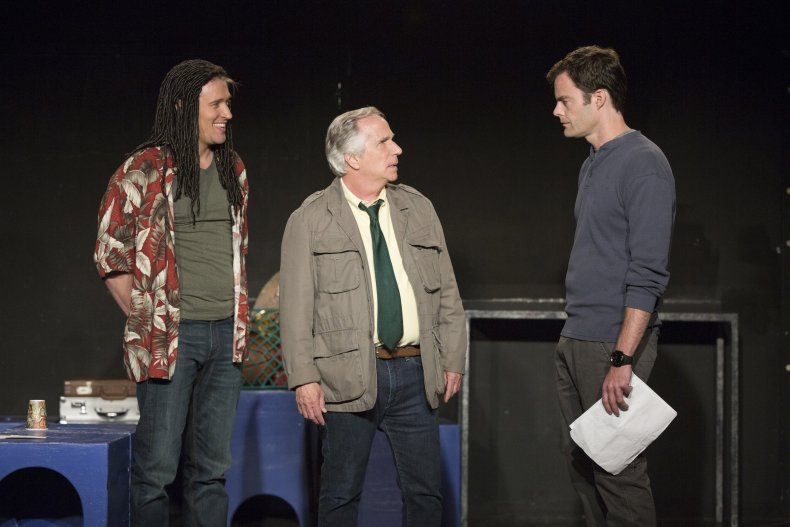 It was as if Winkler had waited weeks for someone to ask about cursing. He said he improvised tits-to-doughnuts—"It just came out of my mouth"—and soon enough he laughingly told the story of meeting a young Robert De Niro on the Paramount lot where Happy Days was shot. All Winkler could manage to do was compliment De Niro on the use of the f-word in Mean Streets.
"Cursing is really important," Winkler said. "There are moments where it diminishes you, if that's the only thing you can say to a person. But sometimes it's like poetry."
Soon enough, he's telling another story, this time recalling that James Earl Jones once told him he would take his son to the woods to let him curse at the trees as much as he wanted. After laughing deeply at the thought of rich, baritone F-bombs ringing out against pine trees in upstate New York, we were back on Barry and, improbably, the cheeseburger joint on 56th street.
Winkler's starting to get recognized for Barry, along with his laundry list of other memorable roles, and he seemed genuinely thrilled for that new development.
"We walk into the lobby of the hotel yesterday to get our cheeseburger. There's a young couple sitting there [who say], 'I love Barry,'" Winkler said. "I say, 'I love you. I'm crazy about you right now.'"
Then, in a non-sequitur change of subject, he picked up his phone and scrolled through pictures of his puppy, of a camel in Marrakech and, of course, his tiny grandson sporting a full head of reddish locks. "Look at this grandson," Winkler urged as I aww'd. "Come on! Come on!"
Before leaving, I managed to ask one last thing about Barry—what's his goal, his dream for the show? But what else could you ask for if you're already over the moon?
"I don't know. I have no dream," he said. "Dream that it continues. I want to act until I can no longer do it. That's my dream. I am so happy that I'm doing this."