Henry Winkler Wants to Honor 'The Fonz' After His First Emmys Win
Henry Winkler won his first Primetime Emmys Award of his career on Monday night for best supporting actor in a comedy series. As a result, he wanted to celebrate his first role in Hollywood as Arthur "The Fonz" Fonzarelli by wearing the character's signature leather jacket.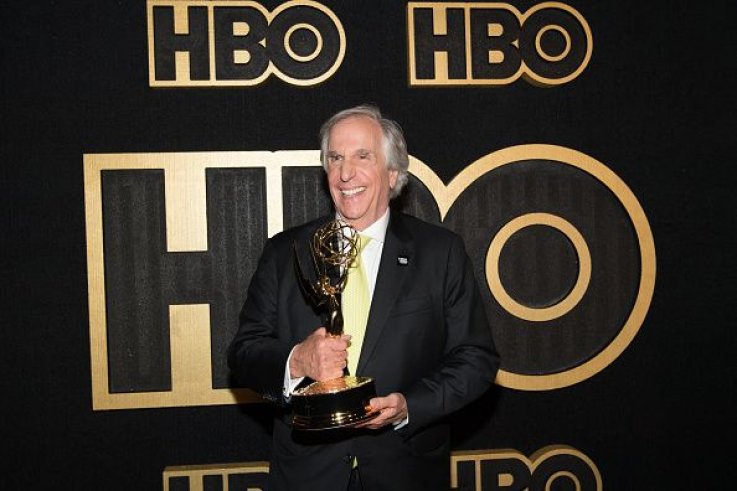 "It's in the Smithsonian and doesn't fit me anymore," he told Us Weekly in the 2018 Emmys press room on Monday. "I would have to get it resized!"
The iconic leather bomber jacket, worn by The Fonz in almost every episode of Happy Days, is safely tucked away in The National Museum of American History at the Smithsonian and is not currently displayed for public viewing.
Winkler, 72, has had a long career in television and finally won an Emmy for his role as Gene Cousineau on HBO's Barry opposite Bill Hader's Barry Berkman.
Winkler's Hollywood career began more than 40 years ago when Happy Days first aired in 1974. He was previously nominated for his role as The Fonz in 1976, 1977 and 1978 but had never received the honor. This was his first year attending the ceremony as an Emmys nominee since 2000 when he was nominated for his dramatic role on The Practice.
Winkler has plans to display his long-awaited award in his bedroom. "Next to my bed. I don't use it as a doorstop, it doesn't go in the bathroom, it's not in the garage. I'm proud that I have this," he told Us Weekly.
There was also a small Happy Days reunion during the ceremony when Winkler and his former co-star, Ron Howard, who played Richie Cunningham, posed for a picture together with the caption, "Pals."
In his category, Winkler was up against Alec Baldwin, Louie Anderson, Tituss Burgess, Tony Shalhoub, Brian Tyree Henry and Kenan Thompson.
"I have the longest drought between nominations of anyone in the Academy," Winkler said during a backstage press conference after the show. "I was 27 when I started doing the Fonz. I'm now 72 and I'm standing right here in front of you."
When his name was announced on Monday night, Winkler took to the stage ecstatic. "I only have 37 seconds and I wrote this 43 years ago," he began. "If you stay at the table long enough, the chips come to you. And tonight, I got to clear the table."
He closed out his speech with a message to his adult children, "You can go to bed now. Daddy won!"
Henry Winkler Wants to Honor 'The Fonz' After His First Emmys Win | Culture