Where Strawberries Linked To Hepatitis Cases Were Sold
Strawberries sold in grocery stores across the U.S. and Canada have been linked to a possible hepatitis A outbreak.
The Food and Drink Administration (FDA) and the Centers for Disease Control and Prevention (CDC) are investigating the outbreak and urging people to not eat any FreshKampo- or HEB-branded strawberries purchased between March 5 and April 25.
Where were these contaminated strawberries sold?
The strawberries were sold and distributed on a national level and ended up in stores across the country.
According to the FDA, at least nine shops were confirmed selling the strawberries.
The shops selling the strawberries included, "but not limited to," Aldi, HEB, Kroger, Safeway, Sprouts Farmers Market, Trader Joe's, Walmart, Weis Markets and WinCo Foods.
In a statement, the FDA said as its investigation is ongoing, there may be additional products deemed responsible for the outbreak. The FDA said more information would be provided in due course.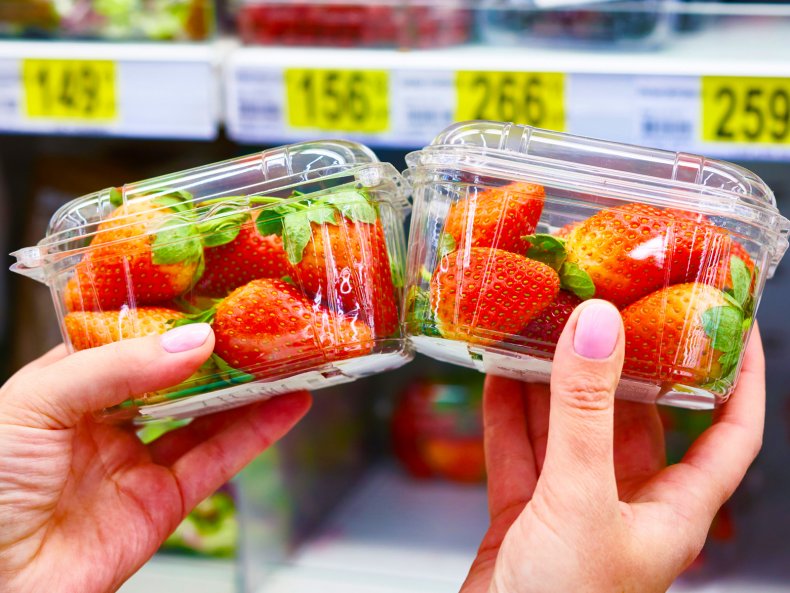 What is Hepatitis A?
Hepatitis A is a highly contagious virus. It causes liver infection and, in rare, severe cases can affect how the liver works and cause it to lose function.
Connor Bamford, research fellow in virology and antiviral immunity at the Wellcome-Wolfson Institute for Experimental Medicine, told Newsweek that "although most cases are mild, and many may not have symptoms, it is fairly unpleasant."
"It can last for weeks to months, and may require a hospital stay. In rarer instances, liver failure and death can result," Bamford said. "There are no specific treatments for hepatitis A but there is a vaccine although it is not widely administered. However, if given soon after exposure, the vaccine can help protect against disease."
The virus most commonly spreads when you eat or drink something contaminated with fecal matter. It can also spread by eating raw shellfish that lived in sewage-polluted water, or having sex with somebody who has the virus.
"Hepatitis A virus is spread through what we call the fecal-oral route, which in essence means that it is spread via [fecal matter with feces] from one person contaminated with the virus, getting into the mouth and tummy of another individual," Bamford said. "Contaminated [fecal] material could come directly from one person or through something like a frozen strawberry. From the gut, hepatitis A virus can move to the liver and cause hepatitis...There have been outbreaks in the past linked to frozen berries. The frozen berries could have been contaminated at processing plants or when growing."
Using epidemiologic and traceback data, the FDA traced cases in California, Minnesota and Canada, who all reported buying the same branded strawberries prior to becoming unwell with the virus.
Even though the strawberries will now be well over their sell-by date, the FDA warns people who have frozen the strawberries for later consumption, to throw them out.
There is a very effective vaccine to prevent contracting hepatitis A. The FDA advises those who are unvaccinated against the virus, and who have eaten the branded strawberries between March 5 and April 25, to seek medical assistance immediately to determine whether post exposure prophylaxis (PEP) is necessary.
Most people become immune to the virus after two doses of the hepatitis A vaccine.
"PEP is recommended for unvaccinated people who have been exposed to hepatitis A virus in the last two weeks because vaccination can prevent a hepatitis A infection if given within 14 days of exposure. Those with evidence of previous hepatitis A vaccination or previous hepatitis A infection do not require PEP," the FDA said in a statement.
This article has been updated to include quotes from Connor Bamford