Herd Immunity Can Be Reached if Up to 90 Percent of Americans Receive Vaccine, Fauci Says
Dr. Anthony Fauci, the nation's leading infectious diseases expert, said that herd immunity in the U.S. could be reached if up to 90 percent of Americans receive a COVID-19 vaccine.
Speaking to The New York Times on Thursday, Fauci, who is the director of the National Institute of Allergy and Infectious Diseases, said, "We really don't know what the real number is. I think the real range is somewhere between 70 to 90 percent. But I'm not going to say 90 percent."
He added, "We need to have some humility here."
Earlier in the pandemic, Fauci suggested that a smaller percentage of Americans would have to receive a vaccine to reach herd immunity, a term used to describe widespread protection from the coronavirus across the country.
As the Times noted, Fauci previously said that "70, 75 percent" of the population would need to be vaccinated for the U.S. to attain herd immunity, but last week he suggested a higher percentage was needed.
"If you really want true herd immunity, where you get a blanket of protection over the country...you want about 75 to 85 percent of the country to get vaccinated," Fauci told Vox's Today, Explained podcast on December 15. "I would say even closer to 85 percent."
He made similar comments a day later, during an interview on CNBC's Healthy Returns livestream. "I would think that you would need somewhere between 70, 75, maybe 80 percent of the population vaccinated. The number that I've been using, again it's an estimate," he said.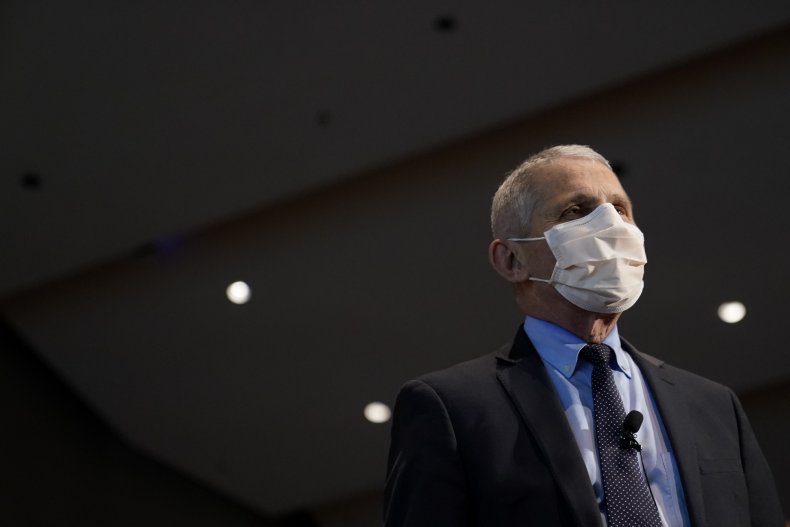 Asked why he has increased the vaccine percentage needed to reach herd immunity, Fauci told the Times, "When polls said only about half of all Americans would take a vaccine, I was saying herd immunity would take 70 to 75 percent. Then, when newer surveys said 60 percent or more would take it, I thought, I can nudge this up a bit, so I went to 80, 85."
Fauci's comments on herd immunity come as Americans are receiving one of the two COVID-19 vaccines approved this month by the Food and Drug Administration. One of them, developed by Pfizer and German biotech BioNTech, received emergency use authorization from the FDA on December 11. The other, developed by Moderna, received the same authorization last week.
As of Thursday, more than 1 million Americans have been inoculated, Robert Redfield, director of the U.S. Centers for Disease Control and Prevention, said in a press release.
"While we celebrate this historic milestone, we also acknowledge the challenging path ahead. There is currently a limited supply of COVID-19 vaccine in the U.S., but supply will increase in the weeks and months to come," Redfield said in the release. "The goal is for everyone to be able to easily get vaccinated against COVID-19 as soon as large enough quantities are available."
Newsweek reached out to the National Institute of Allergy and Infectious Diseases for a comment from Fauci but did not receive a response in time for publication.