All The Black Women Saying 'Bye, Felicia' To Omarosa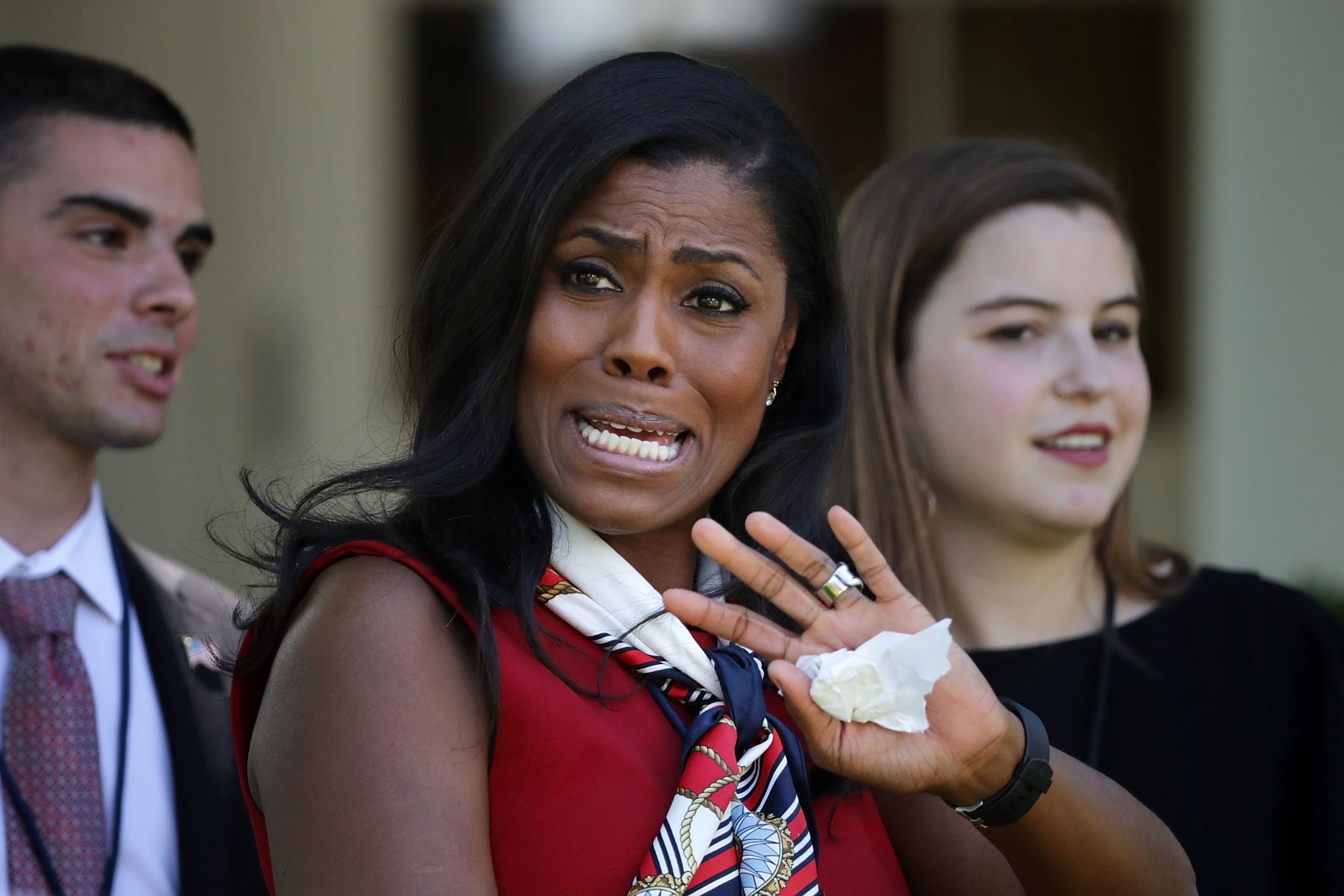 A CNN political commentator cackled with joy at the news that White House staffer Omarosa Manigault-Newman is no longer part of the Donald Trump administration—and she wasn't the only black woman celebrating the dismissal.
Manigault-Newman, the White House's Office of Public Liaison communications chief, was forcibly removed from 1600 Pennsylvania Avenue Wednesday, according to reports. Manigault-Newman disputed such accounts and painted her departure in a more civil way on ABC's Good Morning America on Thursday.
Meanwhile, black women could not have been happier to see the former Apprentice star get the boot. "Bye, girl, bye," Angela Rye, a CNN commentator, said while laughing during a CNN interview. "Bye, honey. You have never represented the community. Goodbye. Good riddance."
Good Morning America host Robin Roberts reacted to the news that Manigault-Newman was planning to give a tell-tale account of her time at the White House by quoting the 1995 movie Friday.
"She said she has a story to tell. I'm sure she'll be selling that story," Roberts said Thursday. "Bye, Felicia."
Manigault-Newman went on GMA to share her story about her departure. She denied reports that she was forcibly removed from the premise.
"When I have a chance to tell my story, quite a story to tell, as the only African- American woman in this White House, as a senior staff and assistant to the president," she told host Michael Strahan. "I have seen things that made me uncomfortable, that have upset me, that have affected me deeply and emotionally, that has affected my community and my people. When I can tell my story, it is a profound story that I know the world will want to hear."
Manigault-Newman responded to Roberts's comments by saying they were "petty."
"It's a black woman civil war," she told Inside Edition.
Manigault-Newman was known to have a close relationship with President Donald Trump. During his campaign, she was tasked with helping him gain black votes, but he received only 8 percent.
One of her main roles at the White House was to reach out to several constituency groups. But some members of the black community often viewed her as a "pariah."
"I think she's a pariah because she's always sort of been a villain, and I think her job as director of outreach in the African-American community was almost a slap in the face to the African-American community," said Sunny Hostin, a co-host on The View.
The ladies on The View had some words for Manigault-Newman on Thursday. Whoopi Goldberg said Manigault-Newman never had the best relationship with women of color.
"I hope you find something to do, O," she said. "I do, I do. And I hope that you find your people, because maybe they're looking for you. She's just been so nasty to so many women, and so many women of color. So many women of color. And I just, you know, never mind."
White House press secretary Sarah Huckabee Sanders said Wednesday that Manigault-Newman's resignation would take effect on January 20.
Trump tweeted his support for Manigault-Newman, despite her quick exit. "Thank you Omarosa for your service!" he tweeted. "I wish you continued success."