Even though we've seen all the hilarious memes of Tekashi 6ix9ine snitching on the entertainment industry in court, this time the Redd69 rapper really has started dropping names, such as Ariana Grande and Justin Bieber, on social media. 6ix9ine, whose real name is Daniel Hernandez, has accused those popular artists of allegedly buying their way to the top spot of Billboard's Hot 100 list.
On Monday, Billboard released their latest chart of the top-selling new singles. 6ix9ine's track, Gooba, was in a tight race against Grande and Bieber's collaborative duet, Stuck With U, for the number one spot. Though Gooba was the first single after Hernandez's release from prison for racketeering and drug trafficking, the convicted felon had to settle for third place on the list.
So is landing in third place such a bad deal? I mean you don't get the gold, but at least you won the bronze. 6ix9ine was clearly upset over losing the number one spot and took to Instagram to sound off on his accusations.
The Day69 arist wrote, "You're a lie and corrupt. You got caught cheating and the world will know."
Responding to the rapper's claims, Billboard released a public statement to defend themselves. The entertainment media brand and "Nielsen Music/MRC Data conducts audits on all sales reported with access to purchase-level detail, and works with data partners to recognize excessive bulk purchases and remove those units from the final sales total."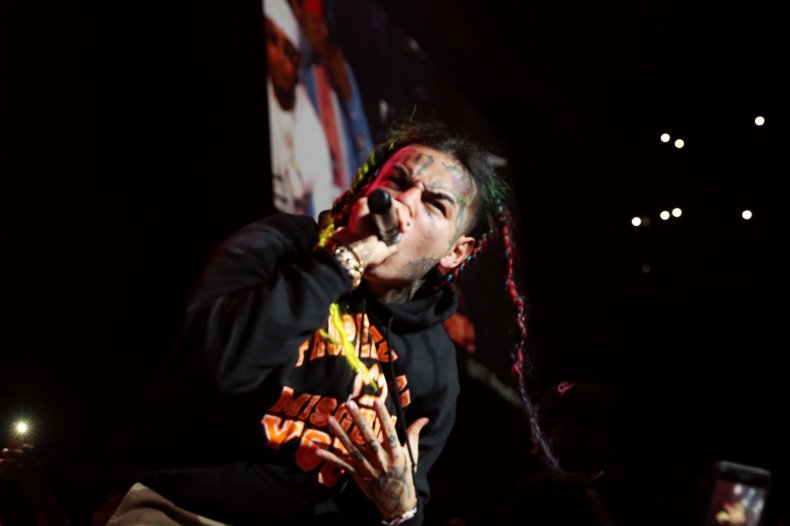 Last night, Grande also replied on Instagram and stated, "My fans bought the song. Justin's fans bought the song. Our fans bought this song. Never more than four copies each, as the rules state."
Though she didn't name the 24-year-old musician, the Scream Queens actress mentioned, "To anybody that is displeased with their placement on the chart this week, or who is spending their time racking their brain, thinking of as many ways as they can to discredit hardworking women, I ask you to take a moment to humble yourself. Be grateful you're even here."
Earlier today, the "Stoopid" artist replied with his own Instagram video, "You say for me to be humble. I don't think you know what humble is."
Although his Instagram story has been deleted, NBC News reported Bieber has responded as well and said, "Nielsen company checks this and found all our fans are amazing and bought them. Don't discredit our fan base with false info."
The Dummy Boy rapper shared an image of himself, holding several credit cards in his hands. Refusing to take back his comments, he clearly is not going down without a fight and wants that number one spot.
And that's not all! Here's all the other beefs 6ix9ine has started:
50 Cent
Last month, in an interview with Big Boy of L.A.'s Real 92.3, 50 Cent mentioned he did not want to collaborate with the 24-year-old rapper on a track. Responding to The Shade Room's Instagram post, Hernandez said, "Won't be the first time 50 abandons his son. Let me just mind my business."
Chief Keef
Last year, Hernandez testified in court to ordering the hit on rapper Chief Keef. In 2018, the Keef was shot at outside of New York's W Hotel in Times Square, but managed to remain unharmed. According ton NME, 6ix9ine paid the gunman about $10,000 dollars for the failed attempt.
Cardi B
A year ago, 6ix9ine mentioned in court that rapper Cardi B was allegedly a Blood gang member. Back in 2018, the Invasion of Privacy artist told GQ, "When I was 16 years old, I used to hang out with a lot of Bloods."
On Instagram, the "Please Me" singer responded by posting a clip of Hustlers actress Keke Palmer saying "I don't know who this man is."
Casanova
In 2019, the "Don't Run" rapper confronted 6ix9ine about their verbal spats and told The Hot 97 Morning Show, "He took trolling to a whole another level. But at the end of the day, when I spoke to him, He was like, 'Cas, I don't even know you.' He was speaking proper English. And I said this is really a little kid."
The Game
Two years ago, 6ix9ine called out the Born 2 Rap artist for being a fake Blood gang member. He then posted a clip of The Game's 2000 appearance on dating game show, Change of Heart as evidence meant to support his claim.
Pi'erre Bourne
Back in 2018, producer Pi'erre Bourne was not too pleased 6ix9ine after he heard "Gummo." Bourne criticized the 2017 song, saying that his beats were allegedly used without his knowledge.
Bourne said to Fader, "6ix9ine know what I'm talking about. All them know what I'm talking about. It was some weird sh*t, and I don't have time for that because I'm big on communication."
Kodak Black
Also in 2018, 6ix9ine had explicit words pointed directly at the Dying to Live rapper. In an Instagram post, he wrote in big letters, "Kodak Black suck my d**k."
J Prince Jr.
Without an invitation, 6ix9ine and his boys attempted to join in on the birthday celebration for the J Prince Jr. The Scummy Scumz and his crew weren't allowed to enter the building in Houston.
In 2018, J Prince Jr. warned 6ix9ine, "Don't think that you can go to other people's city and not show them the proper respect that's due, we've earned that and demand it!
Trippie Redd
Although they were collaborators on the "Poles1469" track, Triple Redd was allegedly jumped by members of 6ix9ine's crew in the lobby of a New York City hotel. This came after Redd spoke out against him on social media.