America's Most Structurally Deficient Bridges: Genoa Collapse Prompts Concerns Across U.S.
Around one in every 12 bridges in the U.S. is considered "structurally deficient."
According to figures from the American Road and Transportation Builders Association (ARTBA), there are 54,259 structurally deficient bridges in the U.S. In total, these bridges are crossed over 174 million times each day. Almost as concerning, one in every three bridges (226,837) has been identified as needing repairs.
ARTBA chief economist Dr. Alison Premo Black said it would take 37 years to repair all the bridges at the current work rate.
In the wake of the Genoa bridge collapse earlier this week—which has so far killed 39 people and injured 15, according to The Independent—the 10 most-traveled structurally deficient bridges in the U.S. have been identified.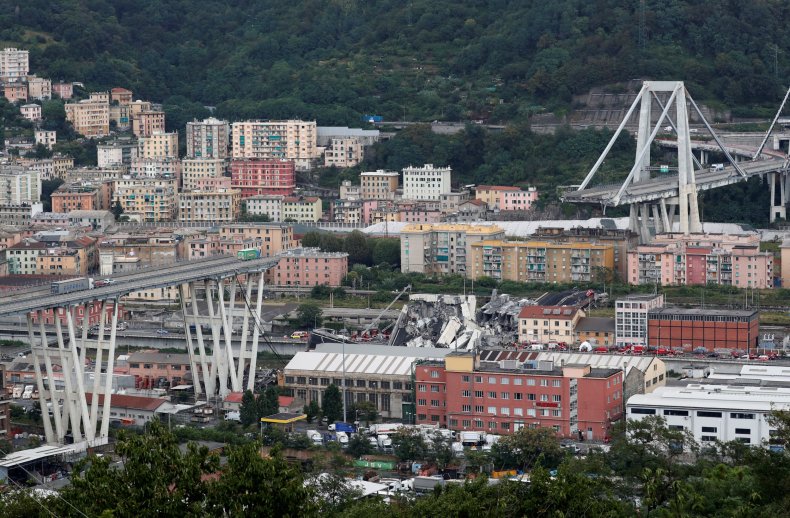 According to Statista, which used figures from ARTBA, the bridge on US Route 101 over Kester Ave in Los Angeles, California, had around 289,000 people crossing daily. The bridge was built in 1959.
Interestingly, all of the top 10 bridges were located in either California or Missouri. California had seven—four in Los Angeles, one in San Diego and one in Contra Costa—while Missouri had all three in St. Louis.
The most recently built bridge out of the top 10 was the Interstate 680 over Monument Boulevard in Contra Costa, California, which was erected in 1998. The other nine were all built between 1953 and 1971.
You can see the top 10 list here, as illustrated by Statista: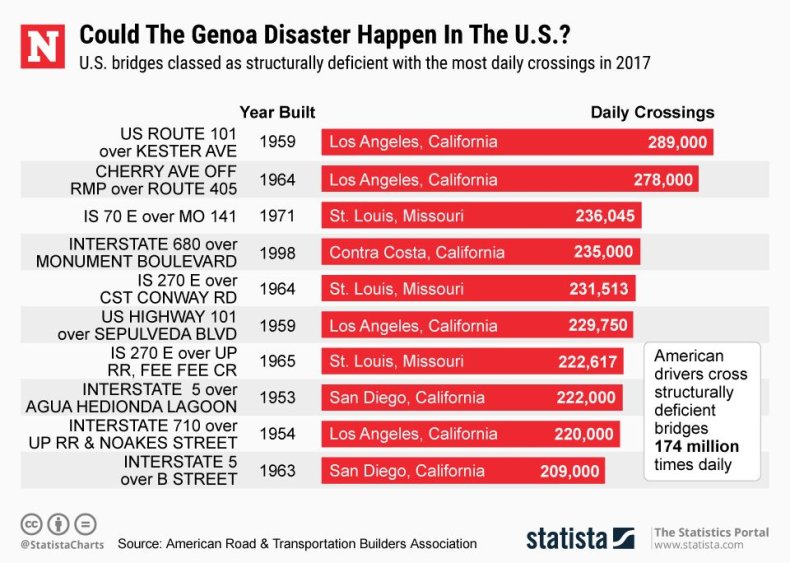 ARTBA was asked for a comment, but nobody was available to speak to Newsweek.
In March, a 175ft-long pedestrian bridge at Florida International University collapsed and killed six people. A further nine were injured in the wreckage. In the days that followed the collapse, news broke that an engineer had identified a crack in the north end of the bridge, which he reported to Florida Department of Transportation.
The engineer told the department in a voicemail that the crack did not represent an immediate safety concern. A statement issued by the university claimed they had held a two-hour meeting to discuss the crack. The bridge cost $14.2 million to build and weighed 950 tons. It was built to provide a safer way for students to cross from the university campus to Sweetwater.
The Florida bridge collapse was the most deadly since the Minneapolis I-35W bridge fell over the Mississippi in August 2007, killing 13 people and injuring 145.