Here Are The Celebrities Who Think Kanye West Is Our 'Future President'
Kanye West's Tuesday night Twitter rant ended with the rapper calling himself the "Future President," and he's not the only one who thinks he really has a chance at the presidency. Since the musician announced his presidential campaign on July 4, a handful of celebrities have shown support for his campaign. Others, meanwhile, have walked back their support.
From tech entrepreneurs to fellow musicians and family, here are the public figures that have endorsed West's ambitious goal, and what they've said about his potential leadership.
Newsweek reached out to all of the celebrities below to confirm their support for West, and this article will be updated with any responses.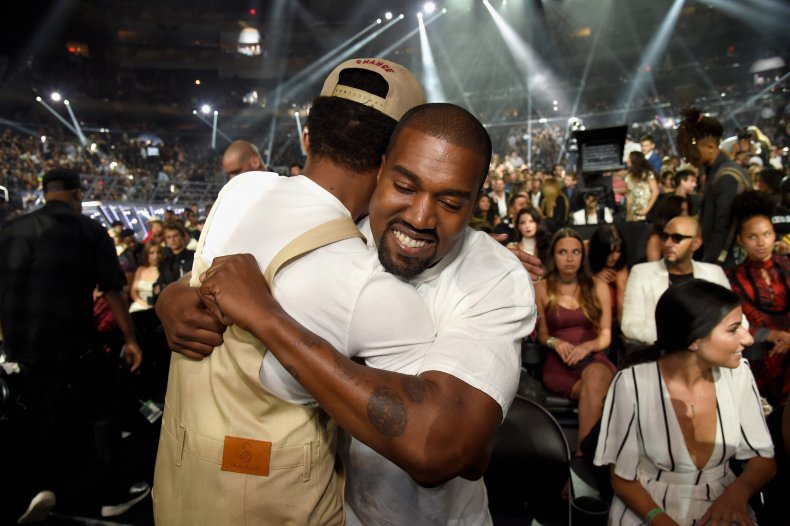 Elon Musk
The Space X CEO has gone back and forth in his support of West's presidential ambitions. After expressing different views from some of West's campaign statements, Musk revealed he does still support the rapper's presidential run.
"I have not dropped my support for Kanye, although I think 2024 would be better than 2020," Musk told Page Six on July 13.
The pair posed in a photo together on July 1, just a few days before West's campaign became official. Immediately after West's announcement, Musk tweeted in support. But Twitter users flooded Musk with concerns about West's opinions, which later resulted in Musk tweeting that his political opinions differed from the rapper's more than he'd realized at the time of his first endorsement. That tweet, though, has been deleted.
Chance The Rapper
West and Chance The Rapper have more in common than just their hometown of Chicago. Chance, who is involved in local politics, took a stand against Joe Biden in a series of tweets on July 13.
"I get that you'll want to reply that you're just tryna 'get trump out' but in this hypothetical scenario where you're replacing Trump, can someone explain why Joe Biden would be better??" the "Juke Jam" rapper asked his Twitter followers.
Later, he shared: "I finally got the answer now. I understand. Yall trust Biden more than yall trust Ye. I think I understand why, I just don't feel the same way," before claiming to be "running down the hill" of Yeezy support, which flocks of fans denounced.
Caitlyn Jenner
While Jenner hasn't specifically shared her support for West's campaign, she did apparently ask to be considered as Vice President. "I texted him and said 'can I be your [Vice President],' Jenner told TMZ in a video uploaded on July 16.
Rose McGowan
On July 5, the day after West announced his presidential run, Charmed actress McGowan responded on Twitter: "I support this mission @kanyewest," she tweeted. Immediately, she questioned his intentions, though. "Do you think Kanye's doing it to split votes or just to be an anarchist?"
McGowan issued a tweet using the same graphic of planets orbiting the sun—which accompanied her support of West—on Wednesday morning. "I don't care who does it, just do it," she wrote. The line appeared to relate to a precursor tweet, in which McGowen exclaimed she wanted to "blow up" the system.
Ty Dolla $ign
The "Or Nah" rapper showed support for West by retweeting his presidential campaign announcement on Twitter. "Ye for President" Ty Dolla $ign wrote. Since then, he hasn't spoken about West's campaign or values.
Kim Kardashian West
Though their relationship has been in question given West's now-deleted Twitter claims that he's trying to divorce Kardashian West, West's wife showed immediate support for the campaign. She retweeted West's announcement on July 4 with an emoji of an American flag.