Here Are Major College Football Games Canceled or Postponed by COVID So Far
Notre Dame announced Tuesday that its game scheduled this Saturday at Wake Forest has been postponed after seven Irish players tested positive for COVID-19. Notre Dame said through an announcement that 13 players have been isolated, with 10 in quarantine. Notre Dame has pressed pause on all football-related activities, and no reschedule date with the Deamon Deacons has been set.
The postponement is a growing trend in college football that has already affected at least 20 college football matchups so far. Notre Dame (2-0) was the first top-10 team affected so far.
"With student-athlete health and safety our primary focus, we will continue to follow our prevention protocols and ongoing testing procedures," Notre Dame coach Brian Kelly said. "We managed an increase in positivity rates in August, and the players handled it wonderfully.
"We knew COVID would present challenges throughout the season, and we'll always put student-athlete health and safety at the forefront of our decision making. We look forward to resuming team activities and getting back on the playing field."
Saturday's scheduled matchup was the fourth Atlantic Coast Conference game canceled or paused because of the coronavirus. Virginia Tech has had two conference home games (vs. N.C. State and vs. Virginia) moved, and North Carolina's non-conference home game against UNC-Charlotte was also canceled.
Wake Forest athletics director John Currie said October 3 would be an ideal date for a rescheduling of hosting Notre Dame.
"I know everyone involved is saddened to be unable to play this weekend, but based on the circumstances it is the right decision," Currie said. "We are already discussing options for rescheduling with the ACC and our future opponents, including the possibility of playing on the October 3rd weekend."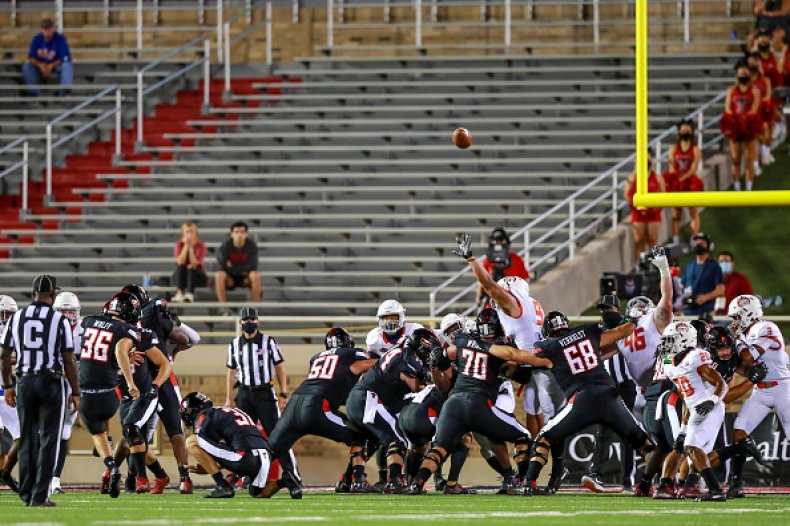 Things could get more hectic and bizarre as the 14-team Southeastern Conference begins its 10-game, conference-only schedule this Saturday. The Big Ten will play eight games in eight weeks, starting the weekend of October 23-24, and other leagues like the Mid-American Conference (MAC) and Mountain West Conference (MWC) have begun talks about how they can restart after postponing because of COVID-19 measures.
Here are 21 games that have either been canceled or postponed because of COVID-19 outbreaks:
North Carolina State at Virginia Tech (rescheduled to Sept. 26)
SMU at TCU (originally scheduled for Sept. 11)
Marshall at East Carolina (originally scheduled for Sept. 12)
Army at Rice (originally scheduled for Sept. 12—canceled)
East Carolina at South Carolina (improvised to Sept. 12, then postponed)
UL-Monroe at Troy (rescheduled to December 5)
Florida International at UCF (originally scheduled for Sept. 12)
Tulsa at Oklahoma State (rescheduled and played on Sept. 19)
Temple at Navy (originally scheduled for Sept. 12)
Louisiana Tech at Baylor (originally scheduled for Sept. 12)
Rice at Marshall (originally scheduled for Sept. 12, moved to Oct. 3)
UAB at Rice (rescheduled to Oct. 10)
Virginia at Virginia Tech (originally set for Sept. 12, rescheduled to Dec. 12)
Houston at Memphis (originally set for Sept. 18, reschedule pending)
BYU at Army (Postponement date TBD)
Central Arkansas at Arkansas State (originally scheduled for Sept. 19)
UNC-Charlotte at North Carolina (originally scheduled for Sept. 19—canceled)
FAU at Georgia Southern (originally scheduled for Sept. 19)
Houston at Baylor (originally scheduled for Sept. 19)
Memphis at UT-San Antonio (originally scheduled for Sept. 19)
Notre Dame at Wake Forest (originally scheduled for Sept. 26)