Here Are Some of Puppeteer Caroll Spinney's Notable Quotes About Big Bird and Oscar the Grouch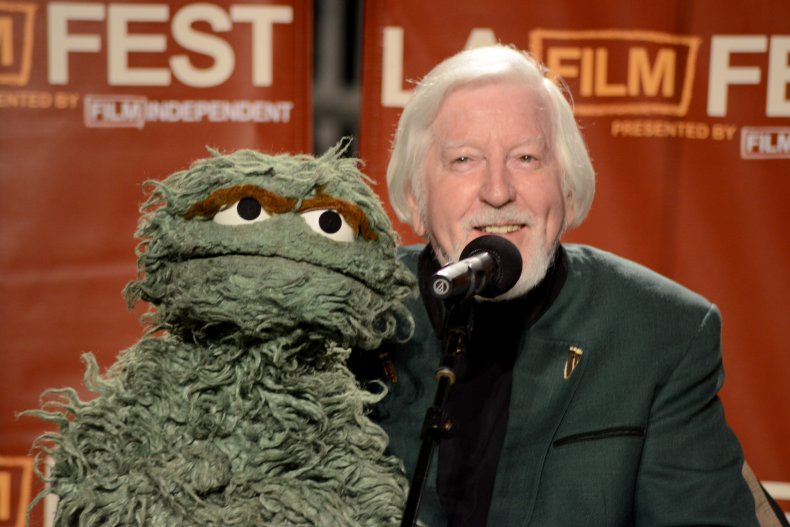 Puppeteer Caroll Spinney, who gave life to beloved Sesame Street characters of Big Bird and Oscar the Grouch for nearly 50 years, died on Sunday at his home in Connecticut, according to a statement from Sesame Workshop. He was 85.
"His enormous talent and outsized heart were perfectly suited to playing the larger-than-life yellow bird who brought joy to generations of children and countless fans of all ages around the world, and his lovably cantankerous grouch gave us all permission to be cranky once in a while," read the press release.
Spinney had controlled the puppets for both characters since the first season of Sesame Street in 1969 until 2018 (The show is marking its 50th anniversary this year). In celebration of his life and work, Newsweek compiled some of Spinney's notable quotes about his roles on the iconic children's television program, as well as some from his characters:
"When I was eight, I bought my first puppet. It was a monkey, and I paid five cents for it. I collected some scrap wood and built myself a puppet theatre. I made 32 cents with my first show, which I thought was pretty good, and that's when I knew I would be a puppeteer when I grew up." (The Guardian, 2015)
"Before I came to Sesame Street, I didn't feel like what I was doing was very important. Big Bird helped me find my purpose. Even as I step down from my roles, I feel I will always be Big Bird. And even Oscar, once in a while! They have given me great joy, led me to my true calling -- and my wonderful wife! -- and created a lifetime of memories that I will cherish forever." (from a statement in 2018 announcing his retirement)
"I know I don't own Big Bird, but I own his soul, I feel." (Parade, 2019)
"Oscar is the exact opposite of how I think you should behave. I just think of it as a negative view of the positive mind I have. Big Bird is sweet and nice and also sympathetic, as kids can identify with him even though he looks like such a bizarre character -- great 8 feet 2 inches, a beak 18 inches long." (IndieWire, 2015)
"Big Bird went through his very human kind of struggles as a child. No other children's character has been that complete and detailed." (The Daily Beast, 2015)
"I think there's an awful lot of me in Big Bird, but Oscar is pretty much - I think I know how he thinks because he thinks exactly the opposite of what I think is a good way to be." (NPR, 2015)
"I would really be doing something right, perhaps even important, if I was bringing even a little more compassion into the world through Big Bird." (from Spinney's 2003 book The Wisdom of Big Bird (and the Dark Genius of Oscar the Grouch): Lessons from a Life in Feathers)
"Bad days happen to everyone, but when one happens to you, just keep doing your best and never let a bad day make you feel bad about yourself." (Big Bird, New York Post)
"I'm sad because I'm happy / And I'm happy, 'cause I'm mad / And I'm mad, 'cause it sounds sappy / To be happy when you're sad." (Oscar the Grouch)