Here Is What We Know About the Antonio Brown Walk Off Incident
More details have emerged regarding NFL wide receiver Antonio Brown's abrupt exit from a game on Sunday. One of the latest reports out on Monday suggests a possible injury was the cause behind the star's hasty departure.
Brown, while playing for the Tampa Bay Buccaneers, removed his football gear and threw it into the crowd before leaving the sidelines during a game against the New York Jets.
After walking off the field, he was soon out of New Jersey's MetLife Stadium and, at least according to Buccaneers head coach Bruce Arians, off the team. Arians told reporters that Brown refused to return to the game when he was asked to play in the second half.
However, on Monday, NFL Network's Ian Rapoport reported Brown felt he was too injured to return to the game. The claim is the latest among many updates that have already come to light since Sunday's unusual incident.
"What he told the staff, from what I understand, is that he was not going into the game because, in his mind, he did not feel he was healthy," Rapoport said on the NFL Network's Good Morning Football. "The response then from the offensive coaches and from Bruce Arians was, 'If you are not gonna go into the game when we tell you to go into the game, then you cannot be here.' At that point, they threw him off the sidelines and then cut him from the team."
"I don't know that he was (injured)," Arians said Monday. "It was pretty obvious what happened. He left the field and that was it. We had a conversation and he left the field."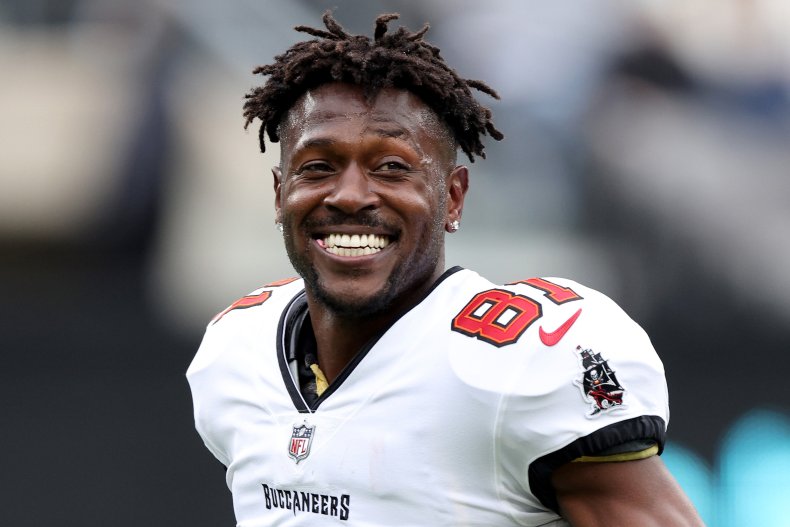 Brown missed several weeks this season due to an ankle injury. He also was served a three-game suspension after he allegedly provided his team with a fake COVID-19 vaccine card. Sunday was just the second game he's appeared in since the punishment.
On Sunday, Arians was already saying Brown was no longer a member of the Buccaneers. After his team rallied for a comeback victory, the coach told reporters, "He is no longer a Buc. All right? That's the end of the story. Let's talk about the guys who went out there and won the game."
Tampa Bay quarterback Tom Brady likewise discussed Brown in terms that sounded like the star had reluctantly accepted that his shared field time with the beleaguered receiver had come to an end.
"We all love him and care about him deeply. We want to see him be at his best," Brady said. "Unfortunately, it won't be on our team."
Brown also indicated his time with Tampa Bay was over. On his official Instagram account, he wrote, "Football is what we do, not who we are!" He later posted a photo of himself in his Buccaneers uniform with the message: "Thanks for the opportunity."
As if giving a clue as to what the future might hold for him, Brown released a new rap song called "Pit Not the Palace" on online music platforms.
After an acrimonious split with the Pittsburgh Steelers, who drafted him in 2010, Brown was traded to the Oakland Raiders in 2019. An injury sustained during a cryotherapy session and a verbal altercation with the team's general manager led to him being released by the Raiders without appearing in a single game.
The New England Patriots quickly signed Brown after Oakland let him go, but he was released there with only one game appearance after he allegedly sent threatening text messages to one of two women who filed a civil lawsuit against him that accused him of sexual assault.
The NFL launched an investigation after the lawsuit was announced, and it eventually suspended Brown in July 2020 for eight games for violating the league's personal conduct policy.
Rapoport said on Good Morning Football there was already much discord behind the scenes with Brown and the Buccaneers before Sunday's incident.
"There's been a boiling frustration inside the organization about Antonio Brown, his rehab, how much he was paying attention to that, his suspension, how honest he was with them," Rapoport said. "Endless issues with Antonio Brown. We saw the endpoint yesterday with him taking his clothes off and running off the field. But that was certainly not where it started."
The sportswriter added, "It looked like this was the way the relationship was going to end anyway. It just ends in more histrionic fashion than maybe we imagined."