Putin Buddies Up to Central Asia Leaders on his Trip Across the Region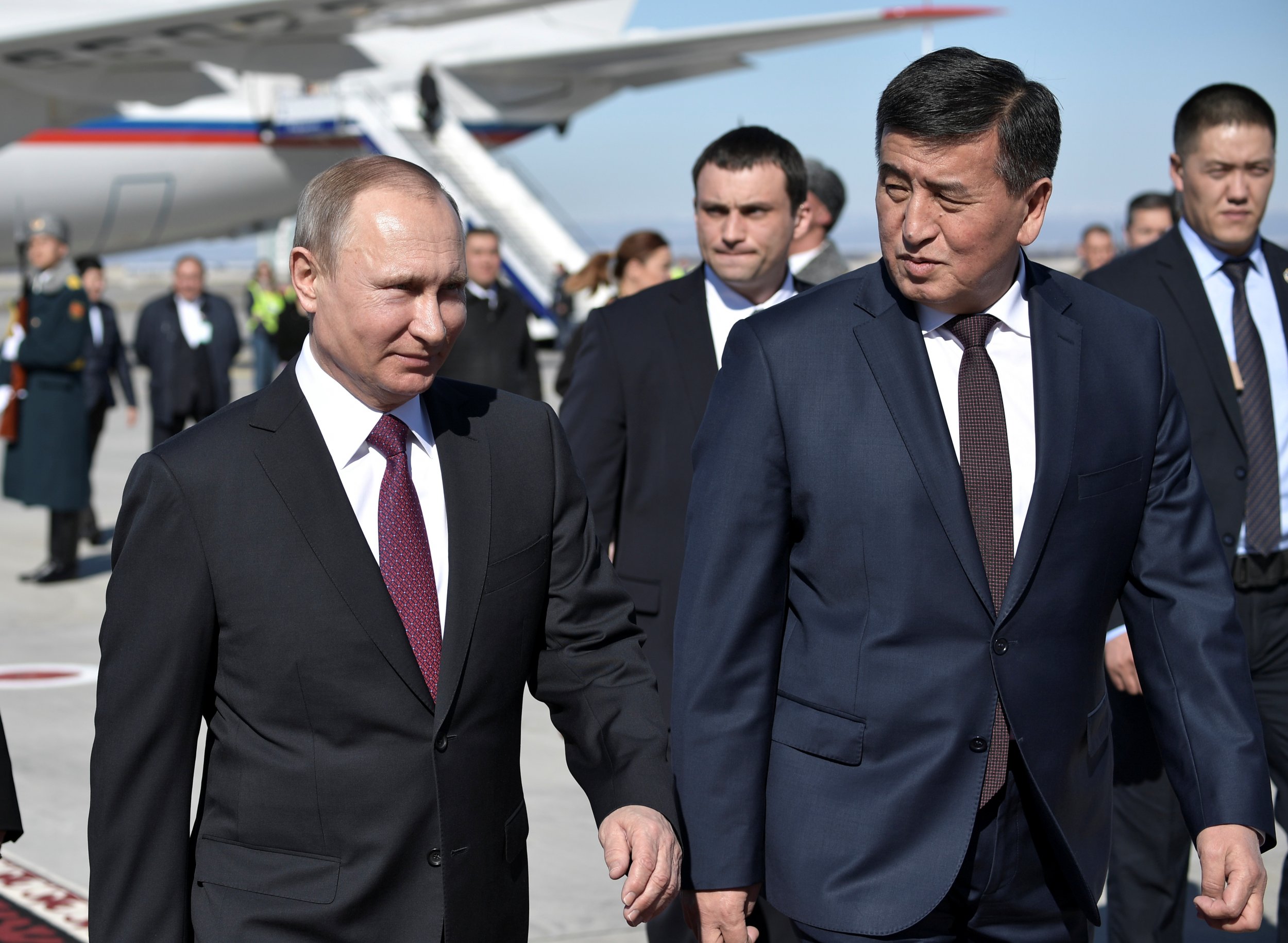 Russian President Vladimir Putin began his week with a trip across Central Asia, where he visited with leaders from Kazakhstan, Tajikistan and Kyrgyzstan, and engaged Turkmenistan's leader by phone. Putin has kept in close contact with Central Asia's governments that were formerly run by the Soviet Union over the last quarter century of post-Soviet life, and his recent mini-tour shines new light on Moscow's political designs.
Boost the Eurasian Union
Energy, oil and gas, are a crucial revenue stream for Central Asia, and Russia's economic well being is important for trade. Over the last few years even the wealthier nations, like Kazakhstan, have suffered setbacks. Camilla Hagelund, Central Asia analyst at Maplecroft, says Putin's visit is part of a strategy to announce cooperation projects that increase the appeal of Russia's Eurasian Economic Union, which includes Kazakhstan and Kyrgyzstan, and which Tajikistan has discussed joining.
"Eurasian integration is the common theme in Putin's tour of Central Asia," she says. According to her the trip may be an attempt to to shore up Russia's Eurasian Economic Union in the wake of Russia's ongoing financial crisis and more general problems around "a lack of mutual trust among its members."
Kazakhstan's President Nursultan Nazarbayev has been particularly aloof when speaking about the union and recently has spoken favorably about pursuing initiatives with the EU and China. Its economy is a tenth of Russia's but dwarfs the remaining members of the union and since Ukraine's shift away from membership in 2014, Kazakhstan has been quite central as a secondary senior partner.
"Putin's announcement that the Eurasian Development Bank will inject 'billions of dollars of investment' in Kazakhstan is likely intended to promote a positive image of the Eurasian integration project," Hagelund said. "Similar economic support or an easing of unpopular trade restrictions is likely to be offered to Kyrgyzstan, where hostility towards the integration project is hardening."
According to Hagelund, Russia could be convincing Tajikistan to join the union as "a symbolic win for Putin."
"As deeper integration among members fails to materialise, expansion would provide a measure of success for the integration project," she says.
Eye on Succession Questions
Since his death last year, some of former authoritarian Uzbekistan President Islam Karimov's peers have been reminded of their own mortality. Kazakhstan's President Nursultan Nazarbayev, who at 76 is the same age as Karimov, has been forced to consider this at length.
Nazarbayev has recently promised more powers to parliament and, according to private intelligence firm Stratfor analyst on Central Asia Eugene Chausovsky, Nazarbayev is slowly giving thought to succession. Putin's visibility in the country and Moscow's contacts with Astana are likely to continue as it will want to ensure a harmonious cohabitation with the successor of a decades-old allied regime.
"Kazakhstan is going through a very interesting period and it is a difficult time, economically," Chausovsky says. "There has been some instability due to low oil prices. We see Nazarbayev indicating that succession is coming fairly soon but it is not clear when and it is still not really clear who will succeed him. Nazarbayev has been thinking about it though and even transferred some powers to parliament. Russia is bound to want to be in the loop of this process as they want to make sure whoever comes next is someone they can work with."
Kyrgyzstan, ruled by 60-year-old Almazbek Atambayev, is also anticipating a change of leadership. Unlike in Kazakhstan, the Kyrgyz president must step down at the end of the term, at the end of the year. Recent constitutional changes in Kyrgyzstan have given more power to parliament and Chausovsky believes Putin is hoping to retain Kyrgyzstan's current "level of political alignment" with Russia in the next administration, just as in Kazakhstan.
Who Is the Security Guarantor?
In his meeting with Atambayev, Putin highlighted Russia's readiness to help alleviate problems in border regions with Afghanistan, where he saw cause for "mutual concern."
Russia has military bases in Kyrgyzstan and in Tajikistan. In his meeting with Tajik President Emomali Rahmon, Putin said Russia would "enact the capabilities" of its deployment to help tackle problems on the Afghan border. He did not give specifics, likely because Putin's statement isn't inspired by the necessity to defend Tajikistan's border, Hagelund says. She suspects Putin wanted to remind nearby China that Moscow, not Beijing, is the senior partner of security alliances in the region. Last year, Tajikistan announced China would fund the building of Tajik border outposts to increase security on the Afghan border.
"Moscow is presumably concerned about increased Chinese engagement with Tajikistan on security issues, which challenges Russia's perceived role as security guarantor of Central Asia," Hagelund says. "Putin's visit appears not to have shifted any ground, however. While Putin referenced the contribution of the Russian forces stationed in Tajikistan to the country's security, Rahmon focused on improvements to the capabilities of Tajik forces resulting from bilateral cooperation."
Shoring Up the Old Influence
Putin's trip seemed to be more ceremonial than policy-driven. In Tajikistan, he presented President Rahmon with the Alexander Nevsky award, one of Moscow's most historic honors, handed down by the Russian Empire and the Soviet Union and normally given to civil servants for outstanding merit.
Putin stuck to familiar lines when discussing economic ties with Russia, praising the growth of the Russian-language school in Kyrgyzstan and vowing to develop similar schools in Tajikistan. Putin also took time to call Turkmenistan's President Gobranguly Berdymukhamedov while in Tajikistan, a nod toward Russia's confidence in approaching post-Soviet regimes that have become more detached from Moscow than their neighbors.
Putin and Nazarbayev leaned on their two countries' emotional bond in their meeting—Putin was visiting under the auspices of congratulating his counterpart on the 25th anniversary of diplomatic relations between the two countries—a strange celebration after having previously been one country.
"Restoration of Russia's sphere of influence by rigorously pushing forward the Russian led economic, political and military blocs is expected to drive Moscow's foreign policy in the coming years," Lilit Gevorgyan, risk analyst at defense and policy think tank IHS Markit says.
"Locking as many countries as possible in tightly integrated Russian led economic, political and military blocs appears to be Russia's main objective in Central Asia and South Caucasus, core areas of Moscow's interests," she added. "The success of this drive is more likely due to retreating US foreign policy which will limit some of these countries to seek a more balanced foreign policy. It is not the US that Russia has to worry when advancing its integration blocs but China which is fast outpacing Russia as a top investor."