Buckingham Palace was the focal point for an enormous flyover by the British Royal Air Force today, as the service celebrated its 100-year anniversary.
The RAF was the first independent air force in history. Its centenary was on April 1, after which 100 days of celebrations began. This culminated with 100 combat aircraft flying low over central London on Tuesday in an impressive display.
The Royal Family and Queen Elizabeth II stood on the palace balcony, looking up at the spectacle. The Queen, at age 92, is only eight years younger than the RAF.
The flyby followed a service at the historic Westminster Abbey and a parade down The Mall—the famous road leading from Trafalgar Square to the gates of Buckingham Palace—involving up to 1,300 RAF personnel.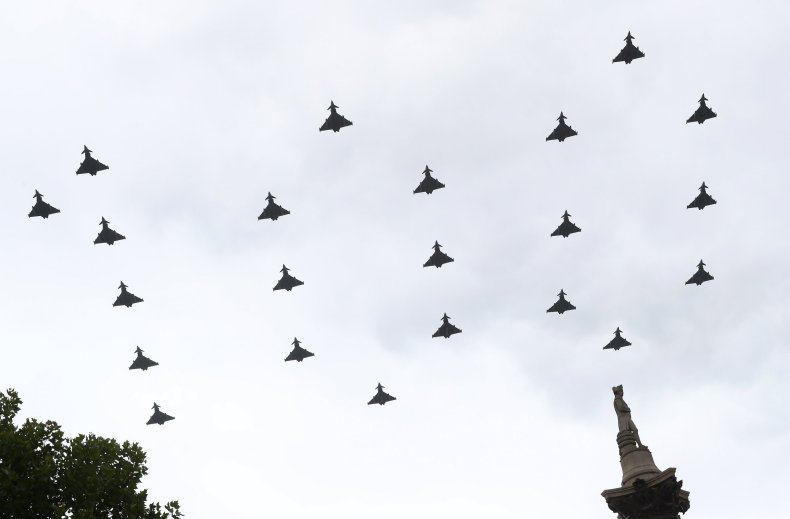 The planes involved were plucked from across the service's 100-year history. The aircraft that won the Battle of Britain and executed raids over Nazi Europe in World War II flew alongside those that took part in Britain's recent Middle East wars.
The RAF's newest acquisition—the American Lockheed Martin F-35 II Lightning stealth jet—joined in the aerial parade. The F-35 is a fifth-generation fighter and one of the most advanced in the world.
World War II–era Spitfire and Hurricane fighters were some of the oldest planes on display. For almost an entire year, RAF fighter pilots—which included airmen from all over the world—stood alone against the Nazi Luftwaffe that was inflicting "the Blitz" bombing campaign on Britain's cities, killing tens of thousands of people.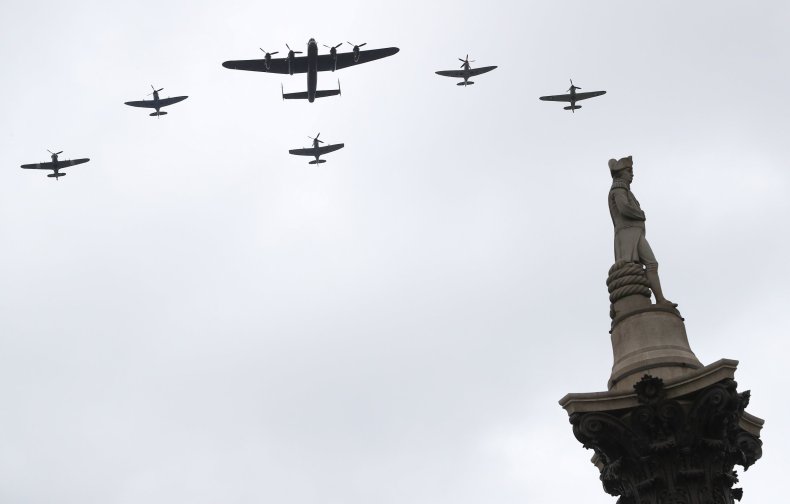 RAF planes denied Adolf Hitler's forces air superiority, a necessity for launching an invasion of the British Isles. Prime Minister Winston Churchill called it the U.K.'s "darkest hour," and the aircraft became powerful symbols of wartime Britain's resilience.
They were joined by heavier World War II aircraft, including a U.S.-made Dakota transport plane, used to drop paratroopers into France during the D-Day invasion in 1944. A Lancaster bomber—the type that flew in enormous numbers to pummel German cities as the tide of the conflict turned—completed the World War II lineup, its iconic roar washing across the crowds.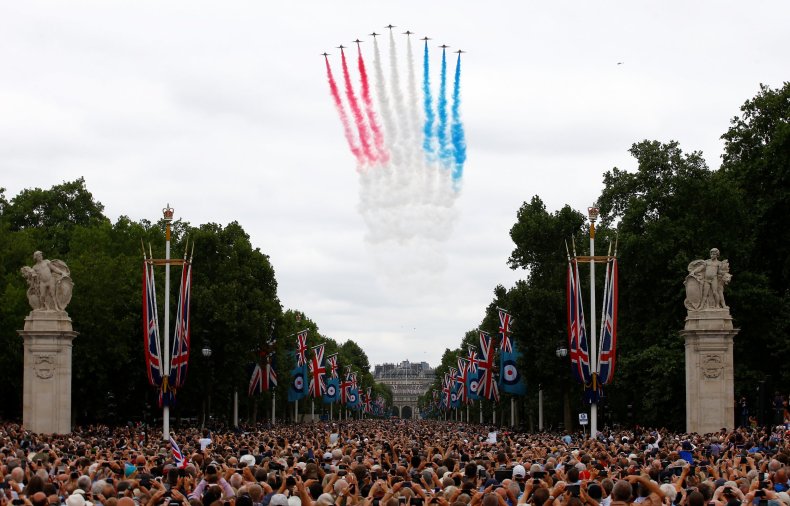 More modern aircraft included a selection of transport, refueling and command-and-control planes, as well as the Eurofighter Typhoon stealth jet and Panavia Tornado strike warplanes that have recently been used against targets in Libya, Afghanistan and Syria.
They were joined by helicopters, including the monstrous dual-engine Chinook transport craft that have spent the past decade resupplying British troops stationed in remote outposts in Afghanistan and elsewhere.
The Red Arrows—the RAF aerial acrobatics team—were also part of the show. Well versed in flyovers, they will have been familiar to many of those watching from the ground.
The full list of aircraft involved in today's flyover was provided by the RAF in a tweet sent out at the end of June.