How Do I Love Thee? A Short History of Trump's Praise for Putin
Allegations that Russia helped lift President Donald Trump to the White House have cast a shadow over his administration—and Trump's effusive praise for Russia's strongman leader Vladimir Putin has done nothing to dispel suspicions of a covert pact.
Trump's comments after speaking to Putin Saturday provoked a chorus of criticism after the president said he was willing to accept the Russian president's assurances that the country did not meddle in the 2016 U.S. election.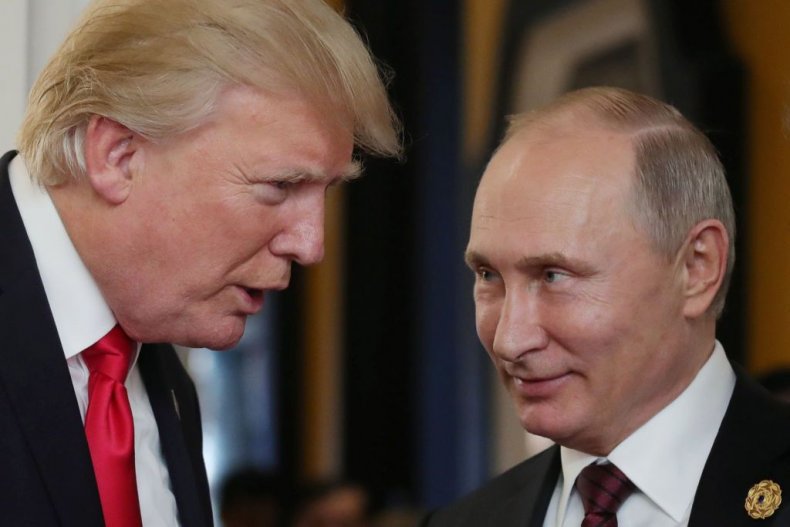 This is despite U.S. intelligence agencies unanimously declaring that Russia did interfere in the election in a bid to tip the contest in Trump's favor.
Below, Newsweek looks at a history of Trump's admiration for the Russian president.
2013
Trump's first remark on Putin dates back to 2013, when Trump hosted the Miss Universe in Moscow.
"Do you think Putin will be going to The Miss Universe Pageant in November in Moscow - if so, will he become my new best friend?" tweeted the then reality star.
Trump's time in Moscow has become the subject of intense scrutiny, after a dossier on Trump compiled by former British spy Christopher Steele contained allegations that Trump had cavorted with prostitutes in a Moscow hotel room – and Russian intelligence had recorded the encounter.
Trump went on that year to claim that he had met the Russian president, and boasted of their relationship.
"I do have a relationship and I can tell you that he's very interested in what we're doing here today," he said on MSNBC of the Miss Universe pageant in November, 2013. "He's probably very interested in what you and I are saying today, and I'm sure he's going to be seeing it in some form, but I do have a relationship with him and I think it's very interesting to see what's happened."
2014
Trump renewed his praise for Putin as he mulled a bid for the presidency.
"When I went to Russia with the Miss Universe pageant, [Putin] contacted me and was so nice. I mean, the Russian people were so fantastic to us," he said on Fox and Friends in February. "I'll just say this, they are doing – they're outsmarting us at many turns, as we all understand. I mean, their leaders are, whether you call them smarter or more cunning or whatever, but they're outsmarting us. If you look at Syria or other places, they're outsmarting us."
Trump taunted Obama that year for being made to look weak by Russia in a March interview with NBC.
"And we have to show some strength. I mean, Putin has eaten Obama's lunch, therefore our lunch, for a long period of time," he said. "And I just hope that Obama, who's not looking too good, doesn't do something very foolish and very stupid to show his manhood. I just hope that doesn't happen."
That April, Trump backed Russia's disputed claim of widespread support for its annexation of Crimea that month.
Trump said at a New Hampshire event that Putin is "absolutely having a great time." He says "Russia is like, I mean they're really hot stuff" and "and now you have people in the Ukraine — who knows, set up or not — but it can't all be set up, I mean they're marching in favor of joining Russia."
That December, he warned of the effects of the Obama administrations sanctions regime against Russia.
He told Fox News that Putin is "wounded" and that "wounded people and wounded animals can do lots of strange things and we'd better be a little bit careful."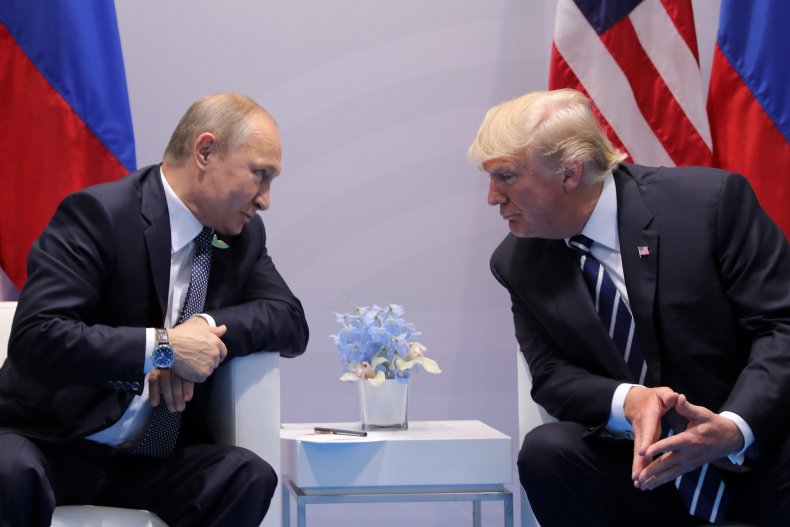 2015
After Trump announced his bid for the Republican presidential nomination in June 2015, he boasted of his Moscow contacts as evidence of his ability to broker deals with Russia.
"I think I get along with him fine," Trump said of the Russian president in an interview with CNN's Anderson Cooper in July, and said if he became president Russia would hand over NSA whistle blower Edward Snowden.
"I think he would be absolutely fine. He would never keep somebody like Snowden in Russia. He hates Obama. He doesn't respect Obama. Obama doesn't like him either. But he has no respect for Obama. Has a hatred for Obama. And Snowden is living the life. Look if that—if I'm president, Putin says, hey, boom, you're gone. I guarantee you this."
On the campaign trail, he went on to repeat his praise for Putin. That November, Trump had defended Putin from accusations he authorised the assassination of journalists and dissidents.
"He's running his country and at least he's a leader, unlike what we have in this country," Trump said in an interview on MSNBC's Morning Joe.
He added: "I think our country does plenty of killing also, Joe, so you know. There's a lot of stupidity going on in the world right now, a lot of killing going on, a lot of stupidity."
And as Trump's campaign gained momentum, he was rewarded with praise from the Russian president. Putin described Trump as "outstanding and talented" at an event in Moscow in December.
2016
In an interview with Fox Business' Maria Bartiromo, in February 2016, Trump renewed his defense of Putin.
Discussing the 2006 murder of Alexander Litvinenko , a former Russian spy, and the 2016 findings of a British inquiry that Putin "probably approved" his poisoning, Trump remarked "have they found him guilty? I don't think they've found him guilty."
"If he did it, fine. But I don't know that he did it. You know, people are saying they think it was him, it might have been him, it could have been him. But Maria, in all fairness to Putin—I don't know. You know, and I'm not saying this because he says, 'Trump is brilliant and leading everybody' —the fact is that, you know, he hasn't been convicted of anything."
However, as Trump came under increasing scrutiny for his warmth towards Russia, he backtracked on his earlier boasts about his relations with Putin.
In the wake of the hacking of thousands of emails from DNC servers in June, Trump said that he had never met Putin and didn 't know who he was:
"I never met Putin," Trump said. "I don't know who Putin is. He said one nice thing about me. He said I'm a genius. I said thank you very much to the newspaper and that was the end of it. I never met Putin."
He also said, "I would treat Vladimir Putin firmly, but there's nothing I can think of that I'd rather do than have Russia friendly, as opposed to the way they are right now, so that we can go and knock out ISIS [the Islamic State group] with other people."
In the same news conference, Trump called on Russia to find Hillary Clinton's deleted emails as secretary of state.
In a presidential debate with Clinton that October, he again denied knowing Putin after his rival accused him of being a Russian stooge.
Trump said at presidential debate: "I don't know Putin. I think it would be great if we got along with Russia because we could fight ISIS together, as an example. But I don't know Putin."
At the third presidential debate, Trump denied Clinton's charge he was Putin's "puppet", saying "No puppet. You're the puppet."
He further denied having met Putin and said that Putin had "outsmarted" Clinton and Obama.
After Trump's election, he continued to speak warmly of Putin, praising a "very nice and correct" Christmas card the Russian leader sent him, and even re-tweeting a quote by Putin taunting the losing Clinton campaign.
"Vladimir Putin said today about Hillary and Dems : "In my opinion, it is humiliating. One must be able to lose with dignity." So true!" he tweeted in December.
2017
Intelligence agencies reveal their verdict that Russia was behind the Democratic National Committee (DNC) hack, President Trump concedes Russia's involvement—a claim he has since backtracked on.
"I think it was Russia," Trump said in a press briefing in Trump Tower, New York, in January, adding that Putin "should not be doing it."
"He won't be doing it. Russia will have much greater respect for our country when I am leading it than when other people have led it," Trump said.
After his inauguration, as multiple probes investigated allegations the Trump campaign had colluded with Russia, Trump continued to speak about the prospect of better relations with Russia.
After meeting face-to-face for the first time at the G20 summit in Hamburg, Germany, in July, Trump said he pressed Putin about allegations of election meddling, and received a denial.
The following month he expressed gratitude rather than condemnation when Russia decided to cut hundreds if personnel from the U.S. embassy in Moscow, in a move condemned by critics as an attempt at Cold War style intimidation.
"I want to thank him because we're trying to cut down on payroll, and as far as I'm concerned, I'm very thankful that he let go of a large number of people, because now we have a smaller payroll," Mr. Trump told reporters at his golf club in Bedminster, N.J. "There's no real reason for them to go back. So I greatly appreciate the fact that we've been able to cut our payroll of the United States. We'll save a lot of money."