Inside the Epic Tom Brady vs. Peyton Manning Rivalry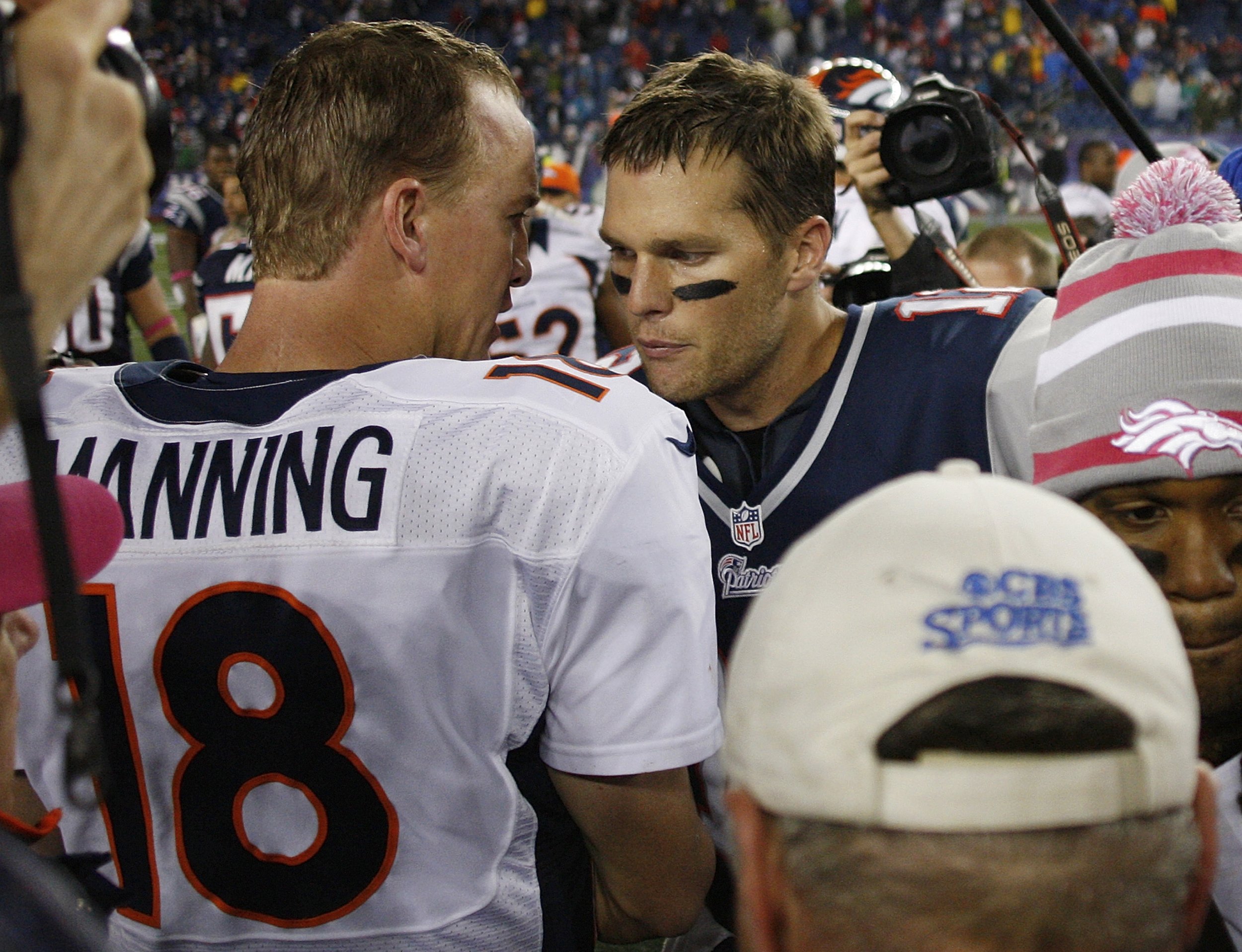 As ads bombard your TV screen this weekend for Batman V Superman: Dawn of Justice, the NFL's answer to that superhero rivalry will convene for the 17th, and perhaps final, time. Tom Brady, 38, and the New England Patriots will visit Peyton Manning, 39, and the Denver Broncos in the AFC Championship Game this Sunday.
Brady, a former sixth-round pick (199th overall in 2000) out of Michigan, has played his entire 16-year career with the Pats. Manning, the erstwhile No. 1 overall pick in 1998 out of Tennessee, played 14 seasons with the Indianapolis Colts and the past four with Denver. These are arguably the two greatest quarterbacks in NFL history and only a few others (Dan Marino, Brett Favre and Joe Montana) even belong in the conversation.
While the NFC Championship game features the first matchup in the postseason between a pair of Heisman Trophy–winning quarterbacks (Cam Newton of the Carolina Panthers and Carson Palmer of the Arizona Cardinals), Brady vs. Manning is the marquee rivalry; it already has a book devoted to it.
Here, then, is a concise head-to-head matchup of the two future Hall of Famers, in matters football and otherwise.
Career Passing Yards: Manning, No. 1 all-time with 71,940 (Brady is fifth)
Super Bowl Rings: Brady, four, would break a tie with Terry Bradshaw and Joe Montana for No. 1 all-time among starting quarterbacks if the Patriots win Super Bowl 50. Manning has one.
Career Wins, Regular Season Plus Postseason: Manning, with 198 (186 plus 12) all-time, is No. 2, one win shy of Brett Favre. Brady, with 194 (172 plus 22), is No. 3.
Playoff Wins: Brady, with 22, is No. 1 all-time.
Playoff Losses: Manning, with 13, is No. 1 all-time.
Career Touchdown Passes: Manning, No 1. all-time with 539 (Brady is third).
Career Fourth-Quarter Comebacks: Manning, No. 1 all-time with 45 (Brady is second).
Saturday Night Live host: Manning, unofficially No. 1 all-time among professional athletes, thanks in part to this taped bit.
Brady gave a game attempt, but was a little more wooden.
Super Bowl MVP: Brady, with three, is tied with his childhood hero, Joe Montana of the San Francisco 49ers for the most all-time. Manning has one.
Head-to-Head: Brady is 11-5 in games both have started, but each has a record of 2-2 in the postseason. New England's last playoff victory against a Manning-led team took place in 2005 in Gillette Stadium in Foxborough. Both quarterbacks are 2-0 at home and 0-2 on the road against the other in January.
Teflon Touch: Brady, originally suspended four games by NFL commissioner Roger Goodell for his role in Deflategate last January, never missed a contest. A federal judge rescinded his suspension one week before the 2016 season opener. Manning, the subject of an Al Jazeera probe last December into his alleged use of HGH, has not been charged with any wrongdoing by the NFL. Al Jazeera, meanwhile, announced plans to close up shop in the U.S.
Rapping: Manning, with an assist from his little brother.
Pro Bowl Appearances: Manning has 14, tied with retired tight end Tony Gonzalez for No. 1 all-time. Brady has 11, No. 2 among quarterbacks.
The Eli Factor: The only quarterback in NFL history with a winning record versus Brady, minimum five games, is Manning's little brother, Eli (3-2). Two of those wins occurred in the Super Bowl; the initial one denied New England the first 19-0 season in NFL history. Eli Manning has as many postseason victories against Brady as his big brother.
Height: Manning is measured at 6-foot-5, Brady at 6-foot-4.
WAGs (Wives and Girlfriends): Brady's wife, supermodel Gisele Bundchen, is estimated to have earned more last year than any player in the NFL (or model), with a pretax income of $44 million. Brady's ex and the mother of his first child, Bridget Moynahan, currently stars on the cop drama Bluebloods on CBS (the same network that will host Super Bowl 50). Manning has been married to the former Ashley Thompson, whom he met shortly before matriculating at Tennessee, since 2001.
Endorsements: Manning, who earns approximately $12 million annually in endorsements ("Chicken parm/You taste so good"), is No. 1 in the NFL as a pitchman. Brady earns roughly half that and is not among the top five quarterbacks in this category.
Wes Welker: The only player to catch a touchdown pass from both Brady and Manning, and the only one to start in Super Bowls on both their teams. Welker tied a Super Bowl record with 11 receptions (since broken) in Super Bowl XLII with the Patriots. The former undrafted slot receiver out of Texas Tech had seven catches in Super Bowl XLVI for the Pats and, two years later, eight receptions in Super Bowl XLVIII for the Broncos. Welker's teams lost all three contests.
1997, Michigan: Brady backed up starter Brian Griese on a 12-0 Wolverine team that won a share of the national championship. Manning finished second in Heisman Trophy voting to Brady's teammate, cornerback Charles Woodson, the only primarily defensive player to ever win the award. Woodson retired on January 3.