The Democratic Presidential Candidates' Records on Gun Control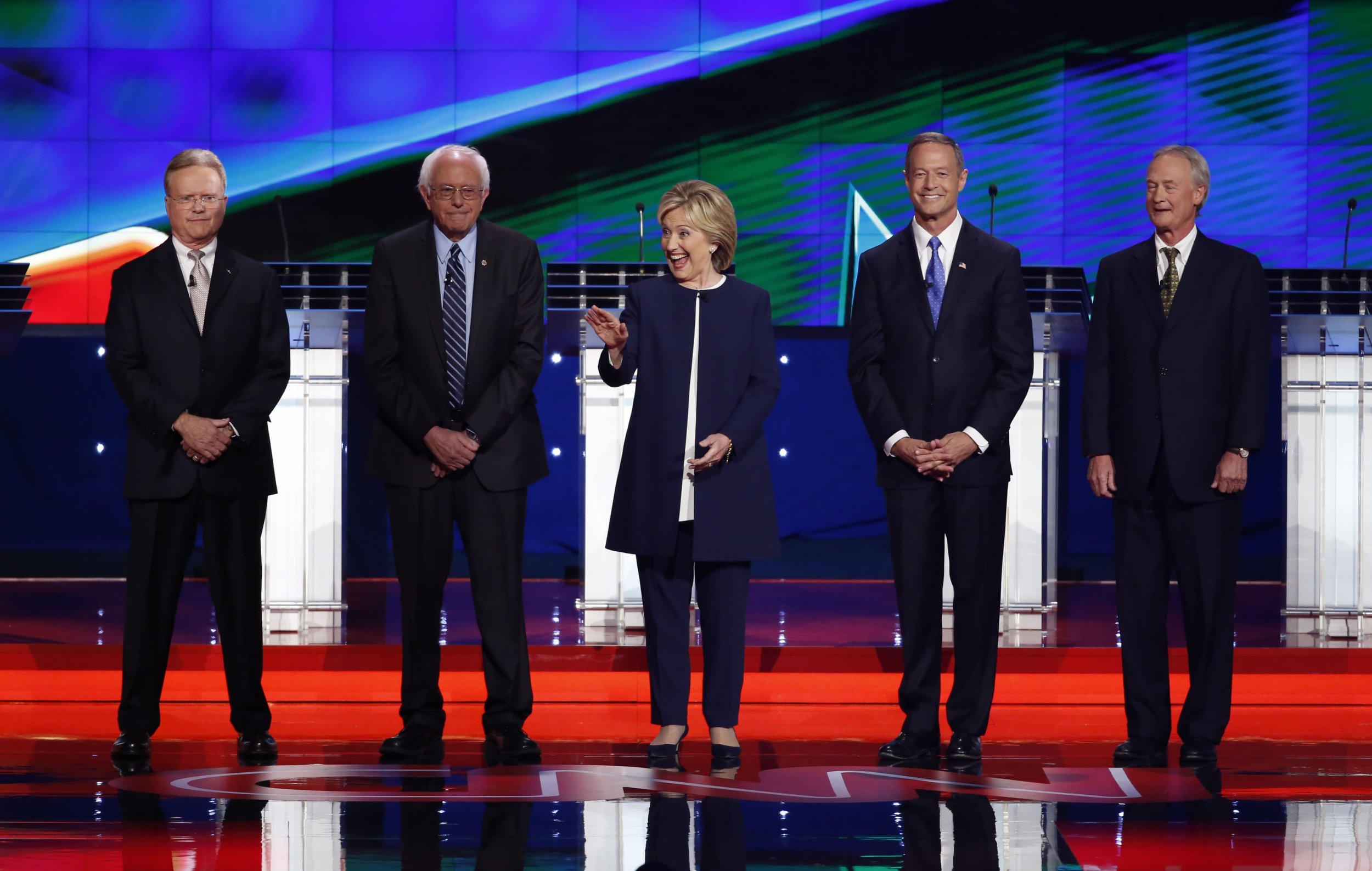 On Tuesday evening, five Democratic presidential candidates faced off at the first Democratic primary debate of the election season. One of the primary topics of conversation: gun control.
Frontrunner Hillary Clinton made it clear she doesn't feel her fellow Democrats have been harsh enough on guns—particularly in light of the recent Umpqua Community College shooting in Roseburg, Oregon, which left nine dead and seven seriously wounded. Bernie Sanders, just behind Clinton in the polls, argued some compromise was necessary. And the three men lagging in the polls, Lincoln Chafee, Martin O'Malley and Jim Webb, varied on the issue.
Here's a brief history of each candidate's stance on gun control:
Hillary Clinton
Clinton has historically been a strong proponent of gun control. New York, where Clinton served as a senator, received an A- rating from the Law Center to Prevent Gun Violence in 2014.
"It's time the entire country stood up against the NRA," Clinton said during Tuesday's debate.
Clinton also believes in universal background checks, and that in the event that someone has a past domestic abuse or stalking charge, they should be banned from buying a firearm.
In 2005, Clinton voted to repeal the Protection of Lawful Commerce in Arms Act, which prevents relatives of shooting victims from suing arms dealers.
Bernie Sanders
Vermont, where Sanders serves as a senator, received an F rating from the Law Center to Prevent Gun Violence in 2014.
"Vermont does not require background checks on private sales, require reporting of mental health information, allow local governments to regulate firearms or require permits for concealed carry," the organization notes. However, during Tuesday night's debate, Sanders advocated for mental health screenings.
"Over the years, I have strongly supported instant background checks, doing away with this gun show loophole," Sanders said. "All the shouting in the world is not…going to keep the guns out of the hands of people [who should not have them]."
However, Clinton expressed that Sanders did not take a harsh enough stance. "[Sanders] was going to give immunity to the [gun] industry in America…everybody else has to be accountable, but not the gun manufacturers," she said during Tuesday night.
Sanders believes background checks and the "gun show loophole" should be addressed. He voted for universal background checks as a senator.
Lincoln Chafee
The state of Rhode Island, where Chafee served as a mayor, senator, and governor, received a B+ rating from the Law Center to Prevent Gun Violence in 2014. The state requires background checks on private sales, has a waiting period on all sales, and requires mental health checks.
In 2012, Chafee voted to ban semiautomatic weapons and high capacity magazines in Rhode Island.
Martin O'Malley
Maryland, where O'Malley was governor, received an A- rating from the Law Center to Prevent Gun Violence in 2014. In 2013, the state strengthened gun laws to disarm dangerous individuals.
O'Malley believes in universal background checks and thinks Internet sales of firearms should be banned. He agrees with Clinton that those with domestic violence and stalking charges should not be allowed to own weapons. A 21-year age minimum should be installed for gun purchases, O'Malley says.
He also advocates for repealing the Protection of Lawful Commerce in Arms Act. He invited Lonnie and Sandy Phillips to the debate with him: they lost their daughter in the Aurora theater shooting and sued the ammunition dealer. They lost the case, and owe over $203,000 in legal fees to the company.
"I'm pissed. Instead of jumping to act, we sit back and wait for the appropriate moment to say what we're all thinking: that this is not the America we want to be living in," O'Malley said after the Charleston church shooting earlier this year.
Jim Webb
Webb served as a senator in Virginia, which received a D rating from the Law Center to Prevent Gun Violence in 2014. Though the state strengthened gun laws in 2014 by adding mental health checks to background checks, background checks are not required on private sales.
Unlike his left wing counterparts, Webb is more lax on gun control. He previously voted to allow guns to be carried in checked bags on Amtrak.
"I'm a strong supporter of the Second Amendment; I have had a permit to carry a weapon in Virginia for a long time; I believe that it's important; it's important to me personally and to a lot of people in the situation that I'm in to be able to defend myself and my family," Webb said in 2007.