Here's Every New Christmas Movie With an LGBTQ Storyline in 2020, Kristen Stewart and Beyond
Christmas is becoming more inclusive in 2020 with several of the major Christmas movie networks debuting their first LGBTQ-centric storylines. Hulu, Hallmark and Lifetime will provide viewers with the expected Christmas cheer, but this time with love stories that represent a range of relationships.
Hulu's Happiest Season is slated to premiere on November 25, but when the trailer dropped on Monday, it kicked off conversations online about the importance of same-sex love stories. The film's plot, as summarized in the teaser, centers on a lesbian couple going home for the holidays. They're on different pages, though. One wants to propose, and the other has yet to tell her family that she's gay.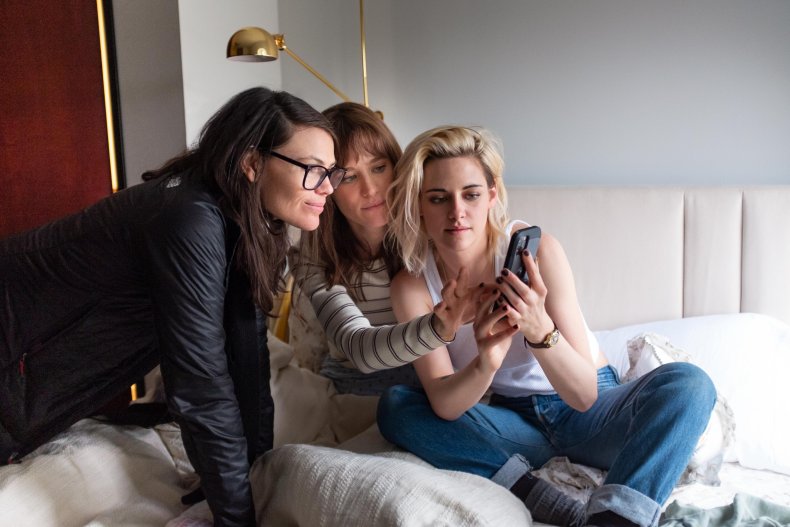 Kristen Stewart and Mackenzie Davis lead the cast, which also includes Daniel Levy and Aubrey Plaza. But the stellar star lineup isn't the only thing that's turning heads. Twitter users rejoiced on Monday at the idea of a holiday flick that doesn't revolve around a heterosexual couple. And Hallmark, the network known for heartwarming, sometimes cheesy Christmas films, is also bringing an LGBTQ-led film to viewers this holiday season.
Hallmark will air The Christmas House, a film with a plot that spotlights two husbands. When the couple in question returns home for the holidays, their future is on the line as they wait for one call—a call with news on their pending adoption. There still isn't an official trailer for the film, which stars Jonathan Bennett, but Hallmark has announced that it will air on November 22.
Hallmark's rival for holiday flicks, Lifetime, already announced its first same-sex couple film, too. Viewers will have to wait a bit longer for that one, as it won't premiere until December 12. Dubbed The Christmas Setup, the movie sounds like it's exactly the sort of Christmas romance that viewers can't seem to get enough of.
While Happiest Season and The Christmas House will feature already-established same-sex couples, The Christmas Setup tells a budding love story that unfolds when one New York City lawyer returns to his hometown for Christmas. As the family's surrounded by Christmas nostalgia, his mom plays "matchmaker" to make sure her son runs into his childhood crush, a man who just might be his perfect fit.
And in addition to The Christmas Setup, Lifetime is airing other, more inclusive holiday programming. The 2020 holiday lineup also includes the network's first film featuring a lead with a disability, Christmas Ever After (December 6), as well as one with a Chinese-American family, called A Sugar & Spice Holiday (December 13).
So far, there's no word on an LGBTQ-themed Christmas flick from Netflix in 2020. Newsweek reached out to the streaming platform to confirm but didn't hear back at the time of publication. In 2019, though, the film Let It Snow debuted on Netflix, and it features an LGBTQ subplot.