Here's Everything We Know About the New 'Scarface' Reboot
The highly anticipated, years-in-the-making Scarface reboot might actually happen! Here's what we know.
It was announced Thursday that Luca Guadagnino (Call Me By Your Name) will direct the reboot for Universal Pictures. The Oscar-nominated director will be joining the Coen brothers, who have been attached to the project for at least three years.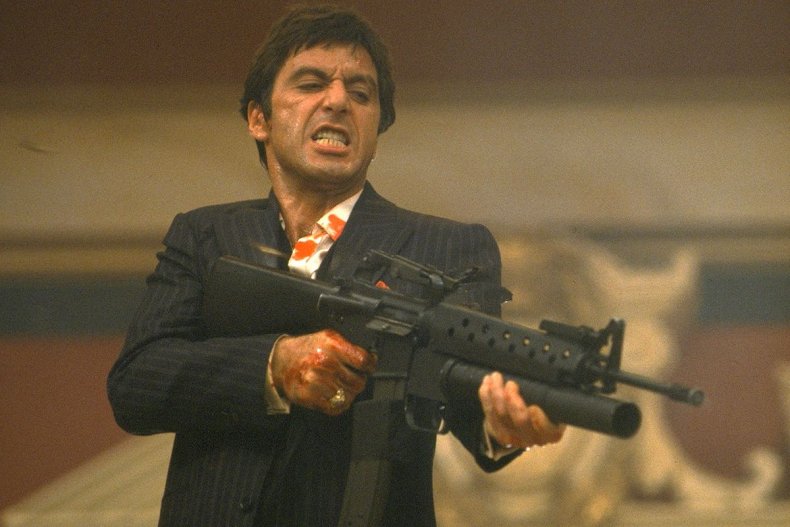 This isn't the first time Scarface got the reboot treatment. The first film of the same name was made in 1932 starring Paul Muni, and was produced by Howard Hughes and directed by Howard Hawks. In this version, an Italian immigrant, Antonio "Tony" Camonte, takes over as the crime boss of Chicago's South Side. The story was loosely based on the life of the notorious gangster Al Capone.
Scarface was then remade in 1983 starring Al Pacino and Michelle Pfieffer under the direction by Brian De Palma. Pacino played Tony Montana, a Cuban immigrant who becomes a powerful drug lord in Miami. It was nominated for three Golden Globes, including Best Performance by an Actor in a Motion Picture -- Drama for Pacino. Although the 1983 film was originally met with criticism for its profanity and excessive violence, it became a cult classic over time.
A Scarface reboot has been in development for several years now. According to Deadline, David Ayer (End of Watch and Suicide Squad) and Antoine Fuqua (Training Day and Southpaw) were previously attached to direct in 2011. Earlier drafts of the reboot were written by Gareth Dunnet-Alcocer (Miss Bala), Jonathan Herman (Straight Outta Compton), and Paul Attanasio (Quiz Show and Donnie Brasco). However, after the writers and directors dropped out, the film never got past the drawing board.
Actor Diego Luna of Rogue One: A Star Wars Story was originally slated to star in the reboot. However, in February 2020, the actor revealed that he was no longer attached to the project. Most recently, Michael B. Jordan has been rumored to play the titular role.
This time around, the new version of Scarface will take place in Los Angeles. Cast, production dates and plot details have yet to be announced.