Netflix announced the highly anticipated return of their action-packed sci-fi drama, The Umbrella Academy, ahead of its July 31 premiere date.
The ensemble cast of the Umbrella Academy recreated the fan-favorite moment from the first season. During the pilot, each cast member busted out their dance moves while Tiffany's '80s pop hit, "I Think We're Alone Now" played in the scene. Towards the end of the promo, Justin H. Min, who plays Ben Hargreeves, showed off the sign, which has the premiere date on it.
As a fan of the show, I think Min is an interesting choice to make the announcement. Ben appeared as a hallucination to his drug-addicted brother, Klaus Hargreeves (Robert Sheehan). After sobering up, Klaus realized his real superpowers were kicking in: he was talking to his dead brother from beyond the grave, he wasn't a hallucination at all.
Earlier today on social media, @UmbrellaAcad tweeted, "On October 1, 1989 seven extraordinary humans were born. On July 31, 2020, they return."
For those who need a refresher course on what happened during the first season, here's the best way to catch up on the superhero show: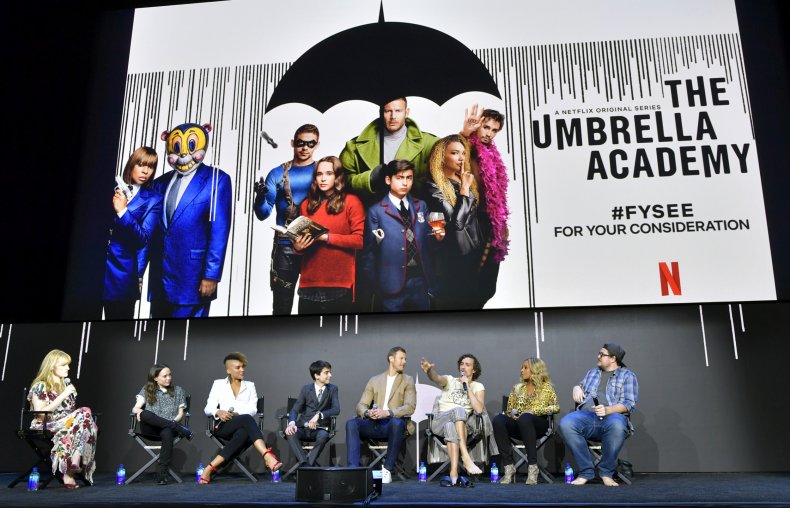 The Comic Book
Do you like the emo music of rock band, My Chemical Romance? Lead Singer Gerard Way wrote the Dark Horse comic. The first season is based on the first volume titled, Apocalypse Suite. Sir Reginald Hargreeves (Colm Feore) formed a superhero team of seven extraordinary children, who called themselves The Umbrella Academy. Unfortunately, Reginald is an abusive father figure and raised his daughter, Vanya (Ellen Page), in such a way that becoming a super-villain seems pretty much inevitable.
The First Season
Five (Aidan Gallagher) unexpectedly time traveled to the future, where he discovered that the Earth was destroyed. Upon his return, none of the siblings believe Five is actually a 58-year-old man stuck in a kid's body. With just a few clues, Five has to prevent the apocalypse and the death of his entire family. Unfortunately, the Commission blocks Five's attempts to save the world because the timeline has to be preserved. The Commission hires two assassins, Cha-Cha (Mary J. Blige) and Hazel (Cameron Britton), to make sure Five fails his mission.
The End of the World
Spoilers ahead! In the earth-shattering cliffhanger, Vanya unleashed her powers and destroyed the moon. With the apocalypse quickly approaching, Five (Aidan Gallagher) came up with a last-minute plan to save the world. He has to travel back in time, with the rest of his siblings, in order to change the doomsday events.
What we don't know is how far they traveled back in time. The last thing we saw was the the superhero team as children, wearing their eye masks.