Here's Exactly What Singer Brandon Flowers Has Said About the Rest of The Killers
Before the new album, Imploding the Mirage, is released Friday, singer Brandon Flowers discussed the band's current situation. Both The Killers' guitarist Dave Keuning and bassist Mark Stoermer have scaled back their involvement with the group.
Flowers spoke about the band's current lineup during Wednesday's interview with the Los Angeles Times. Drummer Ronnie Vannucci Jr. is still on board in a full-time capacity, though the band hasn't technically broken up.
The Day & Age rocker is unwilling to press Keuning and Stoermer for a definite answer though. He doesn't want to ask them if they are still in the band or not. Due to their brotherly type of relationship, Flowers refuses to bring up the topic.
"I have sort of a little-brother complex because everyone in the band is five years older than me. If somebody was taking their stance and they were five years younger than me, would it be the same? I don't know that it would be," said the Killers frontman.
Because to the pandemic, The Killers called off their summer tour. Keuning and Stoermer are expected to return to the band for next year's concert dates, but we will have to wait and see.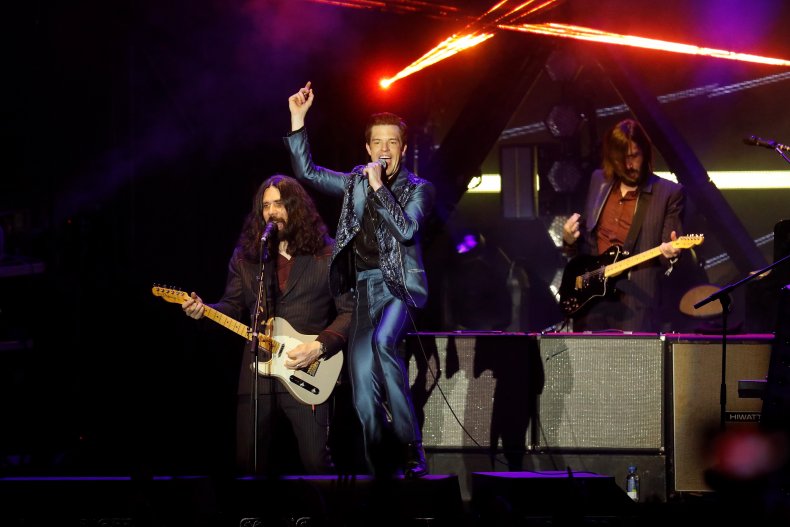 About four months ago, Flowers spoke about Keuning and Stoermer's absences in an interview with with Rolling Stone. Stoermer reportedly has played on a few studio parts. Keuning hasn't played with the band for about three years.
With the the latest album, the "Mr. Brightside" singer had difficulty trying to make the music sound right. Flowers said, "We were trying to make it sound like the band wasn't fractured. And trying to sound like the Killers. It was almost like we were doing this dumbed-down, mannequin version of the band."
About four years ago, Flowers revealed why Stoermer had stepped down from touring. The band noticed Stoermer was clearly unhappy being out on the road and did not want to play shows for their fifth album, Wonderful Wonderful.
"There came a point where we could tell there was something lurking," told Flowers to The Sun (via NME)
"We finally had the discussion and he was brave enough to come out with it, that he just doesn't enjoy it as much as maybe me and Ron do. He really loves making the records, and so that really took a load off of him to tell us that and he was so much better in the studio and his output was great on this record," he said.