Here's How Ash Wednesday Might Look Different This Year
The start of the 2021 Lenten Calendar may look a little different when it comes to Catholic church services. If you're planning to get your ashes on Wednesday, there's a good chance your priest won't have individual words for you like years past.
A memo from the Vatican made new, COVID-inspired adjustments to the normal Ash Wednesday rituals. The statement, which was signed by Arthur Roche, Archbishop Secretary, requests a few moderations to the normal Ash Wednesday services in order to reduce the spread of germs in a few ways.
The note, published on January 12, advises priests not to offer any individual moments or words when distributing ashes. Typically, the priest greets individuals and says one of two things: "Repent, and believe in the Gospel" or "Remember that you are dust, and to dust you shall return." This year, though, that sentiment should be addressed to the congregation as a whole, according to the Vatican.
In addition, your priest may not place the Ashes on your forehead with his thumb. Instead of a cross in the dust of the ashes, the memo requests each priest or Ash bearer "takes the ashes and sprinkles them on the head of each one without saying anything." The art of the sprinkle may vary between religious professionals, but it appears to suggest there won't be actual contact between the priest and the Catholic recipient. Instead, the ashes, mixed with Holy Water, will be sprinkled atop the congregation as a whole.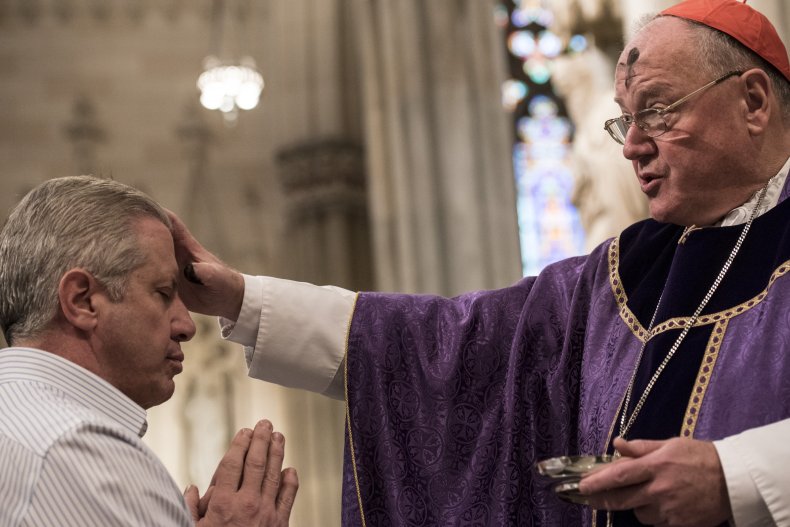 Of course, these new adjustments won't be formally overseen by the Vatican, as there are over 220,000 Catholic parishes worldwide. It's up to each individual location to follow, or ignore, the COVID teachings of the Vatican to keep their parish safe.
Since the start of COVID there have been some major adjustments in the Catholic worship services. Many churches closed for some time and even in re-opening, some worship practices have been altered. Select parishes may currently choose not to share red wine—which is believed to transform into the blood of Christ in Catholicism—since it's often served in a communal chalice.
In addition, some parishes have worked hard to become more accessible to those more comfortable at home by offering live-streamed church sessions.
Other branches of Christianity have created similar, safe practices to promote quick and minimal-contact sharing of the ashes. One Presbyterian church in Pittsburgh will be taking part in an "Ash and Dash" observation, which will quickly hand cloth sachets with the ash-made crosses to visitors.
For more details on your local parish's COVID Ash Wednesday alterations, contact them directly.