How to Fix NCAA College Basketball
Last Saturday night, in the quarter-hour between 10:45 and 11 p.m., approximately 19.7 million people tuned in to watch the end of the Midwest regional final basketball game between undefeated and top-ranked Kentucky and Notre Dame. The viewership represented a record for the most-watched college basketball game ever on cable, not to mention the most-watched program ever on TBS—distressing news for fans of The Big Bang Theory.
And yet if you did tune in, most of what you witnessed during those 15 minutes was not Kentucky and Notre Dame in action, but rather Wildcat and Fighting Irish inaction (bazinga!). Over the final 3:45 of Kentucky's cuticle-abusing 68-66 win, there were five timeouts plus one official's review of a contested out-of-bounds call.
Sadly, this is not at all extraordinary. Georgia State's second-round upset of Baylor included five timeouts in the final 93 seconds. Sunday's East regional final between Louisville and Michigan State had three timeouts in the final :12 (in related news: college basketball coaches are control freaks). Pardon the Interruption is palatable as the name of a daily TV show, but not as the mantra of college hoops coaches.
Like you, I love college basketball—in spite of itself. March is that one month of the year in which the sport receives our undivided attention, and the close-up mostly reaffirms our obsession with the NCAA tournament. March Madness is that bizarre season when fans can wonder aloud how coaches Mike Krzyzewski (Duke) and Steve Fisher (then Michigan and now San Diego State) can face one another 22 years apart and yet only one of them ages (Is Coach K a vampire?). It's where we root for a heretofore unknown 6-10, bespectacled Uber driver from Xavier named (Matt) Stainbrook and adopt him as our own. It is where Notre Dame achieves a shot at immortality—by ending Kentucky's march to a perfect season, the sport's first since 1976 (Indiana)—and comes up one shot shy of immortality, and the Irish players will only have the rest of their lives to muse, "What if…?"
However, the college game has a number of problems beyond the timeout tedium. The good news is, all of them are fixable, If Bill Raftery can be elevated to call his long-overdue first Final Four for CBS at the age of 70, anything is possible. All that it takes is for the game's sentinels to possess, as Raftery would say, the "onions" to institute the fixes. And enforce them.
1. Shorten the Shot Clock
Dribble weave, high-ball screen, defensive hedge. Lather-rinse-repeat, for 25 seconds, then scramble for a shot in the final :10. As every student-athlete knows, it doesn't matter if you are given two weeks or two months to write a term paper: Your student academic adviser is probably going to wait until the final week to do it.
The Fix: The 35-second shot clock must be reduced to :30…. or less.
2. One-and-Dumb
The college game in general—but not Kentucky coach John Calipari in particular—suffers annually due to the NBA's "One-and-Done" rule, which stipulates that prospective NBA players must be at least 19 years old and one year removed from high school. The rule, in place since shortly before the 2006 NBA draft, was crafted to discourage those high school prospects who absurdly overestimate their own worth (read: all high school prospects) from attempting to leap directly from the prom to the pros. A LeBron James, after all, does not come around often.
One-and-Done failed to appreciate the Law of Unintended Consequences: NBA-ready freshmen who do one semester of remain-eligible academics in precincts such as Lexington, Ky., Lawrence, Kan., and even Durham, N.C. before being allowed to abandon all pretenses of being a college student in the second. It's not unusual, in fact, it's expected, that these prodigies will make an exodus from campus as soon as their team is eliminated from or wins the NCAA tournament.
The top four picks of last year's NBA draft were freshmen. The top three picks of the 2012 NBA draft were also all frosh. In fact, the top overall selection in each of the past five NBA drafts have been first-year college students. The one-and-doners do not deserve vilification. They'd rather be invoking the Taft-Hartley Act and asking why they are being discriminated against in the workplace at an age (18) when they may legally enlist in the armed forces.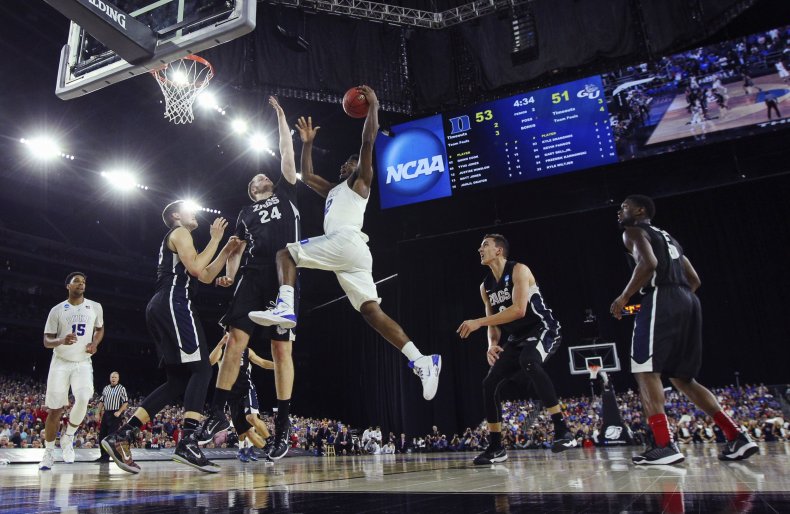 Meanwhile, college basketball's elite locker rooms are now fitted with revolving doors. Fans may root for the name on the front of the jerseys, but it never hurts to have enough time to learn the names on the backs of the jerseys, too. Kentucky coach John Calipari is playing entirely within the rules, but there is something dispiriting about the top team in college basketball each year being led by dudes who would rather not be playing college basketball.
If Kentucky were a television show, it would be Fantasy Island: The setting remains the same, the story lines grow redundant, but the characters always change. And, of course, Calipari is Mr. Roarke.
The Fix: Adopt a policy similar to that of Major League Baseball. Allow players to make themselves eligible for the draft immediately after high school with the condition that if they choose to matriculate at a school, they must remain for a minimum of two years.
3. Officiating
How many times this tournament have you heard an analyst say, "He might've gotten away with a walk?" You know why they never say, "He might've gotten away with murder?" Because he did not murder anyone.
In other words, "He might've gotten away with a walk (or "traveling" or "steps") is code for, "He traveled." Does this matter? Of course it does.
Dr. Naismith's original 13 rules were basic, sure, but he had the gist of it: "A player cannot run with the ball." Do you know how I know that not only is taking three steps after the final dribble illegal, but that every player in the tournament knows it as well? Because no one does so in the pre-game layup drills. Yet traveling happens multiple times every game and referees ignore it.
Officials also ignore palming the basketball, another infraction that gives the ball handler an unfair advantage. Of course, refs also ignore hand-checking outside the arc. All of the above serve to make basketball a sloppier, uglier game.
I could go on. And I will. Dr. Naismith's fourth rule states, "The ball must be held in or between the hands. The arms or body must not be used for holding it." And yet this also has happened nearly every game I watched as a point guard picks up his dribble near the top of the key and takes three steps toward the hoop while cradling the ball in a manner that Pete Carroll would endorse.
Never called.
Is the game too physical? After Cincinnati forward Octavius Ellis was ejected in a second-round game versus Purdue for jabbing a forearm into the face of the Boilermakers' A.J. Hammons, he lifted his jersey over his head in shame. The disturbing image for me was not Ellis' forearm shiver but rather the rib pads he was wearing under that jersey. Players routinely wear hip, thigh and even small shoulder pads as well. Those should not be necessary.
Meanwhile, low-post players either foul out or remain in foul trouble at an alarming rate. For all of the negligence officials display in policing ball handling transgressions, they love to call fouls on low-post defenders. The Rules Committee needs to revisit what it will allow offensive players to do not only in establishing post position, but also what they are able to do once they have the ball. Finesse has become a lost art.
In Sunday's South regional final between Duke and Gonzaga, the Zags' two premier post players, Przemek Karnowski and Domantas Sabonis, played a cumulative total of 42 minutes. The two big men spent the entire evening in foul trouble, and the majority of those fouls were questionable calls. The principle of verticality, an actual rule that permits a defender to leave his feet as long as he remains in his vertical plane of space, is also routinely ignored by referees.
The result is that shrewd teams attack post defenders from the outset with the strategy of discovering whether or not the referees are… blowhards. They are. Referees have an affinity for calling even the most incidental contact near the basket.
The Fix: The NCAA Rules Committee needs to behave like whistleblowers on the, um, whistleblowers. Basketball's rules are not the problem. Biased and inconsistent enforcement of them are.
4. Timeout Tedium
There are four TV timeouts each half. Each coach is also given five timeouts per game. That's a potential total of 18 stoppages per 40-minute game, not including the inevitable replay monitor review or two. Why?
Because coaches are control freaks and coaches have a huge say in the rules that govern the college game. How many times, while watching ESPN telecasts the past two decades, have you seen a team go on a 7-0 or 9-0 run only to hear Dick Vitale bark, "You better get a T.O. baby!"
Or, your team could simply fight back. Coaches call timeouts for one of two reasons: to halt the other team's momentum or to devise strategy for a specific play. No one calls timeouts to give players a breather, since they don't really need one (Did you read the part about the four TV timeouts per half?).
Basketball is a game of flow, of motion. Players perform better when they are allowed to find a rhythm. College basketball as currently constructed is like watching that "More Cowbell" skit from Saturday Night Live. Please: Just let them play the song.
P.S. And being able to call timeout after your team makes a basket? That's simply a legalized delay of game.
The Fix: Each team is allowed one timeout per half. Coaches, it's time to take the water wings off your players: They can swim without them.