Here's How to Get Pabst Blue Ribbon's 'Hard Coffee' Alcoholic Beverage with Caffeine
Pabst Blue Ribbon is brewing something new: coffee.
The Los Angeles-based brewery has just come out with a new beverage, a "Hard Coffee" alcoholic-coffee drink that became available in a few locations this past Monday. The 5 percent alcohol by volume malt beverage is made from Arabica and Robust coffee beans, "American milk," and vanilla flavor. Sold in 11-ounce cans, the drink boats 30 milligrams of caffeine, according to the company's site.
Established in Milwaukee, Wisconsin, in 1844, Pabst Blue Ribbon was originally called Best Select, and then Pabst Select. The current name comes from the blue ribbons tied around the bottle neck between 1882 and 1916.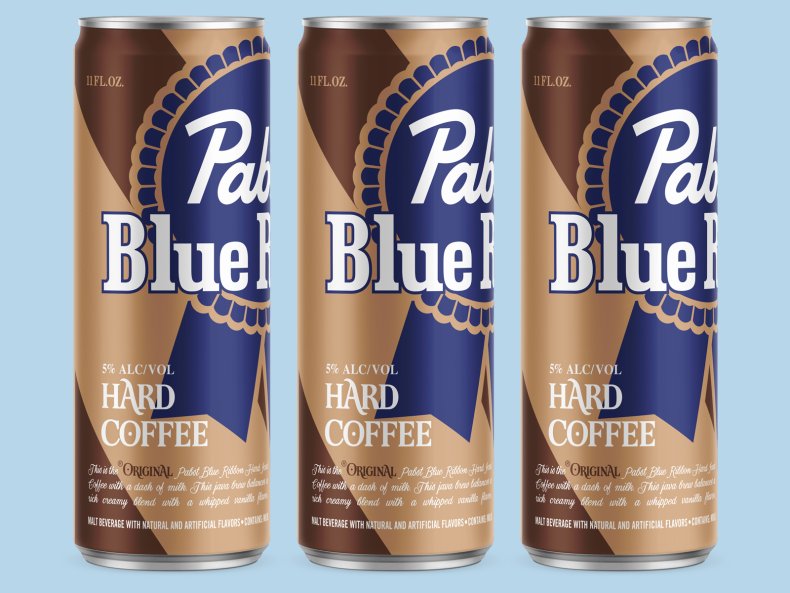 "Pabst Blue Ribbon has always been a brand that pushes boundaries and celebrates those who experiment and try new things," John Newhouse, PBR brand manager, told the Beer Street Journal. "Hard Coffee is an opportunity for us to pioneer a delicious and fun new drink, and give America something unique. We hope everyone loves it as much as we do."
According to the company's Twitter account, this hard brew is currently available in Pennsylvania, Maine, New Jersey, Florida, and Georgia. To find more specific locations, the company suggested the product locator on their website.
The US Department of Health and Human Services advises against mixing caffeine with alcohol for the counteracting effects often causes the consumer to drink more than they normally would because of the delayed "drunk" feeling, as caffeine often masks some of the sensory cues individuals might normally rely on to determine their level of intoxication.
In November 2009, the U.S. Food and Drug Administration notified nearly 30 manufacturers of caffeinated alcoholic beverages that it would study the safety and legality of their products.
A year later, the agency told the manufacturers of seven such beverages, including the beverage Four Loko, that their drinks were a "public health concern" and they would have to remove caffeine from their products in order to stay on the market.
The companies complied and removed the stimulant.
"Hard Coffee" isn't the only new product PBR plans to roll out this summer — they also have big plans for the whiskey world. The Pabst Blue Ribbon Whiskey will be a collaboration with New Holland, Michigan-based New Holland Artisan Spirits, an offshoot of New Holland Brewing.
It'll be made from 52 percent corn, 27 percent malted barley, 17 percent wheat, and 4 percent rye. It clocks in at 80 proof, will be sold in 750-milliliter bottles, and is only being aged at the very bare minimum of five seconds.
"You can shoot it—it's got some kick to it, obviously, because it's un-aged," Matt Bruhn, the general manager of Pabst, told Esquire. "But it's also really good in a mixed drink. Like it makes a killer Old Fashioned, because the strength cuts really well through the sugar. We're not talking about Pappy here, we're talking about a totally drinkable jug of share-with-friends-while-you-have-a-good-time whiskey."
Pabst Blue Ribbon Whiskey should be available late summer 2019.