Here's How 'Hamilton' Will Be Different When It's on Disney+ Next Month
Ahead of the highly anticipated premiere of Hamilton on Disney+ next month, Lin-Manuel Miranda answered some fan questions about the filmed version of the iconic stage production. Specifically, he explained how the Hamilton that viewers will get to stream starting July 3 will be different from the version that theater-goers have previously seen live.
"Hey so excited about Hamilton on Disney+ and OH my god I finally get to see you as A.Ham," one enthusiastic fan tweeted at Miranda. "BUT as it's rated PG-13 does that mean that some (iconic) lines have been cut?? Is it changed at all?"
Miranda responded by saying that the Disney+ Hamilton will be largely the same as the staged version, aside from a few choice words that have been censored. "On July 3, you're getting the whole show, every note & scene, & a 1-minute countdown clock during intermission (bathroom!)," Miranda wrote. "But MPAA [the Motion Picture Association of America] has a hard rule about language: more than 1 utterance of "F***" is an automatic R rating. We have 3 "F***s" in our show. So......I literally gave two f***s so the kids could see it."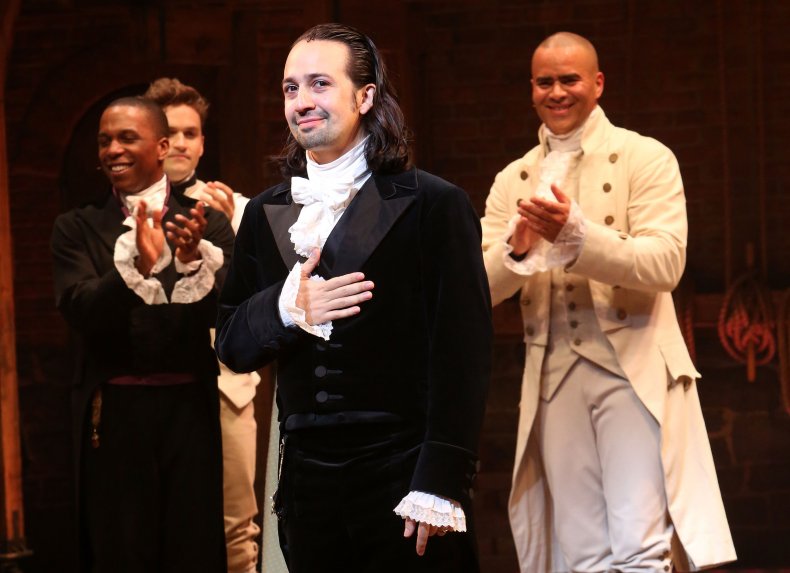 The In The Heights creator even went so far as to note where exactly Disney+ made the tweaks. "In Yorktown, there's a mute over 'I get the f*** back up again'" along with 'Southern *record scratch*kin' Democratic Republicans.' You can sing whatEVER you like at home (even sync up the album)! Love you. Enjoy."
Another fan asked about whether or not the word "s***" would be included. "I wonder what they're gonna do about "s***" or if it'll still be fine w the PG-13 rating." Miranda responded, "All the s***s are INNNNN."
The Pulitzer Prize winner previously addressed the idea of censoring Hamilton for Disney+, in a February interview with the New York Times. "If we have to mute a word here or there to reach the largest audience possible, I'm OK with that, because your kids already have the original language memorized," Miranda said. "I don't think we're depriving anyone of anything if we mute an f-bomb here or there to make our rating."
Miranda also mentioned during Monday's fan Q&A that (spoiler alert) the scene where Hamilton finds out Lauren gets killed is included, as well as an introduction from Jonathan Groff's King George. The film will have English subtitles, and eventually foreign language subtitles will be added, Miranda confirmed.
There will also be audience noises to replicate the feeling of being in Manhattan's Richard Rodgers Theater—but, thankfully, no ringtones!
And for any fans who have been worried that Hamilton would only be on Disney+ for a short time, Miranda offered some good news: "You will just have it. For as many times as you like, right next to A Goofy Movie and Talespin and An Extremely Goofy Movie."
Newsweek did not receive any further comment from Miranda by the time of this article's publication.
Hamilton will become available to stream on Disney+ on July 3.