Here's How to Help the Victims of the Deadly Tennessee Tornadoes
Communities in Tennessee are reeling in the wake of multiple tornadoes that struck the state in the early hours of Tuesday morning. By midday, the death toll had risen to at least 22 fatalities, according to The Associated Press.
Police officers and firefighters have been searching for survivors amid the debris, as at least 140 buildings have been damaged by the disaster. During a press conference, Tennessee Governor Bill Lee mentioned that a large number of people are either missing, injured or have been admitted to nearby hospitals, according to Fox News. Lee described the severity of the ordeal, saying, "We have had loss of life all across the state. It's a very difficult situation."
Numerous response funds and nonprofit organizations have already come together to assist those affected by the devastation. Below, you'll find several ways to support and make donations on behalf of those affected by the tornadoes.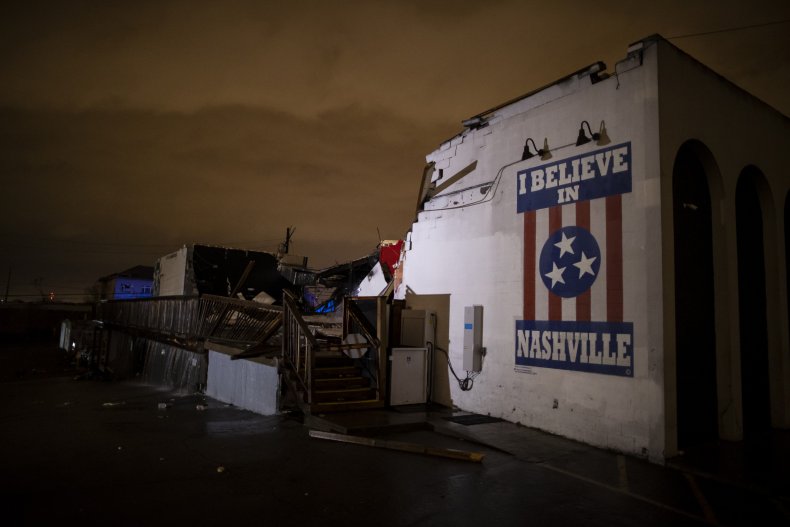 Middle Tennessee Emergency Response Fund

The Community Foundation of Middle Tennessee has set up their own disaster response fund. Money raised by the Middle Tennessee Emergency Response Fund will be distributed to nonprofit organizations assisting tornado victims as they recover.
On the effort's official website, Ellen Lehman, president of the Community Foundation of Middle Tennessee, stated, "We need to support the affected communities and the nonprofits on the ground helping victims and addressing their needs."
Readers can make a donation here.
Hands On Nashville
Hands On Nashville, Middle Tennessee's volunteer resource center, is working on providing relief alongside the city's Office of Emergency Management. The HON will be accepting canned food and bottled water donations. Once the disaster sites have been cleared of safety regulations, volunteers will soon be able to sign up.
American Red Cross of Tennessee
While the American Red Cross of Tennessee is working to help people displaced by the tornadoes, the organization is not taking donated goods at the moment.
"We know people are generous and want to do everything they can to help after a disaster," the American Red Cross tweeted. "Our first priority is to provide shelter and support to those affected. We are not accepting donated goods, as it takes time and money to store, sort, clean and distribute donated items."
And of course, if you'd like to donate blood, you can head to the American Red Cross's official website and enter your zip code to find a nearby blood drive.
The Disaster Distress Helpline
The crisis counselors at The Disaster Distress Helpline have offered immediate counseling to those dealing with mental and emotional trauma from the disaster. Those seeking assistance can reach them at this number 1-800-985-5990, which is open 24 hours a day. According to Nashville's News Channel 5, the Helpline offers its resources for free throughout the week.