Here's How Many Pints Of Guinness Are Consumed On St. Patrick's Day
St. Patrick's Day doesn't have an official beer sponsor around the globe, but if it did, the beer would likely be Guinness. The Irish stout is undeniably a March 17 classic, not only for its iconic taste but for its Irish roots.
Each St. Patrick's Day it's estimated a whopping 13 million pints of Guinness will be consumed globally on the holiday, according to Fortune in 2017, which is celebrated everywhere with Irish descent.
It's possible that number may lower in 2020 due to local regulations from the global outbreak of COVID-19, or coronavirus. In America, it's unlikely bars will be pouring drinks after all. President Donald Trump banned gatherings of over 10 people on Monday evening after a weekend full of St. Patrick's Day bar crawlers, who ignored the government's pleas for social distancing.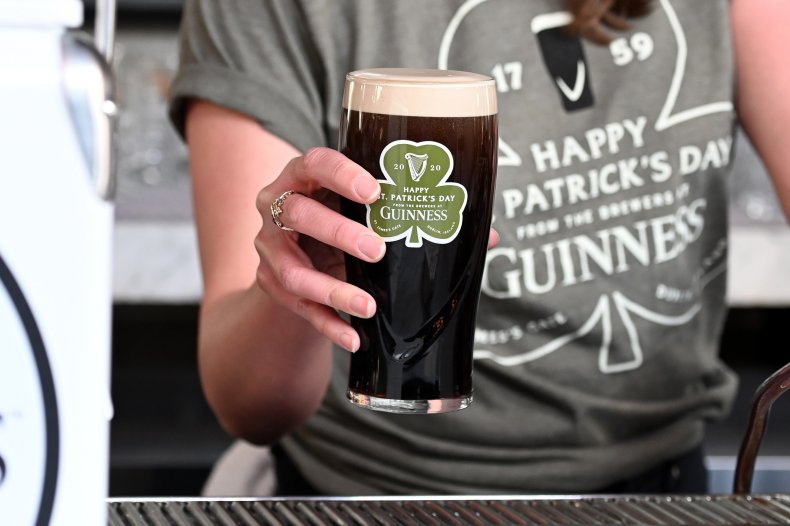 The brand already issued a note on the trying times, and how their beer may be able to see fans through it."We know that St. Patrick's Day feels different this year," the brand said in a Twitter post. "But we've been around for 260 years and learned over time that we're pretty tough when we stick together."
The international brand also pledged a hefty amount of money to those in need, though they did not specify which causes they'd contribute to. "However you choose to celebrate St. Patrick's Day this year, stay safe and be good to one another. Guinness today is committing $500,000 through our Guinness Gives Back Fund to help communities where we live, work and celebrate."
Along with the note, Guinness shared a video. It held the same message. "So, what do you really need for some St. Paddy's Day cheer? A pint? Sure! We'll take one."
It also noted that parades may not happen, but we'll "march again."
Guinness was first shipped to America from its birthplace in Dublin in 1817, according to Trib Live. There's only one Guinness brewery in America, located in Boston. It opened in 2018. Around the world, there are four other locations—Dublin, Malaysia and three in Africa, according to CNN.
Guinness is also available to buy in retail stores like Target, Walmart and local grocery stores, meaning fans of the classic stout may be able to find a pack in time to celebrate the St. Patrick's Day festivities, even from the comfort of their homes, on Tuesday.
Fans of the brand already shared their celebratory moments with the beer, even though they didn't look exactly as they usually do.