Here's How 'Project Power' Fans Are Reacting to That Classroom Rap Scene
Friday, the sci-fi action movie, Project Power, starring Jamie Foxx and rapper Chika, premiered on the streaming platform, Netflix. Viewers were cheering over on social media about the Netflix drama and Chika's rap in her classroom scene.
Project Power screenwriter Matt Tomlin discussed how music played an essential role in the Netflix drama in a recent interview with The Hollywood Reporter.
"When I first started writing, you always think what are the comps on this movie? What's going to influence me? 8 Mile was a big one. I [told] the producers and directors the whole time, 'There's got to be an end credits song. It's got to blow people's minds and there has to be this kind of musical component to it,'" Tomlin said.
"On the one hand, thematically it resonates. What is Robin's power? Well, power doesn't come in a pill, power comes from within you and that's so much of what's interesting to me. But also, rap is awesome. It's just another way to connect with this character and go on this journey with her as she's literally finding her voice," Tomlin added.
Not only does Chika contribute the song, "My Power," to the soundtrack, she also appears in the movie as high school student and aspiring rapper, Robin.
Friday, Chika shared her classroom scene over on Twitter. In the clip, Robin is getting picked on by her bullying teacher. She then discovers her own inner strength during her rap. Towards the end of the scene, she manages to stand up to her teacher.
"Crazy we shot this in 2018. What a time," Chika tweeted.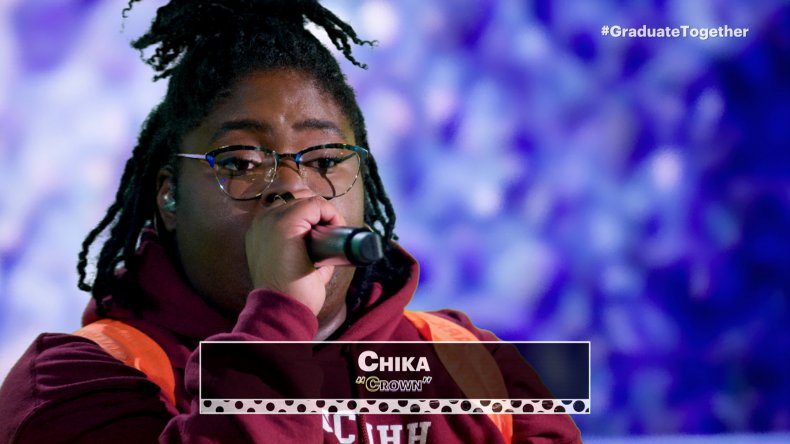 Rotten Tomatoes critic Jason Fraley wrote, "Netflix's Project Power offers a unique twist on the concept of super powers."
Indian Express Entertainment agreed, "Project Power is one of those Netflix movies that you wish you saw on the big screen."
"That's the tweet. Every adult, children especially, needs to listen to her words. The classroom scene!" @HandWShow tweeted.
"Congrats to a fantastic soundtrack!" @oranicuhh tweeted.
"Project Power is lit and that girl Robin can rap!" @hionishtml said.
"Chika really ate her role in this Netflix film. The freestyles, the music, the vibes," @realliroe stated.
"Watching right now. This is great! Love Robin! That teacher 'rap' was excellent!" @MsCynMet said.
"Just finished watching this and now I'm looking up pistol shrimp. A solid and fun movie. All I have to say is I love Robin and how the movie was told through her eyes. There were some funny moments in this, too," @tinakien stated.