After a "blue wave" in the 2018 midterm elections forced them to lose the House of Representatives, Republicans are starting to plot their path back to majority control in 2020.
To take back the chamber, the GOP needs to net at least 19 or 20 seats in November. To do so, they will target 30 districts that are currently held by Democrats but that voted for Donald Trump during the 2016 election. That includes more than a dozen districts where he bested Hillary Clinton by more than six points.
The Republican National Committee (RNC) will also set up shop in several blue states that have competitive House races: California, Illinois, Nebraska, New Jersey and New York. According to Politico, the GOP committee will spend at least $4 million to hire field staffers in those areas.
Trump supported the approach in his post-impeachment acquittal speech earlier this year. The president said he was going to "work hard on it" and "try to get out to those Trump areas that we won by a lot—and you know, in '18, we didn't win."
David Flaherty, a political strategist who once worked at the RNC, said the strategy was a "good start" but that there are a lot of other factors that will be headwinds for the GOP in 2020.
One factor working against the party is young voter turnout, which was historic during the 2018 midterm elections and helped Democrats overperform in areas that went for Trump two years earlier. Another issue is the loss of suburban women who once voted Republican but have been put off by this administration.
It also doesn't help that more than 20 House Republicans have resigned or announced they plan to retire at the end of their term this year. While most of the retirements or resignations are in reliably red districts, a handful have made some areas in Texas and Georgia more competitive for Democrats.
But Republicans do have several advantages heading into Election Day. The RNC had nearly seven times more cash on hand than the Democratic National Committee at the end of 2019—$63 million versus $8.3 million—according to Federal Election Commission filings.
The GOP is also enjoying the fact that the Democratic contest is still a two-person race between former Vice President Joe Biden and Vermont Senator Bernie Sanders. Sanders' more progressive policies like Medicare for All and free college tuition have been a lightning rod for criticism from conservatives. Biden, however, is now considered the front-runner, as he's currently ahead in the delegate count by roughly 300.
Representative Tom Emmer, the chairman of the House Republican's campaign arm, told Fox News in February that the Democratic "embrace of socialism" could "cost them their majority in the House."
"You look right now. You have in the 30 seats that Donald Trump won two years ago that have Democrats currently in them. These folks are in an all-out panic," the Minnesota congressman said.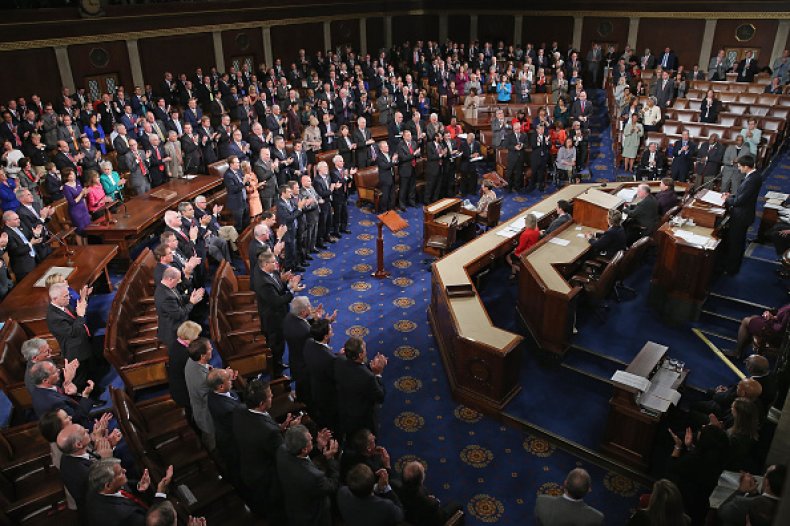 Democrats remain favored to hold the House, according to Sabato's Crystal Ball, a polling prediction service at the University of Virginia.
But the most recent predictions were done before the coronavirus pandemic upended the country. The global health crisis has put enormous political pressure on the Trump administration as the economy has grinded to a halt.
Polls show that Americans are split on Trump's handling of the outbreak. A Morning Consult survey released last week found that 49 percent of Americans either strongly or somewhat approved of his response to the COVID-19 outbreak. A further 45 percent disapproved of his handling of the pandemic, giving him a net approval rating of 4 percentage points.
"The president's handling of COVID-19 is going to determine a lot of fates. It's a huge factor among voters when they make up their minds this fall about what they're going to do and who they are going to support," Flaherty said. "We just don't know what the scorecard will be on that yet."