Here's How Trump, Susan Rice, Bill Maher and Others Reacted to the Kavanaugh Procedural Vote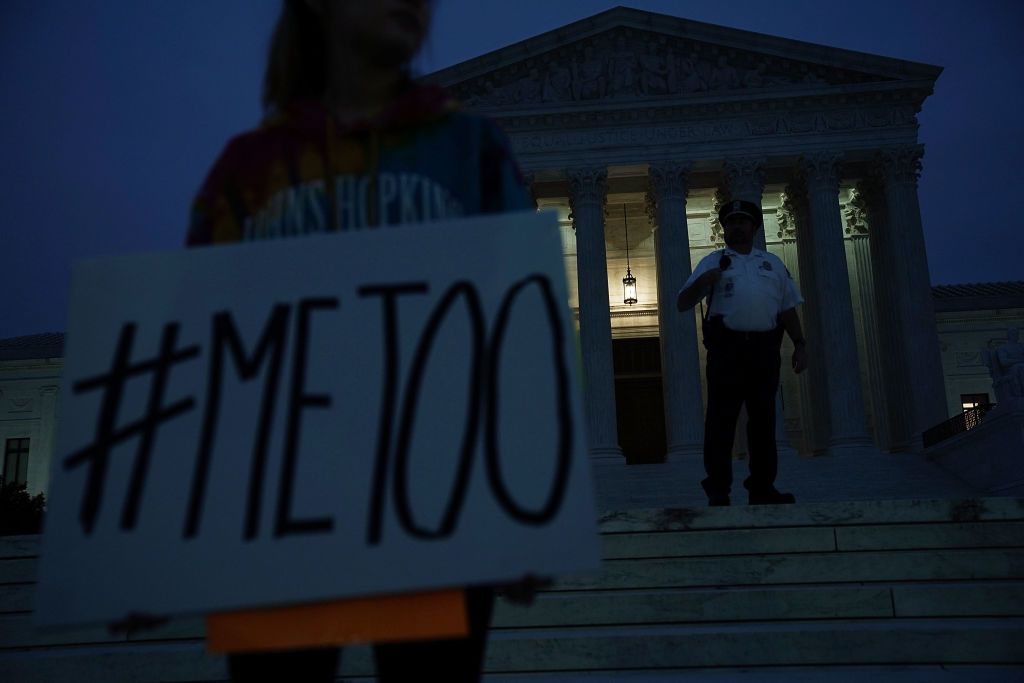 Republican lawmakers backed by a lone Democrat voted Friday to advance the nomination of Brett Kavanaugh to the Supreme Court — with reactions by politicians, pundits and others emphasising deep divisions over the issue.
Republicans, led by President Donald Trump, praised lawmakers after Friday's vote for Kavanaugh, whose nomination has been mired in controversy since Christine Blasey Ford came forward to allege that he sexually assaulted her while they were high school students in the 1980s. Kavanaugh denies the allegations.
"Very proud of the U.S. Senate for voting "YES" to advance the nomination of Judge Brett Kavanaugh!" tweeted Trump Friday.
White House Press Secretary Sarah Huckabee Sanders singled out moderate Republican Senator Susan Collins of Maine, who voted to advance Kavanaugh's nomination, for praise. Collins and fellow Republican Jeff Flake of Arizona were swing votes on the judiciary committee weighing whether to advance Kavanaugh after last week's FBI investigation into sexual misconduct allegations.
"Thank you @SenatorCollinsfor standing by your convictions and doing the right thing to confirm Judge Kavanaugh," she tweeted.
Veteran news anchor Dan Rather criticised the lawmaker, and said that Collins had missed her chance to be a "hero" and vote down the nomination.
"So Collins misses her moment to be a hero, and the old bulls win again," Rather wrote in a Facebook post.
"For most women and many men it's a bitter, devastating loss. Which makes it all the sweeter for the old bulls, and for the forces of power, privilege and money everywhere," he added.
Rather wrote that his wife was "furious and deeply disappointed" by reports that Republicans have enough votes to confirm Kavanaugh on Saturday.
Former UN ambassador Susan Rice hinted at running for office to unseat Collins, who is up for re-election in 2020. In response to a question about who would be willing to campaign for the seat, Rice simply tweeted "me."
In an interview with CNN, Delaware Senator Chris Coons laid out his reasons for continuing to oppose Kavanaugh, criticising the judge's impassioned self defence in response to Ford's Senate testimony last week.
"Judge Kavanaugh, although from his view defending his honor was justified in being forceful and even irate, I think he crossed a line in terms of the partisan edge he brought to his defense," said Coons.
Celebrities had earlier taken to Twitter to implore senators to oppose Kavanaugh's advancement, with actor Alyssa Milano handing her Twitter account to Flake's constutuents who recorded messages for the senator.
As late night hosts debated the days events, Real Time's Bill Maher slammed the "sham" FBI investigation into allegations against Kavanaugh, whose permaters were reportedly set by the White House.
"It was a total sham," said Maher. "There are some things about this that we will never know, I account for that. But you know what? I think what bothers a lot of people—and what bothers me—is that for sure [Kavanaugh] is a liar, also was a huge drunk, maybe not now. And the FBI report was a sham. They had no time to do it. They interviewed all of nine people. Trump was like, 'Can I get these guys to do my crimes?'"
He also had jabs at the "social justice warriors" who opposed Kavanaugh's nomination.
"There are social justice warriors who are crazy enough in this country, I fight with them all the time, who… they lend enough credence to this to make people think, 'Oh, you know what? They're going to go after my high school record. That's fair game now.' And it becomes sort of a privacy thing," argued Maher.