Here's How Trump's Speech About Senate Impeachment Acquittal Compares to Clinton's 1999 Remarks
In contrast with President Bill Clinton's succinct response to his impeachment trial acquittal, President Donald Trump used an hourlong stint at the microphone to praise his supporters, champion his policies and lambast his detractors.
During his remarks Thursday, Trump, who has derided the impeachment process against him as a "witch hunt," focused on his success as president, Democratic policies he disagreed with and what he said were unfair attacks against him. He didn't apologize for his behavior, as Clinton did in 1999, instead saying, "I did nothing wrong."
"We've been going through this now for over three years," Trump said. "It was evil, it was corrupt, it was dirty cops, it was leakers and liars and this should never ever happen to another president ever. I don't know that other presidents would be able to take it."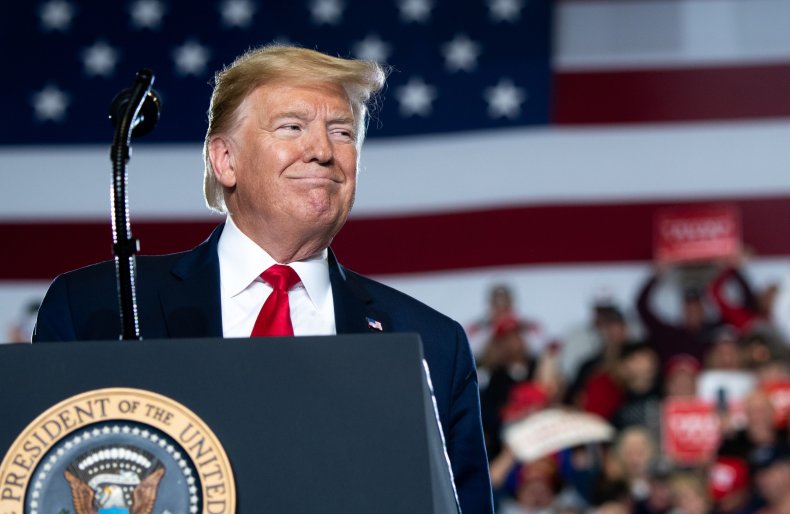 Trump did apologize to his family though, saying he was sorry that they had to endure the process, which wasn't "part of the deal," but thanked them for sticking with him. Whereas Clinton only spoke for about two and a half minutes, including responding to a question, Trump's address lasted nearly 24 times as long.
During his meandering speech, Trump also discussed the impending arrival of the Super Bowl-winning team, the Kansas City Chiefs, Senator Jim Jordan's exercise routine and the Yankees.
Senators acquitted Trump on both impeachment articles—abuse of power and obstruction of Congress—with only one Republican, Sen. Mitt Romney, voting to convict on either of the two charges.
Before Trump's acquittal, two other presidents—Andrew Jackson and Clinton—who were impeached by the House of Representatives met the same fate in the Senate. In 1999, Clinton was acquitted of the charges of perjury and obstruction of justice by a 55-45 and 50-50, vote respectively, according to CNN.
If legislators could impeach Trump, the president claimed the Democratic majority could impeach anyone, including President George Washington.
During their separate remarks, both presidents expressed gratitude for their supporters, although Clinton opted to appear alone and Trump decided to invite his supporters to hear the speech in person. Among the people Trump mentioned by name were Senate Majority Leader Mitch McConnel, Senator Tim Scott and Representative Kevin McCarthy, who Trump predicted would become Speaker of the House after the 2020 election.
Read a Transcript of President Bill Clinton's 1999 Remarks Below:
Now that the Senate has fulfilled its constitutional responsibility, bringing this process to a conclusion, I want to say again to the American people how profoundly sorry I am for what I said and did to trigger these events and the great burden they have imposed on the Congress and on the American people.
I also am humbled and very grateful for the support and the prayers I have received from millions of Americans over this past year.
Now I ask all Americans, and I hope all Americans, here in Washington and throughout our land, will rededicate ourselves to the work of serving our nation and building our future together.
This can be and this must be a time of reconciliation and renewal for America.
Thank you very much.
QUESTION: In your heart, sir, can you forgive and forget?
CLINTON: I believe any person who asks for forgiveness has to be prepared to give it.
QUESTION: Do you feel vindicated, sir?
Watch President Donald Trump's 2020 Remarks Below: