Here's How to Watch '90 Day Fiancé: Quarantine' and Who You'll See on the Show
Most seasons of 90 Day Fiancé have one major thing in common: distance. Now, a new series, 90 Day Fiancé: Self-Quarantine, will show what a slew of former cast members are doing to pass the time in COVID-19 self-quarantine with their loved ones and family members.
There's no distance this time—just the possibility of stir-crazy drama and much-invited updates on their relationships, for fans who want to know which couples are still together.
The series won't be an extended run. It will air five episodes, all which will feature different cast members from seasons past. Some of the couples featured might come as a surprise, while others are exactly who fans would expect to show up.
More than 40 former 90 Day Fiancé stars will appear on the series. So how can you watch? And what should you expect? Here's everything we know about the limited series.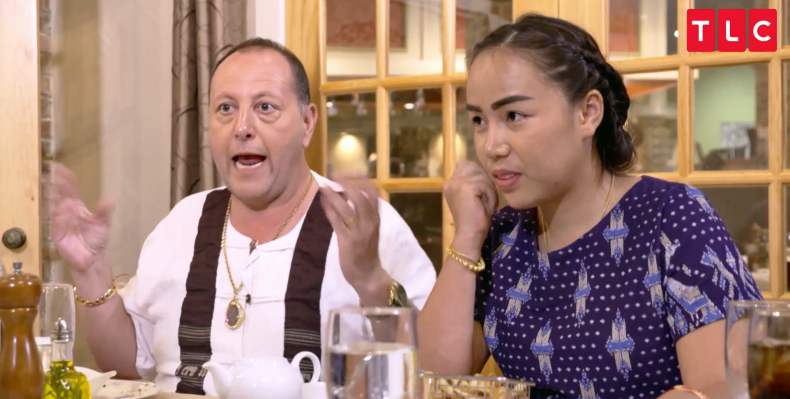 How to Watch
90 Day Fiancé: Self-Quarantine will start on Monday night at 9 p.m. ET. It will air on TLC, which means it's likely to also be available on TLC's website after airing, and the TLC go app. It should also appear on On-Demand services Tuesday.
What to Expect
This won't be a formal production, like every other 90 Day Fiancé series before. Instead of sending a camera crew in the midst of the pandemic, 90 Day stars, their loved ones and family members will set up camp in front of their webcams for a digital check-in.
Variety posted a list of some of the cast that can be expected to make a video appearance.
It reads (edited by Newsweek) as follows:
Alan & Kirlyam
Anna & Mursel
Benjamin & Akinyi
Brett & Daya (Philippines)
Caesar (formerly with Maria)
Chantel & Pedro
Colt & Debbie (Colt's Mom - Colt formerly with Larissa)
Corey & Evelin
Cortney (formerly with Antonio)
Danielle (formerly with Mohamed)
Darcey (formerly with Jesse and Tom Brooks)
David & Annie
Dean (formerly with Hazel)
Elizabeth & Andrei
Emily & Sasha
Jesse (formerly with Darcey)
Karen & Thomas
Michael & Juliana
Molly (formerly with Luis)
Narkyia & Lowo
Patrick (formerly with Myriam)
Rachel & Jon
River & Winter
Robert & Anny
Tiffany & Ronald
Yamir (formerly with Chelsea)
While the total plot, other than checking in on life during quarantine, is unclear, it's designed to bring joy to 90 Day Fiancé super-fans in this time of stress. President and General Manager at TLC, Howard Lee, explained how this series will be different.
"So many fans have been curious about how their favorite couples and individuals are holding up during the crisis, so we've asked them to self-film and share their lives in quarantine with all of us," he told Variety. "Their stories hold a lens to the world, from anxiety and cabin fever to laughter and inspiration. We're humbled and pleased they've opened their hearts and homes to TLC audiences during this unprecedented time."
Lee also revealed that the above list would likely change to incorporate even more couples and singles from former seasons. There are two other couples, not on the list, that are certainly quarantining together. Nicole and Azan are together in Morocco after Nicole was unable to travel back to America due to travel restrictions.
Ashley and Jay are also back together and seemingly spending their cooped-up quarantine under the same roof, they recently revealed in a TikTok. Both couples are well-known to fans because of their drama, which has extended into the offseason via social media.